Putting leads U.S. to big lead in Presidents Cup
After two rounds of play at the Presidents Cup, the Americans hold a commanding six-point lead over the International team heading into Saturday. Despite the lopsided score, International captain Trevor Immelman is refusing to wave the white flag, Bob Weeks writes.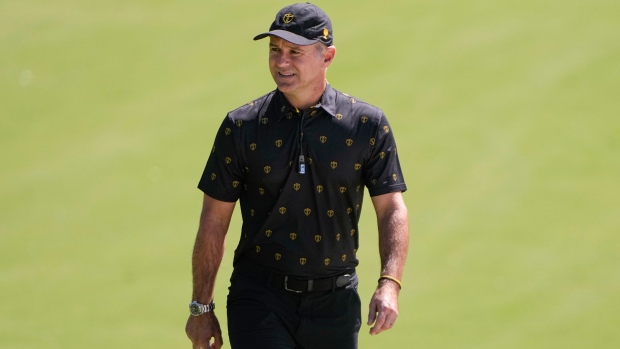 CHARLOTTE, N.C. — Whatever optimism International captain Trevor Immelman had left heading into Friday's second round of play at the Presidents Cup, it's all but evaporated now.
Immelman's side was routed for the second straight session, once again collecting just a single point in five matches.
It leaves the American side needing just seven-and-a-half points to retain the cup, something it could mathematically achieve on Saturday. That would be a first for an event that has already been a one-sided affair. In 13 editions, the U.S. team has lost just once while earning a tie in another. It has won the last eight cups and barring all 12 American players losing their clubs on Friday night, they'll add another win to their record.
The point on Friday at Quail Hollow Golf Club came through two ties and over the first 10 matches, the Internationals have managed just one victory.
Despite the lopsided score, Immelman refused to wave the white flag. He offered up a rallying cry to ensure his team continues to grind away.
"We've just got to keep fighting," he said. "Keep putting one foot in front of the other. We feel like we've played some pretty good golf, some solid golf tee-to-green, particularly the last couple of days, but we have absolutely been out-putted. No doubt about it."
That has definitely been the difference. If you could have given the International team five putts over the course of the first two days, this event could be a thriller. But time and again, the U.S. players holed long putts, medium putts, short putts just when they needed to the most.
For Canadian golf there was a milestone with Corey Conners and Taylor Pendrith paired up in the first all-Canadian duo. The two longtime friends looked to be set to jump out early when Conners hit his approach on the first hole to three feet. But he missed the putt and the two wobbled early in their match against Max Homa and Billy Horschel. They lost two holes on par-3s on the opening nine after both hitting wayward tee shots.
But the two Ontario golfers fought back in what was perhaps the most entertaining match of the day. They were tied after 16 holes, lost the 17 when Homa birdied to fall one down and then appeared to have a chance for a half when Pendrith rolled in a 15-foot putt for birdie on 18. But the Canadians fell when Homa matched Pendrith's birdie putt on 18 for a 1-up victory.
"Obviously, it stings a little bit," admitted Pendrith. "Max made two really nice putts on the last two holes. I hit a really nice putt on 17 that didn't fall. We battled very hard. Didn't have our best stuff early in the round. Good enough to stick around."
"It was pretty surreal," said Homa of the clinching putt. "The atmosphere out there is insane. There's so many people, you can feel them on the back of your neck."
For the Canadians, they were hoping to get a win for the Internationals, a rare commodity after 10 matches.
"We played against some world-class players," Conners stated. "The atmosphere [is] pretty loud. There's a lot going on. You try to enjoy it, but it's definitely challenging."
Pendrith and Conners were far from the only team to struggle. Hideki Matsuyama and Tom Kim were roughed up by Patrick Cantlay and Xander Schauffele, losing 3 and 2.
Jordan Spieth and Justin Thomas handled Adam Scott and Cam Davis 2 and 1, while the other two matches were tied.
After two rounds, the Americans hold a six-point lead, equal to the record under the current format. On Saturday, there will be two sessions, with Foursomes in the morning followed by Fourballs in the afternoon.
The event isn't over and there is still hope and that was what the International captain bravely said after play ended on Friday.
"The score means we've got to get better," said Immelman, "and we will. Plain and simple."
Plain, most certainly. Simple? That might be a tougher task.