A closer look at Stamkos' recent offensive dip
One of the most interesting points of discussion surrounding Steven Stamkos concerns a recent dip in offensive performance.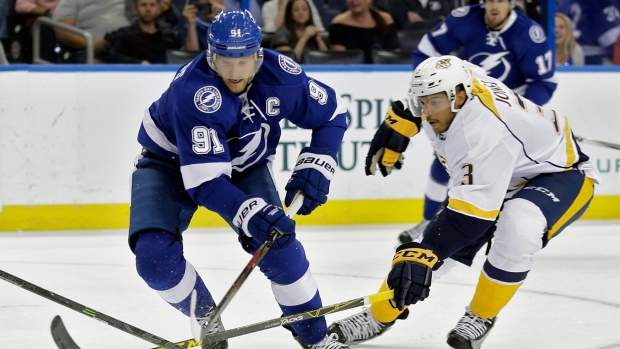 The longer Steven Stamkos remains a pending unrestricted free agent, the more noise you will hear about his future with the Lightning.
Tampa Bay is in an extremely difficult spot here. It goes without saying that moving such an elite skater in the prime of his career is already an unbelievably tough pill to swallow for an organization with legitimate Stanley Cup hopes. The nature of the situation requires team executives to consider all options – including the possibility of moving such a player at the trade deadline, their last chance to acquire assets before he becomes available to all teams in the open market.
The possibility Stamkos may not be in Tampa Bay come March or July of 2016 is very real. This had led to a lot of intelligent people digging into Stamkos for the purposes of forecasting and long-term valuation for a player who may very well sign the National Hockey League's most expensive contract.

One of the most interesting points of discussion surrounding him concerns a recent dip in offensive performance. This is apparent in his counting numbers, but it's also apparent in his shot generation numbers. They're still quite good, but not near the level we have grown accustomed to.
And then, this theory: is it possible that Martin St. Louis was at least partially responsible for setting our Stamkos benchmark so freakishly high? And if so, should we recalibrate expectations?
It's a fascinating question. After all, we watched St. Louis do essentially the same thing with Vincent Lecavalier and Brad Richards, a pair of guys who fell off of a cliff once leaving St. Louis' hip. I'm very skeptical that a player of Stamkos' calibre would fall off in a similar manner, but the data surrounding St. Louis is must-see.
I went and compiled all forwards who played at least 500 minutes with St. Louis over the last seven years. I think the takeaways are pretty obvious.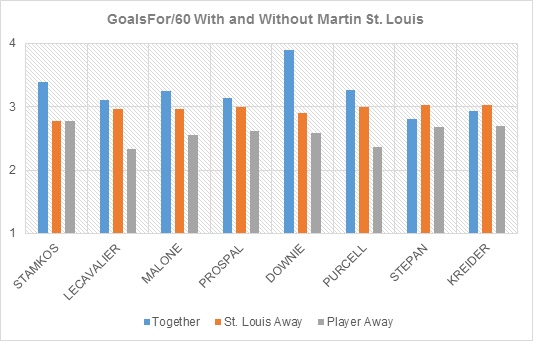 My quick thoughts:
(1) St. Louis made everyone a bigger offensive threat;
(2) Generally, forwards were considerably (and positively) impacted by playing with St. Louis
This would seem to make an awful lot of intuitive sense. St. Louis didn't fluke his way beyond the 1,000-point threshold. He was one of the league's most brilliant playmakers in his prime, and had a knack for making everyone around him better.
That brings us back to the big Stamkos question. It's clear the two made magic together – they averaged more than three goals per-60 minutes of 5-on-5 play, a ridiculously high number. And I think you can argue that it was a match made in heaven.
Stamkos, like almost every other regular forward, saw his production taper off away from St. Louis. But the reverse was also true – St. Louis, who seemingly played well with everyone over his career, most enjoyed playing with Stamkos. When St. Louis left for New York, he was armed with a pair of new linemates and was reasonably productive, just not at the rate he once was.
My guess is a simple one, but I think it sticks. When this duo was broken up, their replacements were inferior in quality – Stamkos getting the rawer end of that deal. By way of example, look at the average even-strength shooting percentage of each skater's frequent linemates over the last nine years.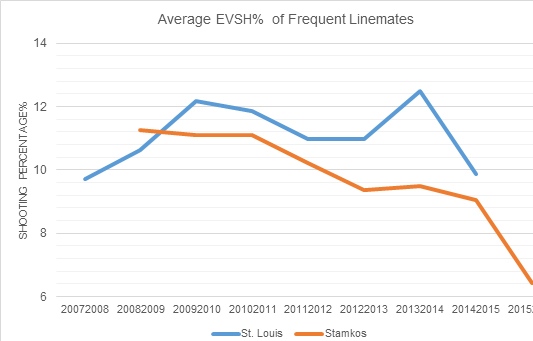 This makes sense to me. Stamkos is one of the league's preeminent shooting talents, so it would make sense that St. Louis' frequent linemates shot at a far more productive rate than Stamkos'.

What's interesting is what happens in those years post-dating St. Louis' trade to New York. I think if you are trying to apportion some of the blame for why Stamkos isn't scoring as much, it starts with the linemates he's had over the past couple of years. Alex Killorn and Ryan Callahan haven't ever been great shooters. Valtteri Filppula's historically a bit stronger, but his numbers have cratered this season. And Jonathan Drouin's slow start hasn't helped things – he has all of six goals on 100-shots in his NHL career.
Now, there are certainly a number of things at play here. We didn't touch on Stamkos' individual goal-scoring lag. We also didn't touch on the role random variance might be playing here. But, I do think there's a credible argument to make that Stamkos isn't getting nearly as much help as he once was, despite playing on a very talented team. Something to keep in mind.
The Takeaway
Stamkos is an unbelievable talent. But when you are anticipating a payday in excess of $100 million, it's more than worth your time to investigate any potential red flags. His lack of offensive production relative to past years very much qualifies. Still, I think one of the big drivers working against him right now is simply a significant drop-off in linemate quality – something entirely out of his control. It's just as much about the loss of St. Louis on his line as it is replacing him with a grinder like Ryan Callahan.