Backlund scores in OT, Flames come back to beat Ducks
Mikael Backlund scored in overtime as the Calgary Flames edged the Anaheim Ducks 4-3 on Tuesday night. Johnny Gaudreau scored with 19.5 second left in the third period to tie the game 3-3 for the Flames. Anaheim leads the second-round Western Conference playoff series 2-1.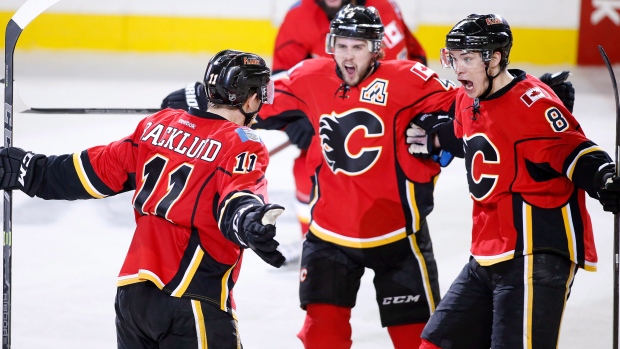 CALGARY - Calgary Flames centre Mikael Backlund felt paralyzed by indecision after his overtime winner beat the Anaheim Ducks 4-3 on Tuesday.
He wasn't sure how to celebrate a goal that pulled his team back into their second-round playoff series with the Ducks.
"I thought for a second about doing a Theo Fleury," Backland said, in reference to the former Flame's jubilant pinballing the length of the ice back in 1991.
"He's a legend and I'm not really quite there. I didn't know what to do."
The sellout crowd at Scotiabank Saddledome celebrated for the 26-year-old Swede as the Flames extended their winning streak at home in this year's playoffs to 4-0.
But Calgary still trails Anaheim two games to one in their best-of-seven Western Conference semifinal. Friday's Game 4 at the Saddledome will be followed by Sunday's Game 5 in Anaheim, Calif.
On a delayed Anaheim penalty and with Flames goalie Karri Ramo on the bench for an extra attacker, Backlund threaded a shot from the blue-line between jerseys to beat Frederik Andersen at 4:24 of overtime.
"It was tough to pick up with all the bodies in front," Andersen said. "It went in on my right side. It was a good shot through traffic."
The Ducks led 2-1 and 3-2 at period breaks, but Johnny Gaudreau pulled the hosts even with 19 seconds remaining in regulation.
Joe Colborne's first goal of the post-season was a short-handed one and Brandon Bollig also scored for the Flames. Ramo made 18 saves for the win, including a key stop on winger Corey Perry in extra time.
Perry, Patrick Maroon and Matt Beleskey countered for the Ducks. Captain Ryan Getzlaf contributed a pair of assists and Andersen stopped 17 shots in the loss.
"We came here to at least steal one and we've got a big task ahead of us in Game 4," Getzlaf said.
"I didn't think we played our best game tonight. We made some errors that are uncharacteristic, but it's bound to happen. You're in the playoffs. It's going to happen throughout the run."
Controversy brewed in the third period when officials denied Sam Bennett an equalizer for Calgary. The rookie's shot from close range at 13:38 appeared from certain angles to slide under Andersen's right pad and behind the goal-line.
The NHL's situation room ruled "no conclusive evidence" of a goal, much to the Saddledome's indignation when the decision was announced.
But Gaudreau deflected attention away from the fuss by scoring the tying goal and his first of the series.
With Ducks defenceman Sami Vatanen serving a delay-of-game penalty and Ramo on the bench again for a two-man advantage, the Calder Trophy finalist's sharp-angled wrist shot beat Andersen short side.
"That's an all-world shot," Colborne said. "There was probably three or four inches there and Johnny just picked it."
It was also Calgary's first power-play goal of the series after going 0 for 11.
The Flames went 3-0 at home in the first round en route to beating the Vancouver Canucks in six games.
After sweeping the Winnipeg Jets four straight in the conference quarter-final, the Ducks outscored the Flames a combined 9-1 to take the first two games of series at home.
"We're still fighting an uphill battle," Colborne said. "The way we've been playing at home, the way we have the support of our fans right now, we're feeling confident we can take care of business here and go try and figure things out in Anaheim."
Getzlaf's face adorns a banner hanging from the Saddledome rafters because he was a major junior star with the Western Hockey League's Calgary Hitmen.
The captain was the difference for the Ducks in the first period as it was him muscling the puck away from Flames defenceman T.J. Brodie that led to Perry's goal.
Getzlaf also set the table for Maroon's goal with a finesse pass from beyond the faceoff circle for his linemate to re-direct.
Notes: Bollig's second playoff goal doubled his regular-season output of one goal. . . Calgary's overtime was their first of the post-season . . . Beleskey's goal was his third in as many games in the series . . With his 70th career playoff point for Anaheim, Perry moved clear of Teemu Selanne into second all-time behind Getzlaf with 86.