Barzal, Strome among World Junior camp invitees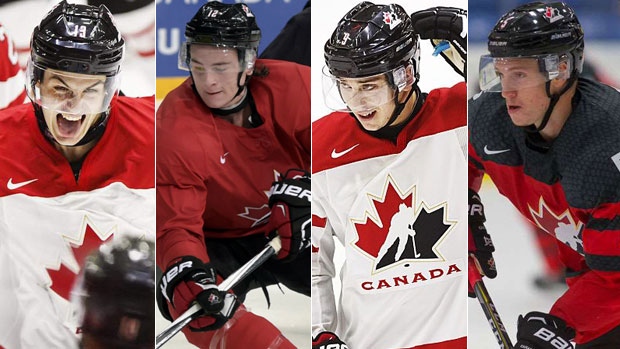 Mathew Barzal and Dylan Strome were among the headliners named to Hockey Canada's 32-man selection camp roster on Tuesday for the 2017 World Junior Hockey Championship.
Barzal, a 2015 first-round pick of the New York Islanders playing with the WHL's Seattle Thunderbirds, and Strome, who played seven games with the Arizona Coyotes this season before being sent back to Erie of the OHL, are among five players returning from the squad that finished sixth at last year's tournament. Other returnees include defenceman Thomas Chabot and forwards Julien Gauthier and Mitchell Stephens.
Also named to the roster was Brandon Wheat Kings centre Nolan Patrick, considered by most scouts to be the top prospect in next June's NHL draft. Patrick had four goals and nine points in six games this season before being sidelined with an upper body injury and is expected to be ready for the start of camp on Dec. 11.
Other notable players include Carolina Hurricanes blueline prospect Jake Bean of the Calgary Hitmen, Montreal Canadiens draft pick Noah Juulsen of the Everett Silvertips, Columbus Blue Jackets prospect Pierre Luc-Dubois and University of North Dakota centre Tyson Jost, who was drafted last summer by the Colorado Avalanche.
Everett netminder and Flyers prospect Carter Hart, Kamloops Blazer Connor Ingram and Canadiens prospect Michael McNiven were the three goaltenders named to the selection roster.
"Congratulations to the 32 players named today to the National Junior Team selection camp roster," said Hockey Canada vice-president of hockey operations Scott Salmond in a statement. "With the number of talented players across Canada, it is a difficult process to get to this point.
"We are confident that the 22 players who emerge from this camp will wear the Team Canada jersey with pride, and give Canada the best opportunity to play for gold on January 5."
Hockey Canada will hold its four-day selection camp in Blainville, Que., from Dec. 11-14, playing two games against a U Sports all-star team and a game against the Czech Republic before finalizing its roster.
Canada opens the tournament in Toronto on Boxing Day against Russia.
Team Canada
| Camp Roster | | | | | | |
| --- | --- | --- | --- | --- | --- | --- |
| GOALTENDERS | | | | | | |
| Name | Team | Catches | Age | HT | WT | DRAFT |
| Carter Hart | Everett (WHL) | L | 18 | 6'1" | 170 | Phi 2016 |
| Connor Ingram | Kamloops (WHL) | L | 19 | 6'1" | 195 | Tam 2016 |
| Michael McNiven | Owen Sound (OHL) | L | 19 | 6'1" | 212 | Mtl FA |
| DEFENCE | | | | | | |
| Name | Team | Shoots | Age | HT | WT | DRAFT |
| Jake Bean | Calgary (WHL) | L | 18 | 6'1" | 170 | Car 2016 |
| Guillaume Brisebois | Charlottetown (QMJHL) | L | 19 | 6'2" | 187 | Van 2015 |
| Thomas Chabot | Saint John (QMJHL) | L | 19 | 6'2" | 188 | Ott 2015 |
| Kale Clague | Brandon (WHL) | L | 18 | 6'0" | 177 | LA 2016 |
| Dante Fabbro | Boston University (NCAA) | R | 18 | 6'1" | 190 | Nsh 2016 |
| Samuel Girard | Shawinigan (QMJHL) | L | 18 | 5'9" | 165 | Nsh 2016 |
| Noah Juulsen | Everett (WHL) | R | 19 | 6'2" | 185 | Mtl 2015 |
| Jeremy Lauzon | Rouyn-Noranda (QMJHL) | L | 19 | 6'2" | 207 | Bos 2015 |
| Victor Mete | London (OHL) | L | 18 | 5'10" | 180 | Mtl 2016 |
| Philippe Myers | Rouyn-Noranda (QMJHL) | L | 19 | 6'4" | 206 | Phi 2015 |
| FORWARDS | | | | | | |
| Name | Team | Shoots | Age | HT | WT | DRAFT |
| Mathew Barzal | Seattle (WHL) | R | 19 | 6'0" | 187 | NYI 2015 |
| Anthony Cirelli | Oshawa (OHL) | L | 19 | 6'0" | 165 | Tam 2015 |
| Dillon Dube | Kelowna (WHL) | L | 18 | 5'10" | 180 | Cgy 2016 |
| Pierre-Luc Dubois | Cape Breton (QMJHL) | L | 18 | 6'3" | 202 | Clb 2016 |
| Julien Gauthier | Val d'Or (QMJHL) | R | 19 | 6'4" | 224 | Car 2016 |
| Brett Howden | Moose Jaw (WHL) | L | 18 | 6'3" | 190 | Tam 2016 |
| Mathieu Joseph | Saint John (QMJHL) | L | 19 | 6'1" | 171 | Tam 2015 |
| Tyson Jost | North Dakota (NCAA) | L | 18 | 6'0" | 190 | Col 2016 |
| Michael McLeod | Mississauga (OHL) | R | 18 | 6'2" | 187 | NJ 2016 |
| Nick Merkley | Kelowna (WHL) | R | 19 | 5'10" | 185 | Ari 2015 |
| Nolan Patrick | Brandon (WHL) | R | 18 | 6'3" | 195 | 2017 |
| Taylor Raddysh | Erie (OHL) | R | 18 | 6'2" | 209 | Tam 2016 |
| Nicolas Roy | Chicoutimi (QMJHL) | R | 19 | 6'4" | 202 | Car 2015 |
| Zach Senyshyn | Sault Ste. Marie (OHL) | R | 19 | 6'2" | 195 | Bos 2015 |
| Blake Speers | Sault Ste. Marie (OHL) | R | 19 | 6'0" | 184 | NJ 2015 |
| Sam Steel | Regina (WHL) | L | 18 | 6'0" | 180 | Ana 2016 |
| Mitchell Stephens | Saginaw (OHL) | R | 19 | 6'0" | 195 | Tam 2015 |
| Dylan Strome | Erie (OHL) | L | 19 | 6'3" | 194 | Ari 2015 |
| Austin Wagner | Regina (WHL) | L | 19 | 6'3" | 185 | LA 2015 |