Beyak: Lowry making an impact for Jets in rookie campaign
As NHL teams prepare for training camp in September, a lot of the hockey talk always revolves around new faces we may see opening night. As Dennis Beyak of TSN Radio 1290 writes, fFor the Jets, one of the names was Adam Lowry.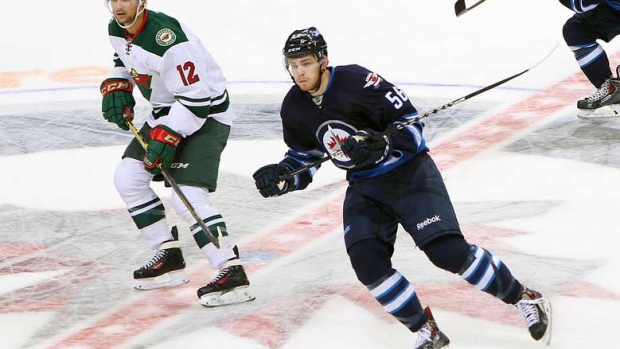 As NHL teams prepare for training camp in September, a lot of the hockey talk always revolves around new faces we may see opening night. For the Jets, one of the names that kept popping up was Adam Lowry. There was a spot up front and he was going to be given the opportunity to grab it. Adam approached camp with this in mind: "When you come in, you know how many guys are coming back and whenever a team doesn't make the playoffs, you know there is going to be a chance they are going to be willing to make changes. So as long as I pushed and I showed well, I knew I'd have a chance to push my way into the lineup."
Lowry had a very good second half with the St. John's IceCaps in their run to the Calder Cup final last sprng. It was also an opportunity for Kevin Cheveldayoff, Craig Heisinger, Paul Maurice and the rest of the Jets management group to get a real good look at him in pressure situations. But knowing who was watching was not the focus. "We were focussed on winning the Calder Cup. It was disappointing to lose. For me in the developmental stage, going through that was huge. Playoffs is another level. To be able to do that, it was a short summer but a lot of valuable experience was gained."
At 6'5 and 207 lbs, the 21-year-old has the size to be able to compete in the tough Western Conference. He also has the pedigree, with his father Dave having played 1,084 NHL regular season games. And when the Jets made him their second selection in the 2011 draft, family was part of it.
"Dave was well respected, both as a player and a person," said Marcel Comeau, Director of Amateur Scouting for the Jets. "We were hopeful the apple didn't fall too far from the tree and that has certainly come to pass."
When it came to making the selection, there was no debate, continued Comeau.
"We had him and another player in mind, a player that went a few picks earlier. When that guy went, Adam was our guy. We liked his size, his effort, physical play, his two-way game and he led by example. He was a little raw at that point, but we felt he had big upside."
In the 2008 Western Hockey League bantam draft, a VERY much smaller Lowry (5'9, 135 lbs) did not go until the fourth round, 78th overall, taken by the Swift Current Broncos, a place where he grew both on the ice and off the ice. "I went to my first camp at 15, I measured in at 5'11, 141 lbs, and started my first junior year at 6'1 1/2. They gave me 163 but I was probably 150-155 lbs." He went on to being named WHL Player of the Year after scoring 45 goals and 43 assists for 88 points in the 2012-13 season.
Lowry was born in St. Louis where his dad was playing with the Blues. "We were only there nine months and Dad got picked up by Florida in the expansion draft. There until I think five and we moved to San Jose until I was eight and then Calgary ever since. I remember the first time in Calgary, it snowed first week of September and I was terrified."

Lowry learned plenty from his dad, and from just being around the game. "Dad had to go to the rink and work hard every day. He was never guaranteed a spot. He was always on the third and fourth lines and always battling with someone else to stay in the lineup. I saw how hard he worked in the summer and how hard he worked during the season. Even when he was injured he would be in the gym and doing everything he could to get back into the lineup. He's been huge help."
Adam also learned by just hanging around and watching. "You pick up things that a lot of people don't if you are not around it. I'd watch practices, and at a young age, you are watching some of your heroes but you are also watching coaches implement systems and at eight, nine, 10-years-old, you are starting to understand things that are not being taught until 13, 14. It really helps you push your hockey sense to another level at a young age."
Lowry is a perfect example for the Jets plan of draft and develop. As general manager Kevin Cheveldayoff put it to Tim Campbell of the Winnipeg Free Press the morning of Lowry's first NHL game, opening night in Arizona, "It's something that when we set out on this trek, this journey from Atlanta to Winnipeg, we knew the process and the painstaking way we were going to have to build the franchise. So when you draft a player and he goes through the process, the gratifying thing to me personally is that you're not really doing it, it's the way the organization is set up, the people you've entrusted to do their jobs. You know the prospects are in good hands, but at the end of the day, it's up to the prospect. They have to take possession of their own career and Adam has certainly done that."
There is an interesting connection with teammates T.J. Galiardi and Paul Postma. Dave Lowry coached the two when they played for the Calgary Hitmen of the WHL. For Postma and Galiardi to make hockey comparisons is not possible, but there are similarities in personality. "Both have a lighthearted, dry sense of humor," stated Galiardi. "Dave ripped me a few times when he coached me, Adam hasn't ripped me – yet." He added jokingly. Postma notices how both love to compete. "They both hate to lose, very competitive."
On the ice, Lowry has been moved from left wing to centre because that is where Coach Paul Maurice sees him playing long-term. Lowry grew up a winger, but was moved to centre for his final year of junior and also played the middle last year. Biggest adjustment to the NHL, "pace," stated Lowry. "Everything happens quicker."
Lowry's first NHL goal came on a deflection in the sixth game of the season. It turned out to be the winner in the Jets first home win of the year. Every game, he seems more comfortable starting a road trip on a line with Chris Thorburn and Dustin Byfuglien. And the final word will go to Byfuglien, "He is fun to watch. Keeps it simple and doesn't want to get out of his comfort zone, but I can't wait until he does."