Breaking Lucky wins Prince of Wales Stakes
Breaking Lucky held off Queen's Plate winner Shaman Ghost to capture the 80th running of the $500,000 Prince of Wales Stakes race Tuesday night.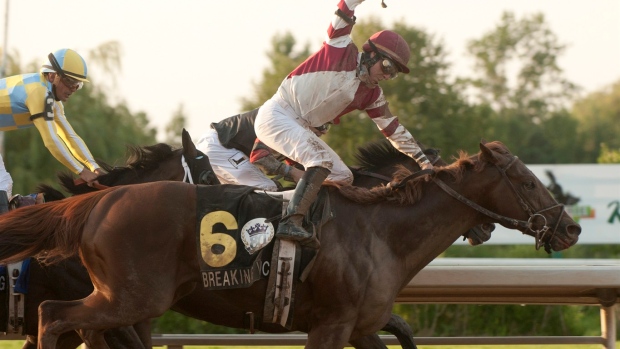 FORT ERIE, Ont. - Breaking Lucky proved to be a bad omen to Shaman Ghost's Triple Crown aspirations Tuesday night.
The 13/1 longshot came from last to edge the Queen's Plate winner by a neck in the $500,000 Prince of Wales Stakes at Fort Erie Racetrack. Breaking Lucky's victory leaves Wando (2003) as the last Canadian Triple Crown champion.
Breaking Lucky was fifth behind Shaman Ghost in the Queen's Plate on July 5 at Woodbine Racetrack. Shaman Ghost, the 3/4 Prince of Wales favourite, was the first Plate champion to race here since 2010 and came in having won four straight, including two on dirt surfaces similar to Fort Erie's.
Shaman Ghost was also attempting to become the first horse since Wando to win the first two legs of the Triple Crown. But McAleney wasn't exactly broken up that his first career Prince of Wales victory also thwarted a Triple Crown bid.
"I love the industry, the industry has treated me wonderful and I always know a Triple Crown winner is great for it," he said. "I would never want to be the rider that disrupted the third leg of the Triple Crown.
"But the second (leg) is still fair game."
Breaking Lucky was last at the three-quarter mile mark before making a strong inside move down the homestretch. McAleney said he was very confident his horse had held on for the victory.
"By the time we hit the finish line I knew I was the winner, absolutely," he said. "I knew Shaman Ghost was down in there, he was looking for room and I knew once he got through he'd come running.
"It (homestretch) is really long. If I had time I would've been praying but I didn't have time."
Veteran trainer Reade Baker wasn't quite so sure McAleney had delivered him his first career Prince of Wales victory.
"I was standing down at the bottom and everybody was yelling 'Eurico, Eurico,' (for third-place jockey Eurico da Silva)." Baker said. "I thought I must be the middle horse."
Jockey Rafael Manuel Hernandez was happy with Shaman Ghost's effort.
"I was inside down the backside and had to stay where I was and make one run," he said. "It looked like we were done down the lane, but he came back again and almost got there."
Da Silva praised Breaking Lucky for the victory.
"When we turned for home, my horse was a little bit green and we lost a little bit of momentum there and that's why we got beat," he said. "Still, the winner really was great and deserved to win. "
Breaking Lucky won the 1 3/16-mile race in 1:56.59 on a fast track. Shaman Ghost was second, ahead of Field of Courage in a three-horse photo.
The remainder of the field, in order of finish, included: Scorch; Conquest Boogaloo; Danish Dynaformer; and Cut to the Chase.
Breaking Lucky paid $28.10, $8.30 and $5.90. Shaman Ghost returned $2.30 and $2.40 while Field of Courage paid $6.50.
The win was the second in six career starts for Breaking Lucky, with the $300,000 winner's share boosting his overall earnings to $362,700.
The 45-year-old McAleney was ecstatic to secure Baker his first-ever Triple Crown win.
"This will go down as maybe one of my favourite all-time races," he said. "To do it with someone, for somebody who has supported me to the length that Reade has done, enough can't be said."
Added Baker:" He (McAleney) has always had weight problems for years, it's really held his career back. But he seems to have it straightened out now, he just needs some opportunities. He proved he could ride today."
And Baker wasn't concerned to see his horse trailing so late in the race.
"He was close enough . . . it was a very fair racetrack inside, outside, back and front," he said. "You just had to have the best horse and we had the best horse."
The final Triple Crown event is the $500,000 Breeders' Stakes, a 1 1/2-mile turf event Aug. 16 at Woodbine Racetrack. Baker said the plan is for Breaking Lucky go to the starter's gate.