Brodeur to retire as player and join Blues' front office
Goaltender Martin Brodeur plans to announce his retirement and join the front office of the St. Louis Blues for the rest of this season. Brodeur, a three-time Stanley Cup champion and two-time Olympic gold medallist, is the NHL's all-time leader in regular season wins (691) and shutouts (125).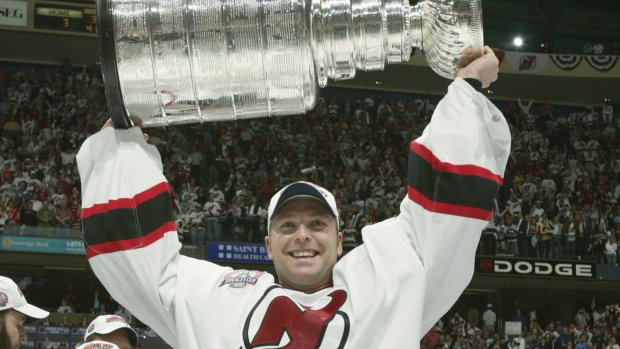 Martin Brodeur is set to announce his retirement and join the St. Louis Blues front office.
The 42-year-old will officially make the announcement on Thursday.
New Jersey Devils president and general manager Lou Lamoriello told Rich Chere of the Star-Ledger that Brodeur will be back with the Devils but will finish this season in St. Louis.
"I don't think it's a case of choosing. He's been (in St. Louis) with the players," Lamoriello said. "The players and administration asked him to stay. I certainly understand. Marty and I have been in constant contact."
Brodeur signed with the Blues as a free agent in December when Brian Elliott went down with an injury. He compiled a record of 3-3 with a goals-against-average of 2.87.
The Montreal native spent the first 21 years of his career with the Devils and leaves the game as the league leader in wins (691), losses (397), games played (1,266) and shutouts (125).
"Today's announcement ends one of the greatest careers that you can imagine, in so many different ways," Lamoriello told TSN Hockey Insider Pierre LeBrun. "Just look at his statistics, they will tell you about his career. What more can you say? He's been an ambassador for the game and will continue to be. He's had tremendous success both in the National Hockey League and internationally. He's going to go down if not as the, one of the greatest goaltenders ever."
Brodeur, who won three Stanley Cups and two Olympic gold medals, retires with a 2.24 GAA and .912 save percentage for his Hall of Fame career.
He was originally drafted 20th overall by the Devils in 1990 and went on to win the Vezina Trophy four times.
NET GAIN
| AWARD | THE NUMBERS |
| --- | --- |
| Stanley Cup | 3 |
| William M. Jennings Trophy | 5 |
| Vezina Trophy | 4 |
| First Team All-Star | 3 |
| Olympic Medals | 2 (Gold) |