Data doesn't support decision to split Flyers' dynamic duo
Philadelphia Flyers head coach Dave Hakstol's decision to play Jakub Voracek and Claude Giroux on different lines is understandable but ignores the numbers, writes TSN's Travis Yost.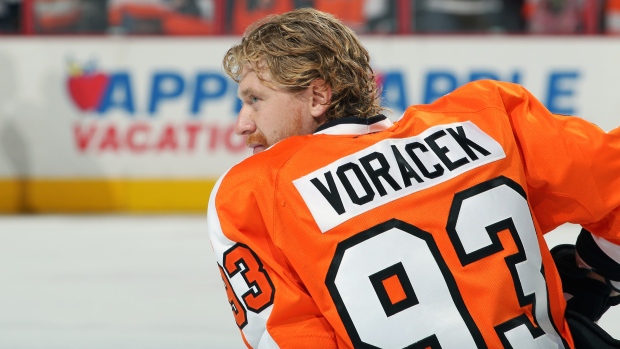 There has been a lot of talk about the struggles of the Philadelphia Flyers in the last couple of weeks. That discussion came to a head on Monday, when head coach Dave Hakstol unveiled some interesting new lines.
I'm fairly sympathetic to Hakstol's position here. His team, save for a few high-end weapons, grades fairly low on the talent scale. The wins just haven't materialized. A 7-9-5 record to start the season has the Flyers sitting sixth in the Metropolitan, just a point up on the Carolina Hurricanes.
That said, the new-look lines were a tad puzzling. The biggest change included a demotion of Jake Voracek to a line with Chris VandeVelde and Pierre-Edouard Bellemare. If you are unfamiliar with either of those names, it's understandable – they're true and through grinders who generate little offence. VandeVelde's career per-60 scoring comparables include names like Ben Eager, Jim Slater, and Brian McGrattan. Bellemare's include Matt Hendricks and Jared Boll.
Hakstol's move, clearly, was to try and spread some of their top-end talent through the lineup. It effectively broke up the wondrous duo of Claude Giroux and Voracek, the trade-off ideally coming with some improving depth.
Still, I found it curious that Hakstol went to this well first. The Flyers have been somewhere between average and bad for a few years now, but the one staple of this team has been an extremely talented first line.
Giroux and Voracek have been very apple-pie-and-ice-cream for years together – Giroux's playmaking ability complemented by Voracek's agile wing play and shot generation. It never really mattered who the other winger was in this group. They controlled play and beat up their opposition on most nights.
But, it's not as if Giroux and Voracek have been a constant pairing for years. Giroux's spent about 900 minutes away from Voracek in the last four seasons, and Voracek has spent a little over 600 minutes away from Giroux. So the splitting of this pair isn't something new, we have seen them play apart from one another in years past.
How has it worked historically? Well, not great. Look at the together and apart numbers for Giroux and Voracek from 2012-15, and notice what happens when the split occurs (via hockeyanalysis):
This is pretty telling, and one of the big reasons why I was so stunned to see the Flyers again splitting up this pair. I think the huge drop off is driven by two things. One, Giroux and Voracek just pair so well together. Two, the talent filling out Philadelphia's roster has been abysmal. I know this because two exceptional players have played hundreds and hundreds of minutes with these depth players, and the performance has been substandard.
This has to be frustrating for the Flyers. In fact, if I was in Hakstol's position, I'd be doing exactly what he's doing – tinkering with the lineup to find a way to optimize a pretty mediocre collection of talent.
You do wonder if part of this lineup change was driven by Voracek's absurdly unlucky start to the season. Voracek, a career 10 per cent shooter, has scored just one goal in 21 games. It's the worst drought of his career, and would seem to be at least part of the reason that Hakstol's decided to blend the first line.
It's curious to me that Voracek's poor goal scoring and subsequent drop in the lineup could have more of an adverse effect on his old centre. Voracek's numbers take a demonstrative step back away from Giroux, but Giroux's numbers absolutely crater away from Voracek. You're left with a fascinating possibility: both Voracek failing to improve the depth of the Flyers roster, and the first line turning into a catastrophe.
The Takeaway
The Flyers front office will ultimately be the group responsible for improving the back-end of this team, but for now, Hakstol is going to be forced to tinker like a madman to make things work. I applaud his efforts, but I don't think the data supports his first decision of splitting up Giroux and Voracek. I would look elsewhere.