Examining Panthers' numbers under Gallant
As Travis Yost writes, the Florida Panthers are a team that's okay enough to win games and it's challenging to see how the numbers led to his surprising dismissal on Sunday night.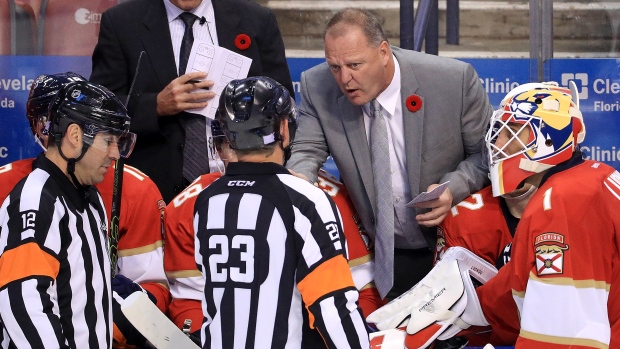 There are two reasons why Gerard Gallant is no longer the head coach in Florida.
The first one is simple: There was a strong philosophical divide between the new regime and the last remaining figureheads of the Dale Tallon era. Any time there's frequent theoretical disagreement between a front office and a coaching staff, you can usually start counting down the days until the latter is removed from duty.
The second piece is a bit more complex. At surface level, the Florida Panthers were treading water – their 11-10-1 record had them within striking distance of most of the conference's better competitors and at least two of the teams within the division are complete also-rans. A better way of putting it is that Florida doesn't look anything like a team that, historically, turfs their coach after the first 20 or so games of the regular season.
That's what makes a postmortem on Gerard Gallant's dismissal so interesting and challenging. You can nitpick at the margins all you want on the ice (and we will), but this is night-and-day different from your Randy Carlyle or Patrick Roy situations. The team, for all intents and purposes, was okay enough to win hockey games. It's one of the big reasons why I suspect it won't take a ton of time for the recently departed head coach to find another job in another hockey market – and we know that one team (Las Vegas) is already looking.
Emphasis on decent. This was a screamingly average team and in fairness to the front office here, one that was degrading with time. Look at how scoring chances have trended over the last two seasons, specifically noting the drop-off since the hockey season calendar turned: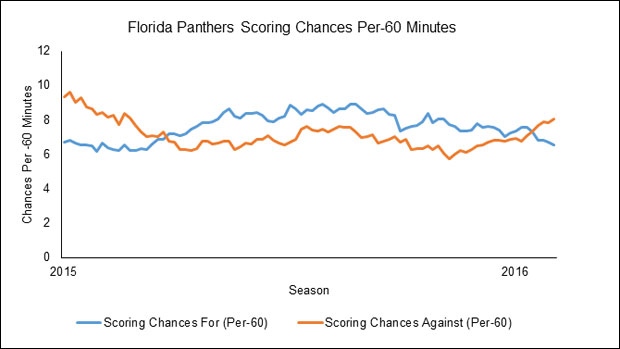 That's not an insignificant change and it's being driven at both ends of the ice. The story here is that the Panthers are spending less time in the offensive zone generating dangerous scoring chances and more time in the defensive third hoping and praying that one of Roberto Luongo or James Reimer will bail them out. Either way, it's pretty discouraging stuff.
Now, there's two sides to this argument. Maybe the growing scoring chance gap the team was facing was being driven by injuries or sheer noise and that it would reverse course over the next 60 games. But that's where the interesting philosophical gaps come into play. If the Panthers' front office felt Gallant was having an adverse impact on his team - be it from line combinations, pairings, deployment or even roster input - then they would argue that this gap would only widen with time.
So how does a roster that looks pretty similar to the high-performing one from six months ago reverse course so fast? There are likely a variety of factors at play, but I do think one of the bigger drivers is some of the funky defensive pairing problems the Panthers are having and - perhaps - another area where the coaching staff and front office were divided.
One of the first noticeable things about the Panthers this year was that their star-in-the-making - young defender Aaron Ekblad - has really struggled. Some of this is superficial – the Panthers are shooting 3.5 per cent at 5-on-5 with him out there and that won't continue. As soon as the pucks start going in, Ekblad's counting numbers will start rising.
But some of his struggles aren't. Gallant has a staunch left-shot/right-shot preference with his pairings and it's created some real lack of comfort for Ekblad. He's already played 50-plus minutes with three different pairings (an oddity in its own right for a top four-type this early in the season) and two of these guys in Jakub Kindl and Michael Matheson are not quite prime time. The other - Keith Yandle - might be the most high-risk/high-volatilty player in the league.
Either way, it hasn't mattered who Ekblad has played with – his pairing has been caved in time and time again and it's one of the bigger reasons in my estimation why this team is sort of spinning their wheels through November. For reference, I've compiled the Ekblad pairing shot differentials and scoring chance differentials (via Corsica) with Ekblad on the ice.
It's, well...not good:

If I'm making bets as to what the Panthers look like in the coming months, it's that Aaron Ekblad's going to see some real time with another right-shot (perhaps Mark Pysyk makes the most sense), which would allow the super-talented Jason Demers to anchor another top four pairing with Yandle.
Will that help get Ekblad back on track? Perhaps. Quality of teammate plays a big role in player performance, but if Ekblad's struggles are more related to Ekblad than they are who he's been playing with, then new head coach Tom Rowe is going to be stuck in the same situation that Gerard Gallant was.
The Ekblad example might just be one of a dozen (or more) areas of disagreement or dismay that the team's endured over the last couple of months, but I do think it sheds some light into the type of discussions teams have about how to get this stuff right. The biggest problem, of course, is that there are few easy answers in a salary cap league, and you can't just spend your way out of trouble.
To that end, it'll be fascinating to see if the firing of Gerard Gallant was a pure scapegoating of a front office's failures to accumulate proper talent, or if the departed head coach was truly becoming a drag on team performance.