Exclusive: Babcock talks coaching future
TSN Hockey Insider Darren Dreger sits down for an exclusive interview with this summer's hottest coaching free agent Mike Babcock and Red Wings GM Ken Holland to discuss Babcock's hockey future.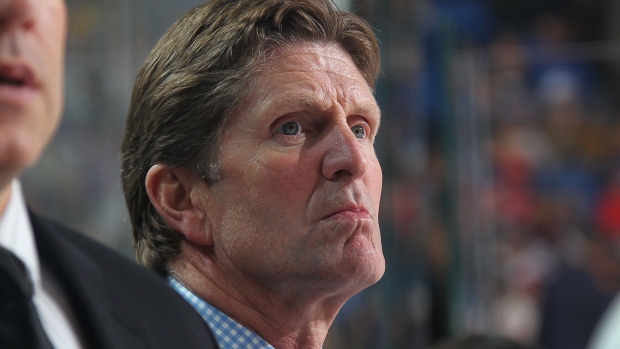 TSN Hockey Insider Darren Dreger sat down with Mike Babcock, the NHL's most sought-after head coach, and Detroit Red Wings GM Ken Holland for an exclusive interview in Prague, Czech Republic at the World Championship on Friday.
Babcock confirmed to Dreger that he's received at least two head coaching offers so far this off-season. The coach's contract has run out in Detroit and he currently has a window to meet with other clubs. Aside from his interest from the Red Wings, Babcock has also met with the Buffalo Sabres and is believed to have spoken with the Toronto Maple Leafs.
Dreger discussed with the two men Babcock's hockey future and asked about about his method for choosing a team.
"This has been an interesting process," Babcock told Dreger. "I brought this on myself. I've learned a ton about myself, I've learned a ton about our relationship (referring to Holland), I've learned a ton about franchises and the NHL, and it's been great. But to say it's been fun? Your head's spinning."
Throughout the process Babcock and Holland have remained in touch. They took in a Grand Rapids Griffins playoff game together (Detroit's AHL affiliate) immediately after the Red Wings season finished, and are now together at the World Championship.
Holland said he is of course hoping that Babcock returns behind the Red Wings bench but is also respecting his coach's opportunity this off-season.
"My attitude with the Detroit Red Wings has always been that we want people in Detroit because they want to be in Detroit," Holland explained. "This is an opportunity for Mike, if he's not the best coach in the game he's on a small list of the best coaches in the game and it's an opportunity to decide that we are the best fit.
"I don't want Mike to wake up and think that maybe there's a better opportunity out there so this is a process to allow him to decide if there's a better fit for him out there and then he should pursue it. I'm hoping that we're the best fit."
For Babcock's part, he's taking his time evaluating the best fit. The Stanley Cup-winning coach said a lot of factors ultimately go into his decision.
"I think about the Red Wings' (legacy). The Red Wings are an Original Six franchise, a very special thing. I think about the opportunity to win. I think about my family, my time in Detroit; is change important to invigorate you? I think about lots of things."
Babcock is expected to become the highest paid coach in the league this summer, but said that money isn't something that he's been focusing on throughout his selection process.
"I'm not concerned about that part because anywhere you go you're going to be paid. So I don't think that's an issue and Ken's assured me of that."
It's been reported that Babcock has a soft deadline of May 25th to make a final decision, but the two-time Olympic Gold Medal winner said we won't have to wait that long to find out where he'll be coaching next year.
"To be honest with you that date to me is going to be moved up. When I get home from the World Championship and sit down; enough time already, let's get on with it. I bet you by the 20th I'm going to know what I'm doing.
"I've done enough thinking, it's time to make a decision here pretty quick."