Farber: For Sam, Montreal's the perfect fit
As TSN's Michael Farber writes, the city of Montreal has always been about tolerance and a laissez-faire attitude. That was the case 70 years ago when Jackie Robinson played baseball with the Royals, and today as Michael Sam prepares for his pro football career with the CFL's Alouettes.
Michael Farber, Special to TSN.ca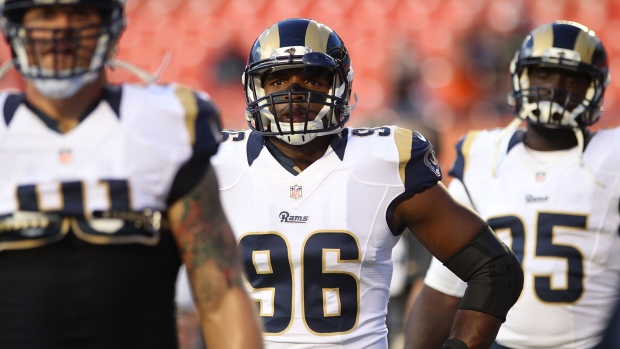 The address is 8232 de Gaspé, a modest duplex on a modest street in the Villeray district in the north-central part of the city. The only thing that differentiates the address from the other duplexes in the working-class area is a plaque, placed there four years ago by the United States ambassador to commemorate the man who once lived there and, indirectly, the city that accepted him.
The duplex was the home of Jackie Robinson, a few tape measure shots away from Delorimier Downs, and a way station on the winding road to the Brooklyn Dodgers and major league baseball and a place of honor in the American civil rights movement.
Almost seven decades later, there remains the reflected glory of Robinson, backlighting the city with a soft gauzy halo.
Brooklyn general manager Branch Rickey picked the right place when he sent his second-baseman-in-waiting to the minor-league Royals in 1947. Montreal embraced Jackie and Rachel Robinson with familial warmth, something Rachel, now 92, never has forgotten.
Robinson would end up in Cooperstown in 1962, but almost immediately Montreal was inducted into the tolerance Hall of Fame, a city that knew not only how to live but also how to let live. Certainly Montreal did something for Robinson, who broke the color barrier in the big leagues. But in burnishing the city's good name and reputation, Robinson did at least as much for Montreal.
Now 68 years later, another notable barrier-crasher has made it to the city - Michael Sam, the new Alouettes rush-end and the first openly gay professional football player.
There are some notable differences between Robinson and Sam:
- Robinson has a small plaque (and a statue near Olympic Stadium). Sam has an official jersey, available for $139.95 on the Alouettes website.
- Robinson was a game-changer, a dynamo at the plate and a swashbuckling baserunner. Sam was a league changer, a tweener who didn't quite fit as a linebacker in the NFL – he was cut by St. Louis and spent some time on the Dallas practice roster – and had to head north.
- Robinson was a bona fide star. Sam was on Dancing With The Stars.
But these men are inextricably intertwined, pioneers in the most popular sports of their respective eras that found themselves in Canada's second city at wildly different stages of their careers.
For Robinson, then 28, Montreal was a launching pad to history.
For Sam, 25, it is a place to retrench, to redefine himself and, in a perfect world, crash through to the NFL like Cameron Wake, the ex-B.C. Lion, has done in Miami.
On some level, Sam's signing in Montreal - and the instant merchandizing - feels like one more attention-seeking grab at a 'name' American player in a city that worships style and stars: the old Johnson & Johnson (Billy White Shoes and Chad) gambit.
Still, in theory, Sam could be a useful player who should fit in - at least in a city where he can be as visible or as private as he chooses. The locker room might be more problematic. But as general manager Jim Popp said Friday, if any challenges arise, the Alouettes will make sure Sam's teammate is properly educated. Popp praised Sam's, "dignity, character and heart."
The message was crystalline. There will be no gray area here, only a team focused on a Grey Cup.
Montreal has a deserved reputation as being among the most gay-friendly in North America. The Gay Village, noted on official city maps as "Le Village," runs for two kilometers. The city was the host to Gala, an international event for gay choruses in 2004, and the Gay Games in 2006. In 2005, André Boisclair of the Parti Québécois became the first openly gay person to win leadership of a provincial party with representatives in the legislature.
The ethno-linguistic issues in the city and province simmer in perpetuity - Randy Cunneyworth's ill-conceived and ill-fated tenure as head coach of the Canadiens had as much to do with language as the power play - but matters of race and sexuality in Montreal often are greeted with little more than a Gallic shrug.
Maybe the United States is catching up to Montreal's laissez-faire attitude, at least to a degree in the bedeviling issue of race. Think back to the 2014 NFL draft. Sam waited until the seventh round, pick No. 249, eighth from the end, before the Rams, essentially his hometown team, selected him.
Recall what happened next? Sam passionately kissed his boyfriend, now his fiancé, Vito Cammisano. The Internet seemed to lose its mind on that Saturday afternoon in May. But unless memory has failed, amid the shock-horror flak not one comment noted the kiss was interracial.
Maybe Jackie Robinson wouldn't have recognized any of this in his era, but that, too, is progress.