Flames pad series lead with win
The Calgary Flames are a win away from advancing to the second round of the NHL playoffs for the first time in over a decade. Jiri Hudler led Calgary with a goal and an assist in a 3-1 win over the Vancouver Canucks on Tuesday.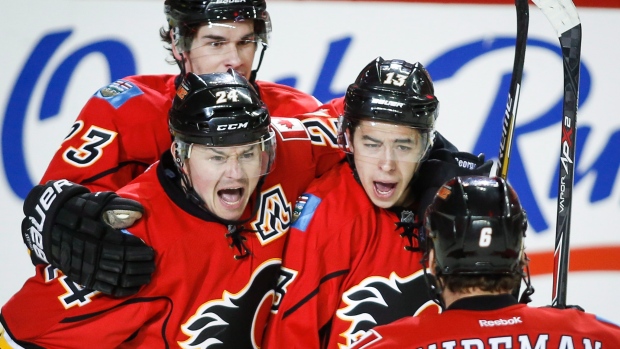 CALGARY - One of two Calgary Flames to own a Stanley Cup ring likes his team's position, but says it just gets harder from here.
Jiri Hudler led Calgary with a goal and an assist in a 3-1 win over the Vancouver Canucks on Tuesday. The Flames lead their best-of-seven Western Conference quarter-final three games to one.
Calgary is a win away from advancing to the second round of the NHL playoffs for the first time in over a decade.
"The last step, I think, is the hardest one," said Hudler. "We've got to be confident, but not too confident. They've got a great team and you saw they kept coming."
The Flames head to Vancouver with the chance to win the series in Thursday's Game 5 and move past the first round for the first time since 2004. Calgary reached the Stanley Cup final that year and lost in seven games to the Tampa Bay Lightning.
A Game 6, if necessary, will be Saturday in Calgary and a Game 7 would be Monday back in Vancouver.
Calgary's Johnny Gaudreau scored his first playoff goal and 18-year-old rookie Sam Bennett his second in as many games. Goaltender Jonas Hiller made 28 saves for the win.
The Canucks had home-ice advantage to open the series, but the Flames have wrested it away from Vancouver. Calgary split the first two away games of the series before back-to-back wins at the Scotiabank Saddledome.
"It's huge for us," Gaudreau said. "We can — not relax — but calm down, get ready to go to Van and make sure we try to get the win there.
"If we don't, we've got two more games to do that. They're going to be fighting for their lives so we've got make sure we're doing the same thing and playing the way we can play."
Captain Henrik Sedin countered for the Canucks with his first goal of the series. Starter Eddie Lack was pulled after giving up three goals on seven shots in the first period. Ryan Miller turned away the 15 he faced in relief.
"We've played good hockey a lot of times in this series, but that means nothing," Canucks defenceman Kevin Bieksa said. "We're scoring one, maybe two goals a game right now. That's not going to win you many games in the playoffs.
"We go back home and we're a confident group when we've faced elimination before. The last one's the toughest one to win, so we go back home and we put everything we can into that one."
Hudler won a Stanley Cup with the Detroit Red Wings in 2008 and teammate Brandon Bollig with the Chicago Blackhawks in 2013. Hudler centres Calgary's top line with Gaudreau and Sean Monahan on his wings.
Held without a goal in the first two games of the series, each player has contributed a power-play goal in the two home games.
Two of Calgary's three goals were power-play goals scored against a penalty kill that ranked No. 2 in the league during the regular season.
The Canucks were minus significant playoff experience and penalty-kill manpower Tuesday with the absence of forwards Brad Richardson and Alex Burrows.
"Those are two of our main killers," Canucks coach Willie Desjardins. "We use them all the time."
The Canucks coach provided no information on Richards, but Burrows' situation was more obvious. The 34-year-old abruptly left the morning skate in pain.
He was put on a stretcher and taken to hospital in an ambulance for what the Canucks said was for "precautionary reasons."
Desjardins said Burrows following the game had been released from hospital, but his upper-body injury prevented him from flying to Vancouver with his teammates.
The visitors outshot Calgary 11-7, but trailed 3-1 after the opening period. Vancouver mustered just three shots in a scoreless second period to Calgary's six.
The second and third games of the series ended with a lot of punching and a pile of penalties. The fourth concluded relatively peacefully as the Canucks were more concerned with trying for another goal than mixing it up.
Bennett crashed the net and deflected T.J. Brodie's sharp-angled shot by Lack at 19:18 of the first period for an even-strength goal.
Kris Russell teed up Dennis Wideman, whose one-timer deflected off Hudler to make it 2-1 at 9:20. Vancouver evened up at 8:12 when Sedin's wrist shot deflected between Hiller's pads.
Gaudreau finished a tic-tac-toe play at 3:23 for his first career playoff goal. From behind Vancouver's net, Hudler fed the puck out to Monahan who dished across to Gaudreau to finish with a wrist shot.
Notes — Flames forward Michael Ferland hit Canucks eight times for a second straight game and has 26 in four games . . . Linden Vey and Brandon McMillan drew into Vancouver's lineup for their first playoff games of the series . . . The Canucks called up former first-round Flames pick Sven Baertschi from the AHL on Tuesday, but he didn't play. . . Hudler was named one of three finalists for this year's Lady Byng Trophy for sportsmanship and a high standard of play. Detroit's Pavel Datsyuk and Anze Kopitar of the Los Angeles Kings are the other finalists . . . Their AHL season over, the Flames called up 15 players from the Adirondack Flames, including recently signed forward Garnet Hathaway.