Giovinco notches hat trick, TFC top United
Sebastian Giovinco broke out of his eight-game scoring drought in spectacular style Saturday night, scoring three goals and helping set up another as Toronto FC defeated D.C. United 4-1.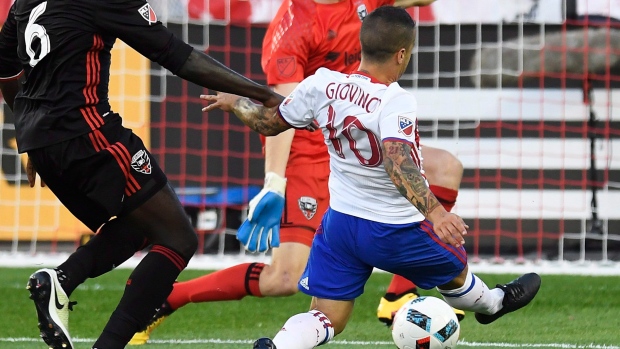 TORONTO — Sebastian Giovinco reminded Major League Soccer what a star looks like Saturday night, breaking out of an eight-game scoring drought in spectacular fashion.
Playing the role of the Washington Generals, D.C. United was on the wrong end of a statement game that saw the 29-year-old Italian score three goals and set up another in a 4-1 win for Toronto FC.
Giovinco had not scored in league play in more than two months — 70 days to be exact — since collecting two goals in a 4-3 loss to the Vancouver Whitecaps on May 14.
"I kept hearing it all week that he hasn't scored, he hasn't scored," said D.C. United coach Ben Olsen. "It's the last thing you want to hear as a coach."
The reigning league MVP had served as playmaker and shown some great touches during the drought. But he could not score, ripping his jersey in frustration during one match. Off the field, he was equally hard on himself — even apologizing for not scoring.
The Super Seba show came before 26,349 fans on a steamy night at BMO Field where the mercury was plus-30 despite the evening kickoff. Two goals came on free kicks 18 minutes apart in the first half with the third coming in second-half stoppage time as he poked home a Mark Bloom cross to up his goals total to 11 this season.
"I'm back," Giovinco said via an interpreter.
"Great goals, great performance by him," said Toronto coach Greg Vanney.
The hat trick increased Giovinco's career TFC goal total in all competitions to 35 (33 in MLS, two in the Amway Canadian Championship) in less than two seasons. It was also a record third hat trick in league play for a Toronto FC player.
The goal tally could have been higher for Toronto, which had its way with a slumping, offensively-challenged D.C. United side that has won just one of its last seven games (1-3-3).
On Saturday night, the Atomic Ant looked hungry and came close to breaking free early on a play that was called offside. D.C. United defenders were reduced to dragging him down and he soon made them pay.
Giovinco's breakthrough came on a free kick from 25 yards out in the 21st minute when he curled a right-footed shot over the four-man wall for his first goal in 697 minutes. He did it again in the 39th minute, this time from the other side of the penalty box, ignoring another D.C. United wall and leaving goalkeeper Travis Worra lunging for air, to make it 3-1.
According to ESPN, Giovinco has seven goals on direct free kicks in the past two MLS seasons.
Giovinco celebrated his second goal on the night by mimicking with a golf shot, explaining he had played in a golf benefit tournament during the week which perhaps had brought him some luck.
"He's very special," said forward Tosaint Ricketts, who made his Toronto debut off the bench in the second half. "Throughout my career, there weren't many players that I played with that match his abilities and his vision and his goal-scoring ability."
The visitors got on the board three minutes after Giovinco's first strike, cutting open the Toronto defence with a string of passes before Jared Jeffrey poked it past Alex Bono.
But Toronto (7-7-6) bounced back with Giovinco leading the way. The Italian sliced into the penalty box, leaving a defender in his tracks only to see his shot beat Worra then hit the goalpost. Marky Delgado was Johnny-on-the-spot, banging in the rebound in the 29th minute for a 2-1 lead. Forward Jordan Hamilton helped free up Giovinco with a deft dummy off the ball.
It was only the second time in 20 league outings this season that Toronto has scored three goals.
On defence, Bono looked solid after a gaffe that cost Toronto last weekend in a 2-1 road loss to nine-man San Jose.
There was more good news for TFC as striker Jozy Altidore came on in the 72nd minute, ending an injury layoff that coincided with the start of Giovinco's slump.
Giovinco came close to scoring again in the 56th minute when he broke through the Toronto defence, but Worra got a hand to the ball. And he was just high with a shot in the 66th minute. He even tried to volley an Altidore cross in the dying minutes.
Ricketts, wearing No. 87, came on in the 71st minute and hit the goalpost two minutes later. He almost scored in injury time but was stopped at close range by Worra.
"During the national anthem, I felt something I never felt before," said Ricketts. "And I knew I was in the right place. It was a great feeling."
The points were valuable with Toronto starting the day fifth in the Eastern Conference standings, just two points ahead of seventh-place D.C. United, who slipped to 5-8-7 with the loss.
Toronto came into the game having scored just eight goals in nine league games (2-3-4) since Giovinco's last goals in mid-May when Altidore injured his hamstring taking a penalty in the loss to Vancouver.
The home side was without the injured Michael Bradley, Will Johnson, Clint Irwin, Daniel Lovitz and Ashtone Morgan while Jonathan Osorio was a late scratch with the flu.
D.C. was missing U.S. international goalkeeper Bill Hamid (hand) and defender Bobby Boswell (strep throat).
Saturday marked the first of four straight home games for Toronto, whose league schedule was skewed by eight consecutive road games at the start of the season due to stadium renovations. The schedule is in their favour now with nine of Toronto's remaining 14 games at BMO Field.
Jim Brennan, Toronto's first player and captain, was honoured prior to the game.
Follow @NeilMDavidson on Twitter