Bernier, Reimer shelled in Maple Leafs' blowout loss to Predators
Jonathan Bernier lasted all of 20 minutes while Pekka Rinne continued his early-season dominance as the Nashville Predators hammered the Toronto Maple Leafs 9-2 at the Air Canada Centre on Tuesday. The Maple Leafs goaltender, who had allowed only three goals in his previous two starts, gave up that many in the first period alone — two of them to Taylor Beck — before he was relieved by James Reimer to start the second.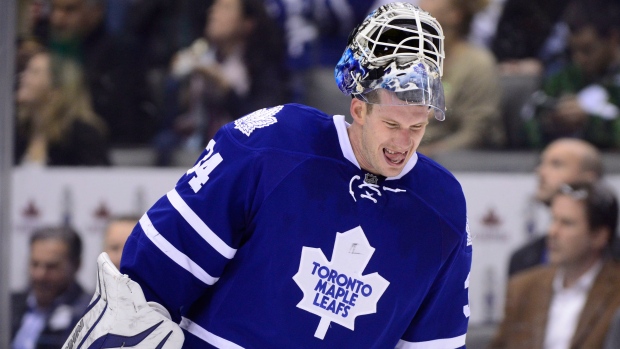 TORONTO - Toronto Maple Leafs captain Dion Phaneuf summed up his team's latest loss in one word: "unacceptable."
The Maple Leafs were handed their second ugly loss in as many games, suffering a 9-2 beating at the hands of the Nashville Predators at Toronto's Air Canada Centre.
"When you get beat like that in professional sports, it's embarrassing," said Phaneuf. "To get beat like that in front of your home fans compounds the issue."
Coming off a 6-2 defeat to the lowly Buffalo Sabres on Saturday, Toronto (9-7-2) was flat from the get-go against the Predators and couldn't play itself back into the game.
Toronto allowed three goals in the opening period, prompting head coach Randy Carlyle to yank starter Jonathan Bernier after only 20 minutes. He gave up three goals on 12 shots. Bernier was replaced by James Reimer, who allowed six goals on 25 shots over 40 minutes of work as the Maple Leafs dropped their third straight game.
Taylor Beck led the Predators (11-4-2) with a pair of goals, both of which came in the first period. Filip Forsberg, Calle Jarnkrok, Roman Josi, Eric Nystrom, Mike Ribeiro, Derek Roy and Colin Wilson also scored for Nashville.
Pekka Rinne stopped 29 of the 31 shots he faced to record his NHL-best 12th win of the season.
"We were good offensively, everyone was making plays," said Beck. "Those games are fun. You know they're not all gonna be like that, but they're fun to play, certainly for the winning team."
Mike Santorelli and Nazem Kadri scored in the third period for Toronto, reducing Nashville's lead to 8-2. Late in the third a fan threw their Maple Leafs jersey on the ice, briefly halting play.
Toronto sniper Phil Kessel echoed Phaneuf after the game.
"I mean it's unacceptable, right? This is embarrassing," said Kessel. "You never want to have this happen. We got beat pretty good two nights in a row."
Carlyle characterized the loss as an "awful performance" owned equally by the team's entire lineup.
"We need a better performance from everybody," he said. "Goaltending is part of that, defence is part of that, offence, all those things combined for the team effort. It was a team effort in the loss tonight."
The Leafs came unhinged less than two minutes into the game when Beck scored his first of the period after he chased down a loose puck in the Maple Leafs' zone and let loose a quick wrister that beat Bernier.
Roy scored his first of the season midway through the period before Beck scored his second of the night — and third of the year — to put the normally defensively minded Predators up 3-0 after a period.
That was the end of the night for Bernier, who was replaced by Reimer when the Maple Leafs took the ice for the second period.
Reimer turned aside 13 of 14 Nashville shots in the second. He couldn't stop Nystrom, however, who went top shelf on a 2-on-1 with 1:15 remaining in the period to make it 4-0 Nashville heading into the third.
That's when things went from bad to worse for Reimer and the Maple Leafs.
In a span of just over five minutes, the Predators, who are now 6-2 in eight games this month, scored four times to increase their lead to 8-0.
"They came out playing quick, aggressive, and we didn't execute well, and we played slow," said Maple Leafs defenceman Cody Franson. "We didn't move the puck quickly, we didn't move it cleanly, and they ran good routes and forced us to play a lot in our D-zone."
Toronto showed signs of life later on in the third, scoring twice in a two-minute span thanks to Santorelli and Kadri, but that was as close as the Leafs would come.
Wilson scored the game's final goal at 17:28 of the third.