Hoffman has been good for teammates' shooting percentage
Ottawa winger has made a career out of volume shooting and scoring goals, but he's also helped raise the shooting percentage of those he shares the ice with, Travis Yost writes.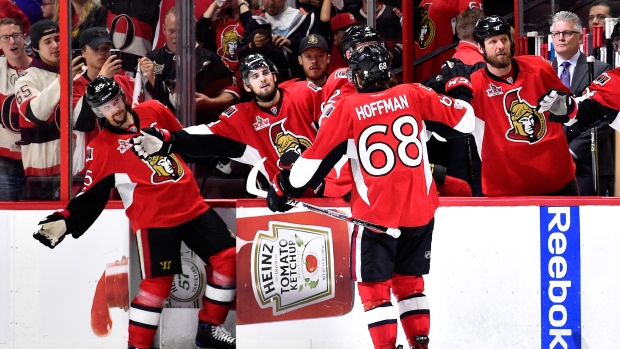 A couple of weeks ago, we tried to determine the NHL's best individual shooting talent. The exercise was reasonably straightforward: observe the actual shooting percentages of forwards and measure it against the expected shooting percentages for those forwards based on shot distance, angles, type, game state, and so on. The forwards at the top of the list – names like Patrick Kane, Vladimir Tarasenko, and Nikita Kucherov – consistently beat expectations and added a bunch of wins for their team in the standings.
I had a series of follow-up questions from that post and one particularly stood out to me. A reader noted that while the above analysis measured an individual's ability to consistently drive his own shooting percentage, it didn't show whether a player had the ability to drive up the shooting percentages of those around him.
It's a fascinating question – one that is really a measure of playmaking ability more than anything else. The tricky part here is that I think there are a lot of ways for a player to enhance the shooting percentage of his teammates. The obvious one is being a star distributor or passer. But what about the guys who are truly lethal 5-on-5 goal scorers? Surely defences shade their structure to suppress their open looks from time to time, but the offset is that the player's teammates have more ice and room to work. These are two completely different skills, but both could lead to the same end result.
My attempt at measuring this is straightforward. Over a multi-year horizon (we'll use 2014-17 for this post, with 2000 minutes required), we have a pretty solid understanding of a player's shooting talent or lack thereof. From there, all we need to do is measure how shooting percentages behave with or without a given player. The assumption here is that star players can drive shooting percentages of their teammates upwards when paired together, and that when those teammates play with less skilled forwards, their conversion rates decline.
Below is your top-20 over that three-year span. Again, keep in mind that this list doesn't pick up guys who didn't meet the minutes criteria – otherwise, names like Patrik Laine and Mitch Marner would have made the cut.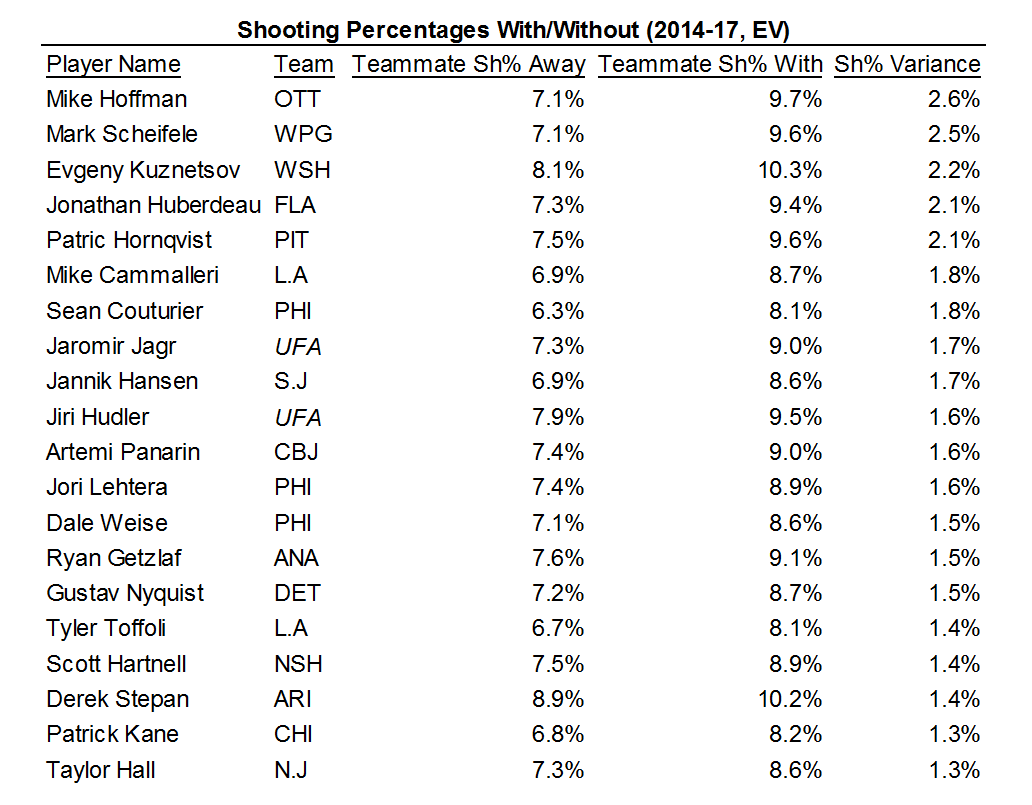 What is really interesting about this list is how many guys we would label as shooters appear. Mike Hoffman has pretty much made a career out of volume shooting and scoring goals. Would anyone have identified him as the league's preeminent teammate shooting percentage driver? Probably not. But that's been the case in Ottawa for three years now. His teammates shoot 9.7 per cent when playing with Hoffman and 7.1 per cent without him. Over thousands of minutes, that's a pretty material difference.
I think Hoffman's position here – and heck, add Evgeny Kuznetsov, Mike Cammalleri, Patrick Kane, and Taylor Hall to the list too – probably underlines a point I made earlier about goal-scorers being playmakers too. Not every play in hockey is a beautifully threaded pass through the crease. Sometimes you need guys who are going to pile up shots on opposing goaltenders and create juicy rebound opportunities. Sometimes you need guys who force a defence to shade. And hey – these guys are probably underrated passers anyway!
Speaking of passers, we've got those names in spades here too. Mark Scheifele and Ryan Getzlaf are the two big ones. Getzlaf has been a consistent presence on these lists for years, but Scheifele is really interesting. Last season, there was a pretty strong argument to be made that Winnipeg's Laine-Scheifele-Ehlers line was the most deadly goal-scoring unit in the league. The Jets have to work their way through some balance issues surely, but you wonder if we'll see that group reunited. I'm not entirely sure how any NHL defence slows down a group with such shooting talent and playmaking ability.
Now, just to satisfy any lingering curiosity, here's the bottom 20 – the guys who are the biggest drags on teammate shooting percentage:
You might look at this list and think, "Hey – Zack Smith has 41 goals over the last two seasons! Evander Kane 48! And Patrice Bergeron is one of the league's best centres!" You would be right on all three points.
But, being a great goal-scorer alone won't help you here. The problems Smith and Kane have faced over the last few years, as just two examples, is that no one on their line ever seems to score. Smith, for example, took 20 per cent of his unit's shots and scored 40 per cent of his unit's goals. Kane took 35 per cent of his unit's shots and scored 48 per cent of his unit's goals. It's disproportionate and could be indicative of a number of things – Smith and Kane playing with poor linemates, Smith and Kane playing with guys they didn't have a ton of chemistry with, or simply just Smith and Kane dominating the shot share.
These types of questions are worthy of more investigation. There's a big difference between 'one-man band and guy who is hording shots' and 'guy who is trying to do all of the heavy lifting by himself'. But in some of these instances there may be real opportunity for talent to be shuffled around the lineup.
Find better fits, and you might find a couple more wins in the standings next season.