Impact hold off TFC in first leg of East final
The Montreal Impact built a three-goal lead and then barely hung on for a 3-2 victory over Toronto FC in a wild opening game of their MLS Eastern Conference final that was delayed 30 minutes by a groundskeeping error on Tuesday night.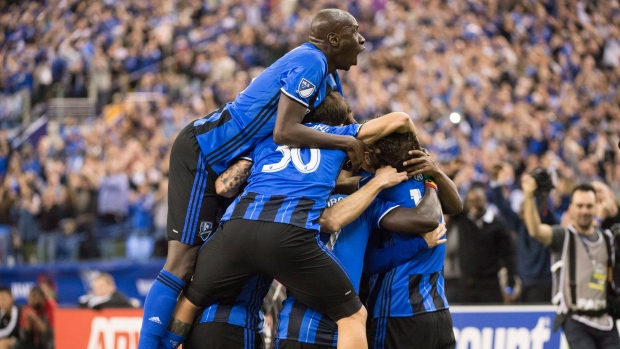 MONTREAL — The Montreal Impact have the lead, but it may be that Toronto FC has the advantage.
The Impact had the sellout crowd of 61,004 at Olympic Stadium in a roar on Tuesday night as they built a three-goal lead over 53 minutes but they almost threw it away in a 3-2 victory over TFC in an MLS Eastern Conference final that was delayed 30 minutes by a groundskeeping error.
Dominic Oduro, Matteo Mancosu and Ambroise Oyongo put Montreal in front, but Jozy Altidore and Michael Bradley answered back with goals for Toronto.
While Montreal will take a one-goal lead into the second leg of the two-game, total goals series on Nov. 22 at BMO Field, Toronto picked up two all-important away goals that can serve as the tiebreaker. A 1-0 or 2-1 TFC win in the second leg at home would win Toronto the series.
And they have momentum going into the second leg.
"The two away goals are big," said TFC coach Greg Vanney. "There's a lot of soccer still to be played, but our guys should feel good about how they got themselves back into this.
"It wasn't looking good there for a while. We made some adjustments and started winning balls in better areas and finished off some chances. No one's doing any congratulating yet because there's a big game left."
The winner of the series goes on to the MLS Cup final on Dec. 10.
Montreal coach Mauro Biello was glad just to get the win at home.
"They have to beat us, that's all," said Biello. "We have to prepare for what we need to do to stop them and to score.
"That's our season. It seems like it always has to be difficult for us."
The Impact looked safely on the way to thumping TFC in a playoff match for a second year in a row, having beaten their closest rival 3-0 in the single-game knockout round in October, 2015 — a result Toronto players vowed to avenge.
Now the return leg promises to be a thriller.
"It was a bit of a downer," admitted Oduro. "But we're a very good road team."
They will have to be. BMO is to be boosted with extra seats and a sellout of over 30,000 is expected.
"The next game is at our place and that's the only thing we'll tie our hat to," said Vanney. "We love our fans and it'll be more full than it's ever been and the noise will be in our favour this time."
The match got off to an embarrassing start for the home side as the lines for the 18-yard boxes were too narrow and had to be repainted before the game could begin. Fans cheered as each new line was drawn.
They got louder as Montreal used two quick attacks against the flat-looking TFC to take the lead.
In the 10th minute, Hassoun Camara fed the ball ahead to Patrice Bernier, who slipped it past defender Nick Hagglund to send Oduro in alone on the right side. Oduro fired a low shot inside the far post for his first of the playoffs.
Two minutes later, Oduro intercepted a Steven Beitashour pass and lofted it to Ignacio Piatti on the left wing. The Argentine put a hard pass into the box, where Mancosu stepped in front of a defender to redirect the ball past goalie Clint Irwin.
In the 53rd, Oyongo striped the ball from Sebastian Giovinco near he halfway line and took it in on a solo run the edge of the Toronto box, cut left and shot across his body inside the right post.
With Montreal still in control a few minutes later, Vanney substituted midfielders Jonathan Osario and Armando Cooper with forward Tosaint Ricketts and midfielder Will Johnson. It looked to give his side a spark.
In the 69th, Ricketts put a ball off the post, but Beitashour got it to Altidore for a header from close range.
Four minutes later TFC was again buzzing inside the Montreal box. Altidore looked to push defender Victor Cabrera to the ground to open up space to slip a pass to Ricketts, who fed Bradley for a shot from directly in front.
After the game, the Impact honoured veteran striker Didier Drogba, who went on as a second half substitute but was unable to score. It was the last home game the 38-year-old Chelsea legend will play in Montreal, although he has not yet said if he plans to retire.
"The positive is we scored three goals and we won," said Drogba. "There are 90 minutes left to play and lot can happen in 90 minutes."
Toronto reached the conference final with a convincing 7-0 aggregate win over second-place New York City, while Montreal upset the top-seeded New York Red Bulls 3-1. Both are farther into the playoffs than they've ever been before.
With last week's FIFA international break, it had been 16 days since either team last played a match.