Insider Trading: Could Galchenyuk be a fit in Pittsburgh?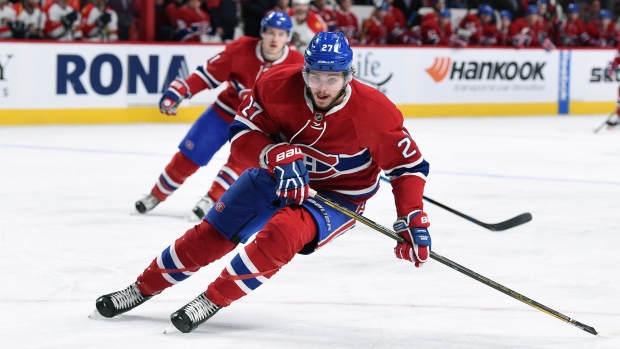 TSN Hockey Insiders Darren Dreger and Bob McKenzie joined host James Duthie to talk about the latest rumours swirling around the NHL including an update on a possible Matt Duchene trade, what the Kings are going to do without Jeff Carter and whether Alex Galchenyuk would be a fit in Pittsburgh.
Are the Colorado Avalanche closer to making a Duchene trade?
Darren Dreger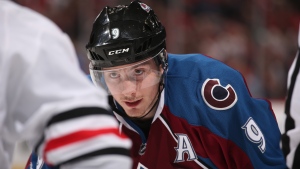 "Well it depends who you ask. Some believe that Joe Sakic is actually mulling over some legitimate interest and pieces, part of a package perhaps, that he finds at least enticing at this stage. But, look, if I took you back to the draft in June there were opportunities at that point and there were packages presented to Sakic in the moment that he found interesting. So, it's hard to say. What it is is an endless cycle. The New York Rangers are classic examples of a team that was initially in, then they were out. Recently they're back in, they're just revisiting, but they don't think there's anything remotely possible. So it could happen, but it might not."
What do the Los Angeles Kings do without Carter?
Bob McKenzie
"Well, obviously, it's a big blow to their team because he is such a dynamic performer, but in the very short term Brooks Laich has signed a one-year, two-way deal , $650,000 in the NHL, $50,000 in the minors. Now this was agreed to, the Laich deal was agreed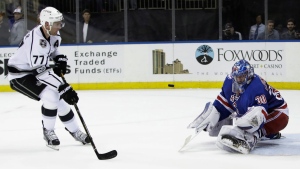 to even before Carter injured his ankle last night in that game against the Montreal Canadiens. What it does, though, it accelerates, instead of having Laich maybe in the minors for a couple weeks, he's going to find himself on the Kings' roster sooner rather than later. Now we did talk about the possibility that the Kings could trade one of their defencemen, like Jake Muzzin or Alec Martinez, because they feel like they have the depth to be able to do that. Sample size so far on their young defencemen is still too small that they're prepared to give up one of those top four defenceman for a forward. So they'll monitor the situation as they go and in the meantime just try to get by with Laich and everybody else pitching in."
Galchenyuk to Pittsburgh could make sense
Dreger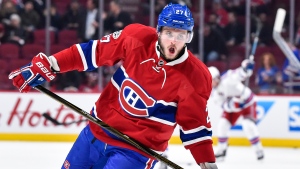 "Jim Rutherford and the Pittsburgh Penguins are in the market for a centre and he has been for quite some time, I would say. Just augment what they have in considerable talent up the middle of the ice there. There's been some speculation as to who might be available as to players who aren't and Matt Duchene probably isn't a great fit financially for the Pittsburgh Penguins. But Alex Galchenyuk from the Montreal Canadiens, his name has surfaced. We shouldn't be overly surprised by that, again given the fact that more often than not Galchenyuk seems to be in the doghouse there and given the play of the Montreal Canadiens as of late, perhaps there's a fit there that could make some sense."
What's going on with the Athanasiou situation?
McKenzie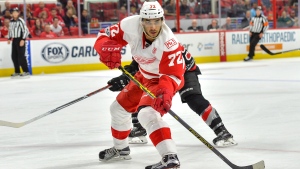 "It can only go to Dec. 1 because if he's not signed by then, he's out of the NHL for this season, but here's the latest development. The Detroit Red Wings had offered Athanasiou a two-year deal at $1.9 million per year. And now that the season is on and the Red Wings are in LTIR situation, they can no longer give that deal to Andreas Athanasiou, so if Athanasiou is going to sign with the Red Wings, it's likely going to be a one-year deal now at a shave more than the $1.25 million that the Red Wings were offering him in the summer. There is an incredibly high level of exasperation on both sides, from the Red Wings and Athanasiou. This thing is either going to get done here in the next day or so, or it's likely he's going to sign to play in Europe and who know when or if he'll be back in the Red Wing lineup."
What is Patrick Roy's future with the NHL?
Dreger
"Well, look, he's more or less a NHL recluse. He's acknowledging though that he does have interest in getting back into the National Hockey League. Now a quote was provided because obviously there was interest in the golfer and they swarmed Patrick Roy to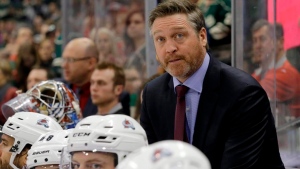 talk about his potential future. Both FM 93 and Le Soleil providing quotes."
Roy Quote – "If ever a team called, for sure I would listen, but the more it goes the more I'm sensing that it's the management side that interests me more. It's not that I'm not interested in coaching, but the management side…is more interesting for me."
Dreger
And it might be a little ill-timed given what's going on with Marc Bergevin and the Montreal Canadiens although I don't expect that there will be change in Montreal in season there."