Justine Dufour-Lapointe wins dual moguls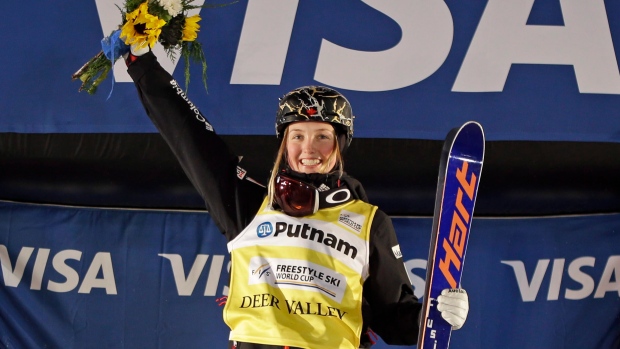 DEER VALLEY, Utah - Justine Dufour-Lapointe captured the dual moguls title by defeating Kazakhstan's Yulia Galysheva 22-13 in the final of the FIS World Cup on Saturday.
The 21-year-old Dufour-Lapointe entered the event as the defending champion. She now has a total of 12 FIS World Cup victories and 32 podium finishes in her career.
"I felt good when I woke up this morning and I knew what I had to do to perform well out there," said the Montreal native.
"I concentrated on my skiing without looking at my rivals to not get distracted. I skied for myself and I really had the feeling that I dominated the course. I adapted my skiing to be consistent and opted for fast but clean runs. I am really proud of the way I skied today."
Three other Canadian women made it into the top-eight, including Audrey Robichaud, who lost to Dufour-Lapointe 34-1 and Alex-Anne Gagnon, who was defeated by American Mikayla Matthews after she was unable to finish the race. Robichaud finished sixth and Gagnon eighth.
Two Americans squared off for third place, with Jaelin Kauf defeating Matthews 26-9.
On the men's side, Mikael Kingsbury of Deux-Montagnes, Que., was upset 16-19 in the quarter-finals by Finland's Jimi Salonen to finish fifth overall.
"It was a close dual," said Kingsbury.
Salonen ended up finishing second to France's Anthony Benna, who defeated him by a score of 21-14 in the final. Kazakhstan's Dmitriy Reiherd defeated countryman Pavel Kolmakov 25-10 for third.
Dufour-Lapointe extended her World Cup standings lead over her sister Chloe 404 to 318. Kingsbury remains in the men's lead with 425 points. Australia's Matt Graham is the next closest competitor with 286 points.