Leafs clinch playoff berth with win over Pens
The Toronto Maple Leafs are going back to the playoffs. Connor Brown scored the go-ahead goal with less than three minutes left in regulation as the Leafs clinched their first playoff berth since 2013 with a 5-3 victory over the Pittsburgh Penguins on Saturday night.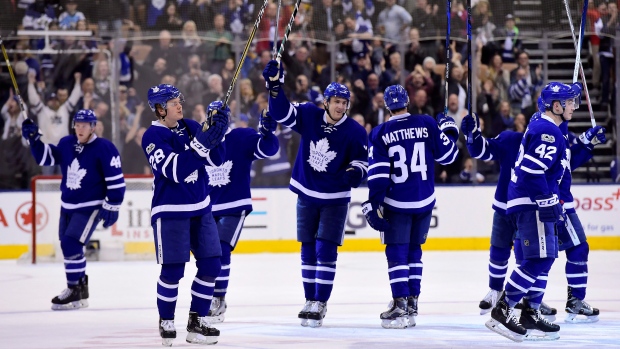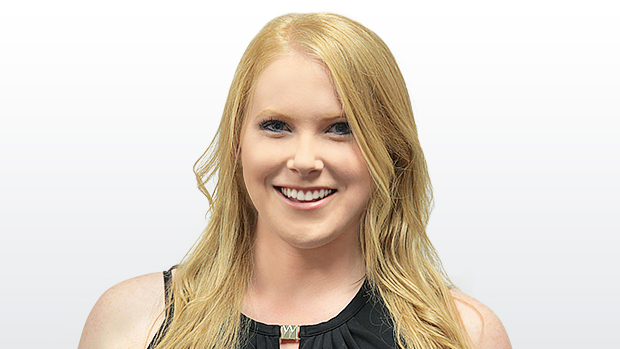 TORONTO – The Maple Leafs couldn't have scripted a more dramatic finale to their hunt for a playoff berth.
Early in the second period of Saturday's game, tied 1-1 with the Pittsburgh Penguins, Toronto netminder Frederik Andersen departed after a hard hit to the head from Pittsburgh forward Tom Sestito. Curtis McElhinney came in to play well in relief, but a fluke goal that ricocheted off both his defencemen in the third gave the Penguins a 3-2 lead and put a hush over the Maple Leafs' faithful at Air Canada Centre.
Enter Kasperi Kapanen. In his seventh NHL game of the season, the rookie tallied his first NHL point with the game-tying goal, against the team that traded him to Toronto two years ago no less. Toronto-native Connor Brown broke that tie 1:42 later with the game-winner, his 20th of the season, to send the club he grew up rooting for to its first playoffs in an 82-game campaign in 12 years.
Auston Matthews iced the 5-3 victory with his first empty netter of the season, which was also his 40th goal; Matthews is just the fourth rookie in NHL history to score 40 goals before turning 20.
"I can't really tell you [how it felt to score]; I blacked out for a bit there," Kapanen said. "It was something special, couldn't be a better time to score than tying it up. It's unbelievable. I've been here seven games but the boys have been working real hard all season and the time I've been up here has been an honour."
Kapanen has a habit of coming up big in key moments – he scored the game-winning overtime goal for Finland on home ice to clinch a gold medal in the 2016 World Junior Championship. It's safe to say none of his teammates will forget where they were when he scored the new biggest goal of his career.
"Yeah, I will [remember]," said Matthews, smiling. "It was an unbelievable play by [Matt Hunwick] to give him that puck. It was just a really back and forth [game] but to be able to pull this one out, it's definitely a pretty good feeling, and a full team effort. It's huge to clinch."
But just as they suspected, even a Penguins team that was resting veterans and playing some of its own kids didn't make a victory easy to come by. When former Maple Leaf Phil Kessel, the centerpiece of the July 2015 trade that brought Kapanen to the Maple Leafs, opened scoring with a patented wrist shot past Andersen early in the first period, Toronto couldn't let themselves get rattled. They had been flying all over the Penguins, outshooting them 9-4 in the opening period (and 30-18 overall) and couldn't afford to let up.
Coming off losses in their last two games, and missing out on opportunities to punch their postseason ticket in each, the shot from Penguins winger Jake Guentzel that banked off Nikita Zaitsev's skate and then Jake Gardiner's stick to slide past McElhinney and give Pittsburgh a third period lead could have been a dagger. The final frame has been Toronto's weakness all year. This time it was where they blossomed.
"I'm proud of the guys, I'm excited for the guys, they did a real good job," said Mike Babcock. "I told the coaches at the start of the year if we got in it would be in Game 82. I thought it would be crawling it at the end. We got in one game ahead of schedule. Good win for our city and our loyal fan base. For them, as much as getting into the playoffs is important for them, they see the future as an opportunity and a chance to be a good team."
Toronto wants to keep being a good team, and end the regular season on a high-note. With one game left to play Sunday against the Columbus Blue Jackets, they can either gain a point (or two) and set up a first-round series against the Ottawa Senators, or stick in the Eastern Conference's second wild card and face the President's Trophy-winning Washington Capitals.
No matter who their opponent ends up being, Saturday marked a clear turning point for the Maple Leafs. Babcock promised pain a season ago as the franchise started to rebuild, but has admitted several times he didn't know just how good his game-changing young players would be.
"To give ourselves a chance [in the playoffs], especially with where this team came from in the last year, it's pretty awesome to be a part of," Brown said. "We believe in each other in here. That's a night I'm sure I'll remember for a long time."
Takeaways
Way to go, Mac: No one hopes for an injury to another player, least of all a starting goaltender, but McElhinney described the opportunity to step into a huge game and help his team clinch a playoff berth as "something you dream about" as a backup. And the journeyman took full advantage of his chance to have an impact. While not tested often by the Penguins until late in the third, the saves McElhinney did make were some of his best all year, including the stop of the game on Sidney Crosby. In the dwindling minutes of the third frame, Kessel sent a wrister cross-crease to Crosby and the Penguins' captain got his stick on it but couldn't quite get enough elevation on the puck as McElhinney slid across to make the pad stop. McElhinney had left that side of his net gaping earlier in the game and was fortunate Guentzel inexplicably hit the post at the time from in close. To preserve the one-goal lead and the victory for Toronto with his quick move on Crosby was a shining moment in McElhinney's Maple Leafs' tenure. He finished the game with 12 saves on 14 shots. Babcock had no update on Andersen (who already missed a game two weeks ago with an upper-body injury) after the game, except to say he'll ideally start on Sunday. If McElhinney ends up having to start in the playoffs, he doesn't have a lot of experience to draw on – he's logged just 34 minutes worth of playoff time, earned in his second year in the league (2008-09) with the Calgary Flames. McElhinney allowed one goal on 10 shots.
No rookie blues: While Brown, Kapanen and Matthews scored big goals for the Maple Leafs on Saturday, it was a single assist that allowed William Nylander to continue tearing through Toronto's rookie record book. With a helper on Tyler Bozak's second period power play goal, Nylander passed Dan Daoust for most power play points by a rookie (he now has 26). After the game, Babcock called Nylander "fantastic" and he absolutely was, especially in the first half. Beyond just pushing the pace with his break-neck speed, Nylander was setting up Matthews and Zach Hyman all around the Penguins net and winning puck battles along the board. He finished with two shots on goal, but Nylander's impact went beyond that. His ability to move around the ice and be a difference-maker offensively and defensively shows, in Game 81, just how far he's come from the start of the season in his quest to be a two-way player.
Man on a mission: Lost in the theatrics of the third period is how James van Riemsdyk came out of the gate in a hurry for the Maple Leafs and dominated the Penguins in nearly every one of his shifts in the first frame. After Kessel opened the scoring early, van Riemsdyk answered 30 seconds later with his 27th of the season, a wicked wrist shot fired past Fleury. The veteran came flying in again a moment later and tried to beat Fleury on his backhand, and then had another quality chance with a wraparound attempt that just missed. Van Riemsdyk has five points now in his last six games and hit 60 on the season Saturday, the fifth Maple Leaf to reach the milestone in this campaign and the second time the 27-year-old has reached the pinnacle in his career. To have a veteran set a tone early on in a game like that was important, and the rest of his teammates appeared to feed off the energy. van Riemsdyk is now one point away from his career-high, reached back in 2013-14. He finished the night with a game-high six shots on goal.
Play your way: When Toronto is at its best, they're playing fast and with the puck. That's exactly what they were able to do against the Penguins, after a pair of games where they were doing much of the opposite. Toronto registered nearly 61 per cent possession time against the Penguins, with Matthews' line dominating at 70 percent or better. Hyman's place on that line has been questioned repeatedly by fans throughout the season, and when he failed to pocket a feed from Nylander on Marc-Andre Fleury on Saturday it was called into question again, but he's a big factor in Matthews and Nylander having the puck as much as they do. He was winning battles throughout the game, and his 75 per cent possession was second only to Matthews on the night (75. 86 per cent). With everything Matthews and Nylander have accomplished this year offensively; Hyman deserves more respect for how he's helped get them there.
Next game: Toronto wraps up the regular season with a matchup against the Blue Jackets on Sunday. Note the change in puck drop – happens at 6 p.m.