Leafs edge Habs in Matthews' debut
Auston Matthews didn't score a point in his Toronto Maple Leafs debut, but his gifts were easily apparent at the Air Canada Centre on Sunday night. Matthews played more than 18 minutes and had two shots in Toronto's 3-2 exhibition overtime win against Montreal.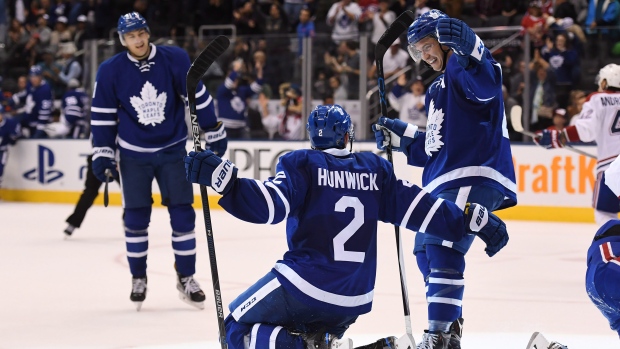 TORONTO — It was on the first shift in the second period of his Toronto Maple Leafs debut that Auston Matthews flashed a likely preview of his NHL future.
Matthews grabbed the puck in his own zone and slashed his way toward the Montreal Canadiens goal. Mikhail Sergachev, also a 2016 first-round pick, tried to slow Matthews down, but it didn't work. The 19-year-old, who became the first player picked No. 1 overall by the Maple Leafs in 31 years, just kept going, somehow firing a shot on goal even with Sergachev in tow.
It was speed, power, and skill all wrapped up in one.
Matthews may not have found the scoresheet in his first game action with the Leafs on Sunday night, but he certainly made an impression in more than 18 minutes of ice time. Wearing No. 34, he looked at ease from start to finish and said afterward that nerves weren't a factor, his recent experience for Team North America at the World Cup of Hockey offering a helpful prelude to the NHL.
"It's hockey out there," Matthews said after the Leafs' 3-2 overtime win. "I think having that World Cup experience under my belt gives you confidence going into this that you can perform at this level and make an impact."
On his very first shift he picked the puck off Canadiens forward Daniel Carr on the backcheck and sprung a counter-attack for the home side.
His skills were evident alongside Zach Hyman and 2014 first rounder William Nylander, perhaps too much at times for head coach Mike Babcock. Babcock found his young cavalry, which also included 2015 top pick Mitch Marner, to be more interested in flashing puck skills against Montreal than on shooting the puck and getting to the net.
Babcock stressed repeatedly that the group would have to learn to play.
"We thought they were handing out points for stickhandling instead of shooting and getting on the inside and scoring goals," said Babcock, returning to the Leafs bench after guiding Canada to a World Cup crown last week.
Youthful exuberance seemed a part of the package, often just an extra, unnecessary show of dash.
At one point on a Toronto power play, Marner tried to dance around a sea of defenders only to give the puck away. Nylander, too, tried at times to make a pretty play with the puck as did Matthews occasionally.
The Arizona native had his best chance to score on a power play in the second. Zipping out of the right corner and into the slot, Matthews rung a shot off the crossbar. He finished with two shots on goal and nearly 70 per cent puck possession at even-strength, albeit against a Montreal squad that dressed almost no NHL regulars.
Matthews, who did drop five-of-six faceoffs, is just the headlining talent among a wave of young Leafs expected to step into the NHL this season, with many on display Sunday.
Each of the Leafs last five first-round picks (2012-2016) suited up against the Canadiens, including Nylander, the 20-year-old who had 13 points in his first 22 NHL games, and Marner, the fourth-overall pick in 2015 trying to stick in the NHL for the first time this season.
Toronto expects to get a whole lot faster in the coming year with skill to match. Babcock said it was immediately apparent how much more skillful the group appeared already with most of the team's projected regulars dressing against Montreal.
Among those was Nikita Zaitsev, the 24-year-old defenceman who joined the Leafs from Russia in the summer. He scored Toronto's first goal, bursting into the middle of the ice to rip a shot by Canadiens goalie Mike Condon.
"He was the best of that (young) group tonight by far," Babcock said of Zaitsev, who played more than 22 minutes on Toronto's second pairing alongside Matt Hunwick, who scored the overtime winner.
His skills and skating ability were apparent earlier this month at the World Cup, Zaitsev playing a prominent role for Russia.
"Once he gets his bearings and he gets really comfortable with his teammates, I think he's going to be a huge part of what we're doing," said Morgan Rielly, who had Toronto's second goal.
Zaitsev was among the seven Leafs who represented Toronto at the World Cup to make their pre-season debuts on Sunday night: Matthews (North America), Rielly (North America), Leo Komarov (Finland), Roman Polak (Czech Republic), Milan Michalek (Czech Republic) and James van Riemsdyk (USA) were the others.
Jhonas Enroth, who backed up Henrik Lundqvist for Sweden, was playing his second game. He stopped seven of eight shots, splitting the goalie duties with Garret Sparks.
Daniel Audette and Carr scored for Montreal.
Toronto got its first taste of Matthews at the World Cup where he shined alongside Connor McDavid for Team North America. Looking more than ready for NHL competition, Matthews rung up a pair of goals and three points in three games.