Leafs send Canucks to 8th straight loss
Tyler Bozak scored a pair and set up another as the Toronto Maple Leafs handed the Vancouver Canucks their eighth straight loss in a testy affair on Saturday night. A wild third period saw six players dealt game misconducts.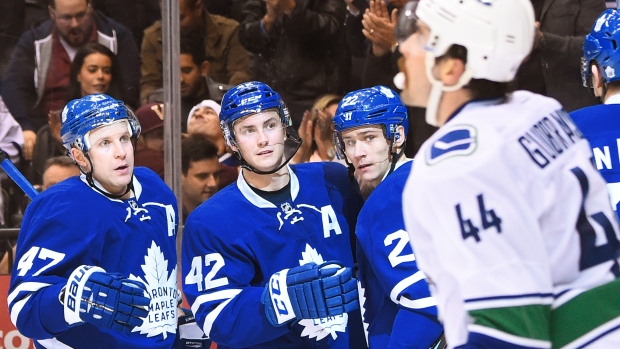 TORONTO — For the Maple Leafs it was a third straight win, for the Canucks an eighth straight defeat. Saturday evening in Toronto will be defined, however, primarily by the fireworks that consumed the third period.
Eight fighting majors and seven game misconducts were handed out over the final 14 minutes of a 6-3 Leafs win. Nazem Kadri was kicked out for charging, Canucks goaltender Ryan Miller fought Maple Leafs tough guy Matt Martin, and a Canucks player was overheard by multiple reporters promising death (hyperbolically of course) upon a member of the opposition.
It all started when Leafs defenceman Morgan Rielly caught Canucks forward Jannik Hansen with an apparent blind-side hit six-plus minutes into the frame. Trailing 5-2 at that point, the Vancouver bench erupted when the play went uncalled. Their fire bubbled higher that same shift when Kadri drilled Daniel Sedin with a left shoulder to the head area just as Sedin was scoring the third Canucks goal.
Sedin said he was fine afterward, but described the collision as an obvious foul.
Kadri, who scored the game's first goal, was immediately charged by Hansen (dealt an instigator), the two briefly dropping the gloves as the intensity ratcheted up a few notches. Considered a repeat offender by the league, Kadri will likely face suspension for the hit.
He was not made available for comment after the game.
"Obviously it was a bad hit," Miller said. "They kind of set the table and what do you expect when you make that kind of a play? We're going to have to answer somehow."
Vancouver sought that retribution with Derek Dorsett grabbing Leo Komarov for an unwanted fight off a faceoff. Dorsett howled at the Leafs and their bench afterward, restrained by an official as he made his way to the dressing room.
It was only the third career NHL fight for Komarov.
"As you saw it's probably not my thing," he said.
Another fight followed seven seconds later with Rielly seeking payback for an apparent spear to the mid-section from Canucks winger Alex Burrows. Burrows was likely looking for payback himself for Rielly's hit on Hansen.
"We as a team we just wanted to close out a win," Rielly said. "That's all we're thinking about. We're not going out there trying to do anything to cause it, we're just playing our game and trying to win a hockey game."
Unhappy with the attempts on Komarov and Rielly, Martin got involved with just over five minutes remaining in regulation. Prior to the period, Leafs coach Mike Babcock told him the following: 'Marty, make sure there's no trouble, just finish the game off.'"
Trouble there was, though.
Racing against rookie defenceman Troy Stecher for control of a puck in the Canucks zone, Martin proceeded to throw Stecher to the ice and level the 22-year-old with a few shots. That was enough for Miller, who strode quickly from his crease and jumped the six-foot-three, 220 pound Leafs winger.
He was soon joined by teammates, Leafs goalie Frederik Andersen eventually racing in to join the melee.
"No, I'm not going to let that kid be baptized in this league by Martin," said Miller, who also once fought former Leafs goalie Jonathan Bernier in a pre-season game. "I think (Martin) was a little bit predatory on that one."
Babcock said he hadn't seen "rodeo stuff" of that kind since he coached junior in the Western Hockey League.
"It's hockey. You fight sometimes," Komarov said.
The fireworks didn't stop even after the final whistle. Canucks defenceman Erik Gudbranson was overheard by reporters stating, "Matt Martin's dead" as he walked into the Vancouver dressing room at Air Canada Centre.
"I don't care too much about that," Martin said when informed of the comments. "The game will be played the next time we play them. It will run its course I'm sure."
"You don't like seeing your guys getting jumped like that either so it worked out the way it did," he added.
The two teams meet next on Dec. 3 in Vancouver.
Shut out in their previous two games and in four of the past five outings, the Canucks managed to end their goal drought, albeit in their eighth consecutive defeat. They last won on Oct. 20 versus Buffalo.
Their coach, Willie Desjardins, was proud to see his group stand together, even in another loss.
"It's kind of getting towards rock bottom here, but maybe getting nice and pissed off is good for this club right now," Miller said.
Leading the Leafs, meanwhile, to their third straight win was the line of Tyler Bozak (two goals and an assist), James van Riemsdyk (three assists) and Mitch Marner (one goal, one assist). Toronto is now 4-1-0 on home ice.
Babcock summed up the victory simply: "We got excited. They got excited. We got excited. We won."