Lions open head coaching search with high profile names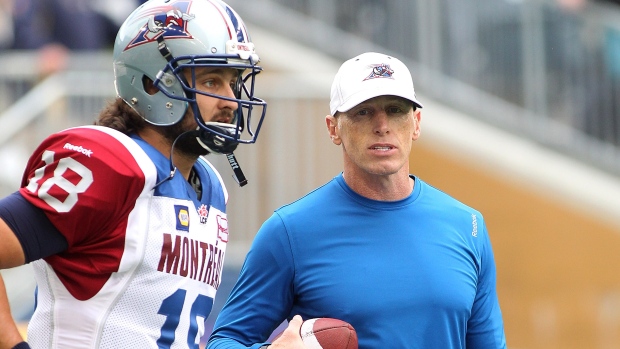 The BC Lions' head coaching search is underway.
GM Wally Buono said he has spoken to Jeff Garcia and Paul LaPolice about the head coaching job and plans to ask the Calgary Stampeders for permission to speak to Dave Dickenson as well.
Garcia joined the Montreal Alouettes midway through the season as an offensive coach. He helped Jonathan Crompton and the team rebound from a 1-7 start to make the Eastern Final.
Paul LaPolice last coached the Winnipeg Blue Bombers in
Dickenson capped his fourth season as the Stampeders' offensive coordinator with a Grey Cup win on Sunday. There is speculation he will take over as head coach in Calgary once John Hufnagel retires.
Buono said the team is also interested in former Saskatchewan Roughriders head coach Danny Barrett and current Hamilton Tiger-Cats defensive coordinator Orlondo Steinhauer for the job.
The coaching staff won't be the only unit with a different look next year.
Buono also announced the team will not be bringing back a number of veterans, including quarterback Kevin Glenn.
Glenn stepped in as the starter before Travis Lulay returned to the lineup and then once again after Lulay went down with a season-ending shoulder injury.
Lulay is expected to be ready for training camp next season while Glenn will not be offered a contract.
The team also announced they will not be picking up the options on defensive tackle Khalif Mitchell, cornerback Dante Marsh, linebacker Jamall Johnson and punter Ricky Schmitt.
The Lions finished fourth in the West Division with a 9-9 record before dropping a 50-17 decision to the Alouettes in the playoffs.