Michel Therrien and life on the hot seat
As the losses continue to mount, so too does speculation about head coach Michel Therrien's job security in Montreal, writes TSN's Travis Yost.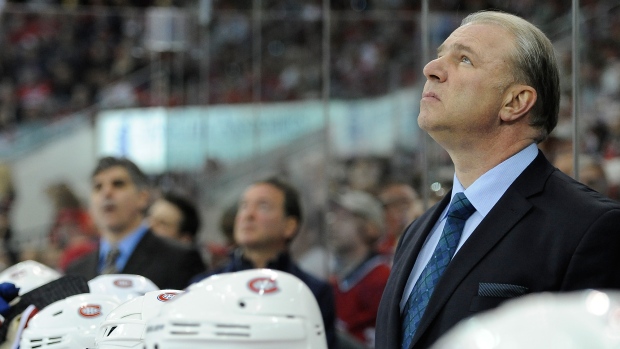 As the losses continue to mount, so too does speculation about Michel Therrien's job security in Montreal.
High turnover has become the harsh reality of the National Hockey League. Front offices, under relentless pressure to win, only have a few bullets in the chamber to relieve pressure from ownership. Once that pressure reaches a certain point, executives usually are left with two options. If they want a do-over on the roster they've built, they'll entertain the idea of a big trade. If they think the talent is adequate and the coaching is acting as a drag on performance, they'll consider a change behind the bench.
The debate about Therrien and whether he's the best man for the job in Montreal is as furious as it is consistent. Some have argued (and have for a long time) that he's a drag on team performance. Others dissent, pointing to his respectable record with the Canadiens as a big counterpoint.
Therrien supporters will also point out an obvious truth: Montreal's epic downturn has coincided with the loss of premier netminder Carey Price. Though the team's skating performance has regressed with time, their margin for error sans Price is slim.
One thought about that goaltender. He is exceptionally good - perhaps the best goaltender in the league when he's on his game. Simply returning him to the lineup should bring some sort of rebound for this team, though the big assumption there is that Price will return at full health for the rest of the season.
Still, we are left to ask: Is a team solely reliant on the performance of its goaltender really the Stanley Cup contender Canadiens general manager Marc Bergevin envisioned?
If you're a member of Montreal's front office, the only things you care about right now is whether or not your head coach has done a good enough job given the circumstances, and whether or not he has properly adjusted his team to the situation at hand.
Allow me to change course for just a moment. If you've been paying attention to the Anaheim Ducks at all this season, you know they are in an epic goal-scoring drought. They can't buy a goal and haven't been able to for months. From an offensive perspective, it's not dissimilar to what Montreal has been experiencing in the last couple of months.
Bruce Boudreau, who I have exhaustively argued is one of the league's finer coaches, eventually reached a breaking point. The smoke around his potential termination was everywhere, and he knew it.
Rather than accepting the status quo, Boudreau made a series of changes. From a pure deployment perspective, he's recently opted for sleeker and younger puck-moving defenders. Structurally, his team has went fully to the trap, prioritizing shutting down the neutral zone above all else.
The net effect? The scoring still hasn't returned in Anaheim, but they've evolved into one of the league's best defensive units. Mark Giordano called it the "biggest, most extreme" trap the Flames had seen all season. Now the Ducks score little, give up less than little, and are back winning games.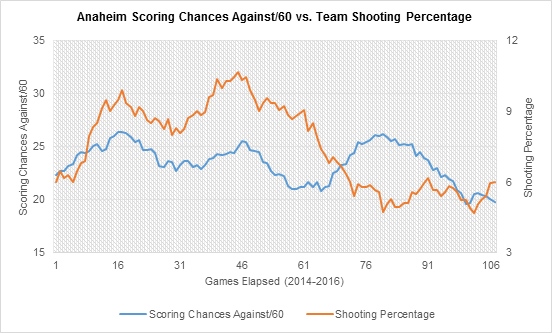 You can see Anaheim's shooting percentage has taken an inexplicable nosedive since the start of the season (which, here, would be identified as game number 83). But, rather than wait for the random variance to turn favourable for Anaheim, Boudreau took a more desperate approach, opting to prioritize choking the neutral zone above all else. It's essentially Boudreau's way of offsetting his team's brutal scoring drought: inflict pain defensively and win low-scoring, low-event games. It's working.
Now back to Montreal - a team in an extremely similar situation. Much like the Ducks, the Canadiens can't buy a goal. But, unlike Boudreau, it doesn't appear that Therrien has made any change on the defensive end. If he has, the results just haven't materialized in the way that they have in Anaheim.
Here's the same exact graph, but from a Montreal perspective.
This, to me, screams tale of two coaches. Boudreau has been extremely successful for years by earning victories in just about every fashion. He's won with a high-flying finesse group in Washington. He's won with a super-aggressive, forecheck-above-all-else team in Anaheim. Now he's winning with that same Anaheim team - same core group - but this one committed to unremitting defensive play.
Therrien just doesn't seem to have answers. Whether Therrien hasn't made the right adjustments or his team isn't responding, the Canadiens have essentially devolved from the team to beat in the Eastern Conference to a team barely clinging to a playoff spot. It's hard to apportion all of that to losing one goaltender, even a great one.
The Takeaway
Firing a coach isn't a plan. But, if the Canadiens front office thinks Therrien is not having the proper impact and has identified a replacement who can make a difference, the decision gets a lot more interesting.