Playoff-bound Impact coach Biello makes case to shed "interim' label
The "interim" tag on head coach Mauro Biello's job description is fading with each victory by the Montreal Impact.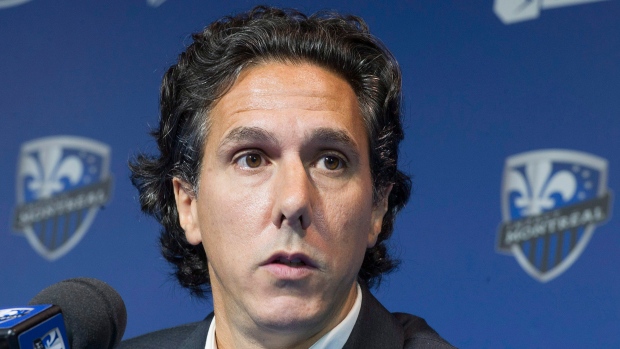 MONTREAL - The "interim" tag on head coach Mauro Biello's job description is fading with each victory by the Montreal Impact.
There have been no talks yet about keeping the Montreal native and former Impact player on, but the team's 7-2-2 record since he replaced Frank Klopas on Aug. 30 suggests that upper management won't have go to go looking for a new coach in 2016.
"They said we'll analyse that at the end of the year," Biello said Monday. "It's obviously something I'd like to do.
"The season's not over and I still have work to do. For me, it's to take this team as far as I can."
A 2-1 victory over Toronto FC in the regular season finale on Sunday night lifted the Impact (15-13-6) into third place in the MLS Eastern Conference and gave them a first-ever home playoff game, which will be a rematch with sixth-place TFC on Thursday night at Saputo Stadium.
The winner of the single-game knockout round match advances to the semifinals.
As defender Hassoun Camara said of Biello: "He trusts his players. He's confident. He wants us to play and not be scared of the other teams. He brings the confidence to do something great on the field and I hope that he will stay a long time, like Alex Ferguson."
Ferguson, of course, coached Manchester United for 27 years, winning 13 English league titles and two Champions League crowns.
It helped enormously that Biello's promotion coincided with the arrival of former Chelsea scoring star Didier Drogba. The Ivorian got a hat-trick in his first start against Chicago on Sept. 5, which was Biello's debut as head coach.
Drogba has 11 goals in 11 games and is the biggest reason the Impact are winning, but they also pulled off an away draw that he sat out in San Jose and got a key road win at New England on Oct. 17 in which he saw limited action on artificial turf.
Biello's goal as head coach was to get more players involved, which he has done by using previously neglected players who have come up with big performances, and creating a more positive and confident atmosphere on the team.
He also looks to be making the grade tactically.
Against Toronto, Biello replaced ineffective Johan Venegas with Dilly Duka while trailing 1-0 and shifted his formation. It helped turn the game around, with Drogba scoring both goals in the comeback.
He also gave the team a stern talk at the intermission that Camara said shook the walls.
"He said the truth," said Camara. "We weren't good enough. We had a full stadium. People expected a good performance and we weren't ready. Yes, the walls moved a little bit, but at the end we showed what we were about."
Captain Patrice Bernier said the Impact were tense in the first half, when TFC controlled the flow and had several chances.
"I think we maybe showed them too much respect and gave them a lot of room to operate," said Bernier. "Then at half time Mauro said 'look guys, stop playing not to lose, play to win.'"
As a player, Biello won three championships in lower leagues before he retired in 2009. He holds team records with 344 games played and 72 career goals. His No. 20 is retired.
He became an assistant coach when the Impact joined MLS in 2012, stepping in as head coach when previous bosses, Jesse Marsch, Marco Schallibaum and Klopas, served suspensions.
Then he got the big job on an interim basis.
"Right now everyone is focused, Mauro included, on finishing out the year," said technical director Adam Braz. "We'll see how far we can go and then we'll look at his situation."