Raanta gets second straight shutout, Rangers down Devils
J.T. Miller and Brady Skjei scored 3:50 apart late in the second period, Antti Raanta stopped 19 shots for his second straight shutout and the New York Rangers beat the New Jersey Devils 5-0 on Sunday night.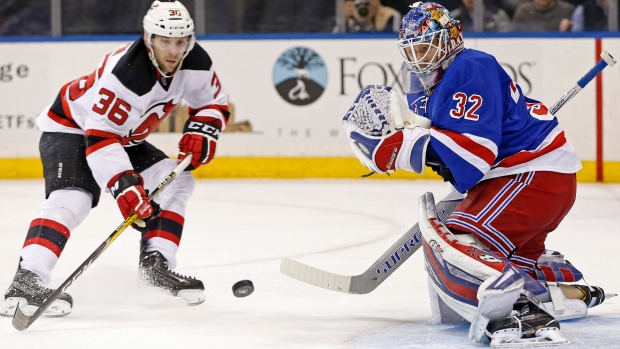 NEW YORK — Antti Raanta took advantage of a rare third straight start with his second consecutive shutout and helped the New York Rangers to their longest winning streak in nearly a month.
J.T. Miller and Brady Skjei scored 3:50 apart late in the second period, Raanta stopped 19 shots and the Rangers beat the New Jersey Devils 5-0 on Sunday night.
"Our guys did a great job, let me see the puck," Raanta said. "I have to make the first save and (on) the rebound our guys are always there. That's how you can get a shutout in these kinds of games."
Raanta, starting for the third time in four nights and coming off a 1-0 overtime win against Chicago on Friday, has stopped 62 of 63 shots over the three wins. He got his sixth career shutout and improved to 8-1-0 with a 1.65 goals-against average in 10 starts this season.
"He does what a goaltender's supposed to do and give you a chance to win," Rangers coach Alain Vigneault said. "He made a timely save at the beginning of the second period that I thought was a difference-maker in this game. We came back shortly after that, scored short-handed and got that goal at the end of the period there."
Chris Kreider had a goal and an assist, and Brandon Pirri and Jimmy Vesey also scored to give New York its first three-game winning streak since Nov. 12-15.
Raanta got the nod with Henrik Lundqvist sitting out while healthy in a third straight game for the first time since Dec. 22-27, 2013, when Cam Talbot started.
"It's not a surprise, but great to have the game," Raanta said. "Just trying to go one game at a time and not think about how many games there is in a row. ... I just try to do my thing and whenever the coaches say to go in, I go in and try to do my best."
Cory Schneider finished with 25 saves for New Jersey, which lost its third straight. The Devils had an early goal disallowed after a review and another didn't count because it came after a whistle.
"I think in the second period we had a couple mistakes on some certain plays that wound up in the back of our net," Devils coach John Hynes said. "The way you fix it is like you do with everything — you go back, analyze the game, and we got a couple days to regroup and we'll work at it."
Miller extended the Rangers' lead to 2-0 with a short-handed goal with 3:53 left in the second. Kevin Hayes brought it toward the net and passed it to Miller, who tipped it in from the right side for his ninth.
Skjei got his first NHL goal with 2.5 seconds left in the middle period. Off a faceoff to Schneider's right, Derek Stepan tipped it to Skjei, who fired a slap shot that appeared to deflect off a defenceman and past the goalie.
"It was awesome," Skjei said. "I've been waiting a while and you know I got a lucky bounce but I'll take it for sure."
Pirri made it 4-0 with a power-play goal at 6:04 of the third when he wristed it in from close. It was Pirri's sixth of the season and first in 13 games.
Vesey capped the scoring with 1:15 remaining when he knocked in a rebound from the left side on a power play for his 10th.
Adam Henrique appeared to give the Devils an early lead when he knocked in a rebound 1:09 into the game. However, the goal was disallowed after a review showed Henrique kicked the puck in. It was the second straight game the Rangers had an opponent's goal wiped out.
Kreider got New York on the scoreboard with 3:17 left in the opening period as he fired the puck through Schneider's five-hole for his eighth.
The Devils nearly tied it with about 1:20 remaining in the period when Devante Smith-Pelly jabbed at a shot stopped by Raanta and knocked the puck across the line. The officials waved it off because the whistle had blown.
NOTES: Devils C Pavel Zacha missed his fourth straight game due to a facial laceration. ... New Jersey came in 7 for 27 on the power play over its previous nine games, but went 0 for 5 against the Rangers. ... The teams play again at Madison Square Garden next Sunday night. The remaining two games in the season series will be at Prudential Center, on Feb. 25 and March 21. ... Vigneault tied Tom Renney for fifth place on the franchise list with 164 wins. ... C Josh Jooris was claimed off waivers by Arizona earlier Sunday. Jooris had one goal and one assist in 12 games with the Rangers this season.
UP NEXT
Devils: At St. Louis on Thursday night in the second game of a stretch of four straight away from Prudential Center.
Rangers: Host Chicago on Tuesday night.
___
Follow Vin Cherwoo at www.twitter.com/VinCherwooAP