Red Wings beat Islanders on DeKeyser's late goal
Danny DeKeyser scored with 27.9 remaining in regulation, lifting the Detroit Red Wings to a 5-4 win over the New York Islanders on Friday night.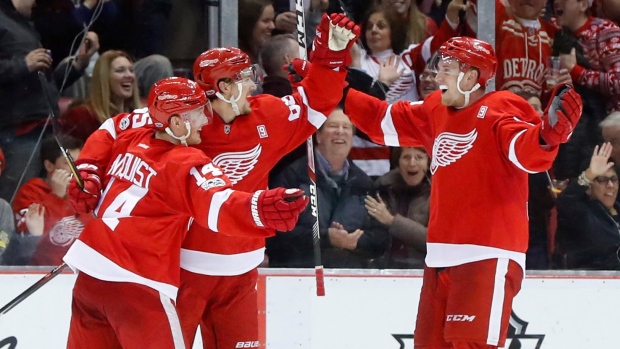 DETROIT — The Detroit Red Wings desperately needed a break — and got one late against the New York Islanders.
Danny DeKeyser scored with 27.9 remaining in regulation, lifting Detroit to a 5-4 win Friday night.
His shot from the left side of the left circle caromed off two Islanders defencemen, Nick Leddy and Thomas Hickey, and into the net.
"That's about as lucky as you can get," DeKeyser acknowledged. "Scoring a goal off two guys from the other team is a first for me."
Islanders coach Doug Weight, a former NHL player, said he had seen a goal just like that many times in his playing career.
"I was probably a benefactor with my shot," Weight said.
Even though teams get good, and bad, bounces like that in hockey, it didn't make Hickey feel any better.
"That was like a punch in the stomach," he said. "I'm speechless. That happens to all defencemen at times, but Jason (Chimera) gave us a perfect script by tying it on his night, and then we can't even get a point for him."
Detroit had a one-goal lead for 20 minutes before Jason Chimera made it 4-all with 2:26 left in the third period, scoring in the 1,000th game of his NHL career. Red Wings coach Jeff Blashill challenged that Chimera was offside, but the goal that he chipped in between the post and Petr Mrazek stood off Darren Helm's turnover.
Henrik Zetterberg had a go-ahead goal late in the second period scored 23 seconds after John Tavares pulled the Islanders into a 3-all tie. Helm and Anthony Mantha had goals 2:20 apart earlier in the period to put Detroit ahead after it trailed 2-1 following the first.
Mrazek stopped 32 shots, earning a much-needed victory after winning only one of previous nine games.
Thomas Greiss had 19 saves for the Islanders. He was 5-0-1, allowing just eight goals, in his previous six games.
Detroit avoided losing a season-high sixth straight game. The Islanders had matched a season high with a three-game winning streak and were 6-0-1 in their previous seven games.
"It's sour because we've been rolling," Weight said.
The Red Wings gave up the first goal — as they have in 31 of 50 games — and went on to win for just the 12th time after trailing 1-0. Josh Bailey put New York ahead 3:43 into the game on its second shot.
Luke Glendenning pulled Detroit into a tie for the first of two times midway through the opening period, redirecting Jonathan Ericsson's shot, but Andrew Ladd put the Islanders up 2-1 just 1:28 later.
The Red Wings surged into the lead with goals from Helm, Mantha — taking advantage of Tomas Tatar's passes — and Zetterberg in a 5:30 stretch of the second period when they suddenly seemed to play like an inspired team.
"We had a lot of energy and we took over the game," Zetterberg said.
Mantha and Gustav Nyquist were criticized by Blashill for skating slowly on a key goal in their last loss to New Jersey. Both seemed to get the get the message, appearing to play with more of a sense of urgency.
NOTES: Red Wings F Frans Nielsen, a former Islanders standout, left the game with an upper-body injury. ... New York's Thomas Hickey and Cal Clutterbuck returned from lower-body injuries that kept them out of the lineup two games and one game, respectively. Clutterbuck was not able to finish the game because of a lower-body injury. Weight said Clutterbuck will miss at least one game. ... Connecticut Gov. Dannel P. Malloy and Hartford Mayor Luke Bronin officially urged the New York Islanders on Friday to consider moving to Hartford. The Islanders' future in Brooklyn was called into question Monday when it was reported arena management wasn't counting on any revenue from the hockey club beyond the 2018-19 season. ... Detroit G Jimmy Howard, out since Dec. 20 with a knee injury, is expected to take a step toward coming back by playing Saturday night for the AHL's Grand Rapids Griffins.
UP NEXT
Islanders: Host Carolina on Saturday night at Barclays Center, where they will play just 12 of their last 34 games.
Red Wings: Play at Nashville on Saturday night