Report: Rangers will try to trade D Holden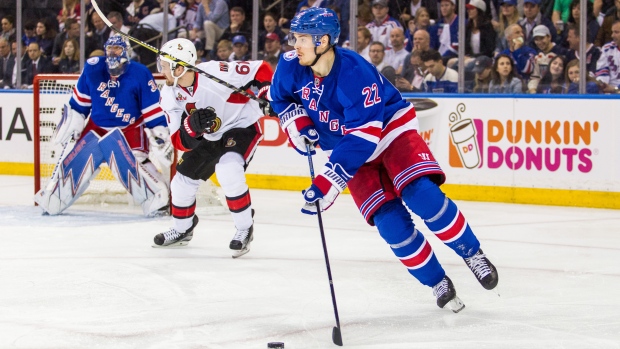 Nick Holden could be on his way out of he Big Apple.
Larry Brooks of the New York Post reports the Rangers are expected to try to trade the defenceman in order to add another centre to their roster.
With Mika Zibanejad signing a five-year, $26.75 million contract on Tuesday, the Rangers are left with under $500,000 in projected cap space for the start of the season, according to Brooks, and trading Holden would free $1.65 million.
Including off-season KHL addition Alexei Bereglazov, the Rangers have eight defencemen on their roster for next season and only three true centres; Zibanejad, Kevin Hayes and David Desharnais. J.T. Miller also saw time at both centre and right wing last season.
Holden, 30, was traded to the Rangers from the Colorado Avalanche last summer for a fourth-round pick. He scored a career-high 11 goals and 34 points in 80 games, while ranking second on the team in average time on ice (20:37). He added two goals and two assists in 11 playoff games.
Holden owns 32 goals and 95 points in 301 career games with the Columbus Blue Jackets, Avalanche and Rangers. He will become an unrestricted free agent next July.