Soccer in England an amazing sight up close
This past week TSN soccer analyst Jason deVos traveled to England and got a first-hand look at some Champions League games, along with a tour of the English FA's National Football Centre.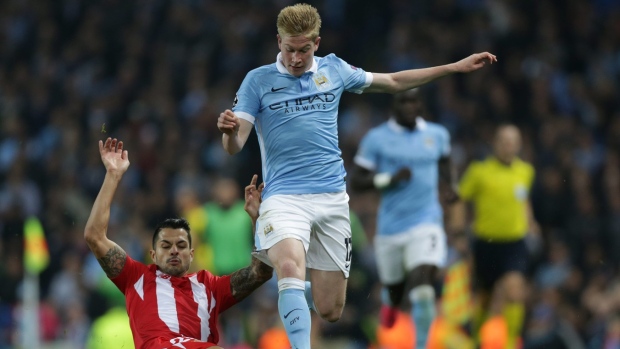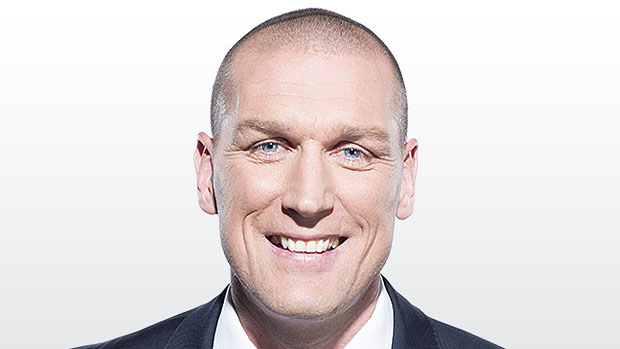 This past week, I spent three days in England as part of the UEFA Pro Licence course that I am currently taking. On Tuesday, I travelled to the Emirates Stadium to take in the UEFA Champions League match between Arsenal and Bayern Munich. The next day, I drove to Manchester to watch two matches; the first was between the U19 teams from Manchester City and Sevilla, who were competing in the UEFA Youth League, and the second was the Champions League match between their respective senior teams. To finish off the trip, on Thursday I was given a tour of St. George's Park, the English FA's National Football Centre in Burton-Upon-Trent.
Ex-England and Manchester United defender Gary Neville said recently that it is not possible to properly analyze a game unless you are in the stadium, viewing the match in-person. To expand on that, I would add that it is only when you are watching live games in the stadium that you are able to fully appreciate the nuances of the game at the highest levels.
The three days I spent in England offered a unique perspective on the game.
Arsenal picked up a much-needed three points by defeating Bayern 2-0, despite being outplayed for much of the match. A mistake from Bayern goalkeeper Manuel Neuer coupled with some slack defending allowed second-half substitute Olivier Giroud to direct home the opening goal for Arsenal, before Mesut Özil doubled the Gunners' lead in stoppage time by stabbing home from close range. For much of the match, though, Arsenal were spectators - much like I was sitting up in the stands - admiring the Germans.
Bayern Munich is an exceptional team, and they move the ball around the pitch with consummate ease. In possession, Jerome Boateng and David Alaba split wide as centre backs, allowing Xabi Alonso to drop in to make a diamond, with goalkeeper Manuel Neuer at the base. Fullbacks Philipp Lahm and Juan Bernat pushed up into midfield, with wingers Douglas Costa and Thomas Müller operating as out-and-out wingers - heels on the touchline - regardless of where the ball was on the pitch. This provided the central midfield duo of Thiago Alcantara and Arturo Vidal much more space, as Arsenal's fullbacks had to take up wider positions to deal with the threat posed by both Costa and Müller.
With front man Robert Lewandowski alternating between dropping in to get the ball to feet and pulling off on the shoulders of Arsenal's two central defenders, Laurent Koscielny and Per Mertesacker, the Gunners were severely tested defensively. But despite conceding 74 percent of the possession over the duration of the match, Arsene Wenger's men were still able to keep a clean sheet and pick up a precious three points.
It was a pleasure to watch a team defend well for 90 minutes and grind out a result against superior opposition. There is a quote from former Arsenal defender Steve Bould inscribed on the wall outside the Emirates stadium that reads, "It's simple. If you don't concede a goal, you aren't going to lose the game."
I couldn't agree more.
The second match I watched took place the next day, between the U19 teams from Manchester City and Sevilla, and was played at the spectacular Academy Stadium in Manchester, just across the road from the Etihad Stadium. It finished 1-1, and gave my colleagues and me much to discuss about the current state of player development in the Academy system.
Many of my colleagues on the course are currently working as first team coaches or as managers at the international level, with clubs in the Premier League in England and in Belgium, or in the lower leagues in England and Scotland. Of the 22 players who started the match, there were only two players who we collectively felt could compete for a place in the starting lineup of a lower league team, and none whom were even remotely close to the level required to merit a place in the staring eleven of a Premier League team.
It sparked a lengthy debate: Is the Academy system producing enough first team players, and if not, why not? There was no easy answer to this debate, and the discussion alone probably merits a series of blogs (if not a book) to address the numerous challenges faced by those involved in player development at the Academy level.
One of the most common talking points was that players coming up through the Academy system now are given far too much, far too early. Everything has always come easily to them, and from a very young age they are courted and treated like full-blown professional players. They are never made to work hard or to fight for anything, and because of this they never learn to deal with adversity and often fail at the first stumbling block when they try to break through to the professional game.
Some of the players on display for Manchester City's U19 team were signed by the club for massive transfer fees - one player joined the club for a reported fee rising to around 12 million pounds, while another signed for the club recently for a fee of around 3 million euros. Yet few (if any) of these players are likely to see any action in their first team. So where do they go from there?
Do they drop down to a lower league to try to get first team minutes? If they do, will they have the requisite character traits to survive what can, at times, be a brutal and cutthroat environment? Are they going to be able to cope with that environment, given that it will likely be their first experience with genuine sink-or-swim adversity? Playing against kids your own age on a beautiful, manicured pitch in the Academy system is a far cry from battling against hardened professional players on a muddy, divot-strewn pitch on a cold Tuesday night in January in League Two.
We agreed that character, more than any other trait, would determine how far a player goes in the professional game. But how does one determine which players have that character? Is it even measurable? How does one measure intrinsic motivation? Is that measurable? Again, these are all questions that beg for a longer discussion.
The third match I took in was the Champions League fixture later that night between Manchester City and Sevilla. Much like the game at the Emirates the day before, it was a case of one team not getting the result that its performance merited.
Sevilla looked like securing a well-deserved away point, until a sloppy turnover in stoppage time from substitute Michael Krohn-Dehli saw Manchester City break away through Yaya Toure. He slid the ball to Kevin DeBruyne, and the 55 million pound signing showed his value by producing a clinical finish to secure all three points.
Despite the 2-1 victory, there is a growing concern in Manchester that City are far too reliant on the goals of Sergio Aguero, who missed the Sevilla game with injury. With Wilfried Bony as their only other out-and-out striker, City are left with few other options up front if the Ivorian is ineffective, as he was against Sevilla.
The visitors will feel very aggrieved to return home with nothing to show for their efforts. Éver Banega was superb for a little over an hour in midfield, deftly pulling the strings as the visitors poked and prodded the home side. At times it seemed as if City were the visitors, as they repeatedly set a very deep defensive line. It was a peculiar decision from Manuel Pellegrini, as he refused to cycle between moments of high and low pressure, and instead opted to drop off and concede Sevilla space to build from the back. This allowed the visitors to settle in to the game and never really forced them out of their comfort zone.
I was particularly impressed with Sevilla's French defender, Timothée Kolodziejczak. Calm and assured on the ball, he glided across the pitch, intercepting and snuffing out City attacks time and again. At just 24 years of age, he is certainly one whose progress should be tracked.
The trip concluded with a visit to St. George's Park on Thursday, to visit the English FA's National Football Centre. The term 'world-class' gets used far too often in football, but it doesn't do the setup at St. George's Park justice - it is an exceptional environment.
Everything that is required for elite player and coach development is there, from training facilities to a sports medicine centre to accommodations. Alan Ferguson, the Head of Grounds for the FA (and the former Head Groundsman at Ipswich Town FC) shows his expertise in his care of the grounds; he was kind enough to give me a full tour of the facility.
There isn't a blade of grass out of place at St. George's Park - no small feat given that there are 12 full-size pitches (including two Desso pitches), a goalkeeping practice and training area and a full-size 3G indoor pitch.
The sports medicine centre is state of the art, with an anti-gravity treadmill, altitude chamber, underwater treadmill and hydrotherapy suite, strength and conditioning gym, biomechanical assessments and applied GPS and heart-rate monitors. Athletes want for nothing in their quest to recover from injury.
At the highest level, the objective is always to remove every excuse imaginable so that all that remains is for the players to perform. That is the goal of every support system at the elite level, and in St. George's Park, the FA have done a magnificent job of delivering the very best for its players, coaches and staff.
After the tour, I was able to sit in on a "Talent Identification" course that was being run by the FA, which provided insight into the efforts being made by the FA to engage with the professional clubs in England to train and develop the people responsible for identifying and developing the next generation of English players. It was refreshing to see a federation working in partnership with its professional clubs and for that working relationship to be reciprocated by the clubs.
I was also able to observe a Youth Coaching Module being delivered to a group of grassroots coaches. The atmosphere was very positive from both staff and participants, as the coaches were there to learn, rather than to be assessed and sent off on their way without support. The FA has worked hard to embrace the education of its coaches, with the desired outcome being a nation full of qualified and trained coaches who are better equipped to develop English players.
Built at a cost of 105 million pounds and set on 330 acres of land, St. George's Park serves as a reminder of what can be accomplished by a federation that pulls together and works as one to achieve a common goal. The English national team will always come under intense scrutiny for what it does on the pitch, but one cannot help but admire the work that has been done and continues to be done off the pitch to develop the game in England.