Stars send Eaves to Ducks for second-round pick
The Anaheim Ducks acquired veteran forward Patrick Eaves from the Dallas Stars on Friday in exchange for a conditional draft pick. Eaves has a career-high 21 goals and 16 assists in 59 games this season for the Stars.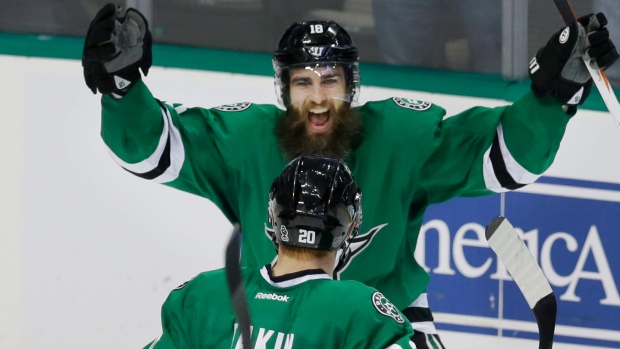 It was a question of when, not if, Patrick Eaves and the Dallas Stars would part ways, given both his career year and the Stars' inability to make a charge in the standings.
The answer came on Friday afternoon, with Eaves heading to the Anaheim Ducks in exchange for a conditional 2017 second-round pick.
Eaves was the No. 3 ranked player on TSN's Trade Bait board. With at least 10 suitors, GM Jim Nill's scales were likely tipped by Anaheim, given that the pick will convert to a first-rounder if the Ducks advance to the Western Conference final and Eaves plays in 50 per cent of those games.
Anaheim lost in the Western Conference final two seasons ago.
Should the Ducks fall short this year, the middle of three second-round picks based on draft order currently held by the Toronto Maple Leafs (Ottawa, Toronto or San Jose) will be going to Dallas. Toronto owed that to Anaheim as per the conditions from last year's acquisition of goaltender Frederik Andersen, and it will then be transferred to Dallas.
With a career-best 21 goals, Eaves became an unlikely hot commodity because of both his production and inexpensive salary cap hit of $1 million. This is the first season in which Eaves hit the 20-goal plateau since his rookie year back in 2005-06 with the Ottawa Senators.
Eaves' biggest problem hadn't been production, but his inability to stay on the ice. Since his sophomore season in Ottawa, he has missed 237 games due to injury, including 63 over the last two years alone with the Stars. He has been mostly healthy this season, missing just one of the Stars' first 60 games.
Anaheim had been seeking a little depth on the wing to support Nick Ritchie, Ondrej Kase and Nicolas Kerdiles, who made his NHL debut this week. Eaves will also look to help a Ducks power play that has slipped to 14th in the NHL (19.5 per cent), since 11 of Eaves' 21 goals this season have come on the man advantage.
Given the salary cap fit, Eaves could have also filled a similar hole in Chicago. Approximately 30 minutes after Eaves was moved to Anaheim, the Blackhawks pulled the trigger on winger Tomas Jurco from Detroit for a third-round pick. Jurco, 24, was scoreless in 16 games this season and had been languishing as a healthy scratch.
The next player to go may well be Arizona centre Martin Hanzal. There has been a lot of chatter around Hanzal over the past 24 hours, causing his rise up to No. 2 on the board. The Red Wings, likely approaching full seller mode, should also be moving on from Thomas Vanek, who jumped to No. 3.
Here is Friday's updated TSN Trade Bait board, featuring 40 players potentially on the move:
Updated Feb. 24
| PLAYER | POS | AGE | CAP HIT | GP | G | PTS | Past 2016-17 | Clause |
| --- | --- | --- | --- | --- | --- | --- | --- | --- |
| 1. Kevin Shattenkirk, STL | RD | 27 | $4.25 m | 60 | 11 | 42 | UFA | |
| 2. Martin Hanzal, ARI | C | 30 | $3.1 m | 50 | 15 | 25 | UFA | NTC |
| 3. Thomas Vanek, DET | RW | 33 | $2.6 m | 47 | 15 | 38 | UFA | |
| 4. Matt Duchene, COL | C | 26 | $6 m | 54 | 16 | 36 | 2 years | |
| 5. Patrick Sharp, DAL | RW | 35 | $5.9 m | 34 | 7 | 14 | UFA | NMC |
| 6. Gabriel Landeskog, COL | LW | 24 | $5.57 m | 47 | 12 | 23 | 4 years | |
| 7. Ben Bishop, TB | G | 30 | $5.95 m | 32 | 2.55 | .911 | UFA | NMC |
| 8. Dmitry Kulikov, BUF | D | 26 | $4.3 m | 34 | 1 | 2 | UFA | |
| 9. Brian Boyle, TB | C | 32 | $2 m | 52 | 13 | 20 | UFA | |
| 10. Radim Vrbata, ARI | RW | 35 | $1.5 m | 59 | 13 | 42 | UFA | |
| 11. Anthony Duclair, ARI | LW | 21 | $773 k | 41 | 3 | 9 | RFA | |
| 12. Mikhail Grigorenko, COL | LW | 22 | $1.3 m | 56 | 6 | 18 | RFA | |
| 13. Curtis Lazar, OTT | RW | 21 | $894 k | 32 | 0 | 1 | RFA | |
| 14. Jannik Hansen, VAN | LW | 30 | $2.5 m | 27 | 6 | 13 | 1 year | NTC |
| 15. Marc-Andre Fleury, PIT | G | 32 | $5.75 m | 30 | 3.16 | .906 | 2 years | NTC |
| 16. Evander Kane, BUF | LW | 25 | $5.3 m | 45 | 19 | 29 | 1 year | |
| 17. Mathieu Perreault, WPG | LW | 29 | $3 m | 46 | 6 | 23 | 4 years | |
| 18. Alexandre Burrows, VAN | RW | 35 | $4.5 m | 54 | 9 | 20 | UFA | NTC |
| 19. Brendan Smith, DET | D | 28 | $2.8 m | 33 | 2 | 5 | UFA | |
| 20. Jarome Iginla, COL | RW | 39 | $5.3 m | 59 | 8 | 18 | UFA | NMC |
| 21. Kyle Quincey, NJ | D | 31 | $1.3 m | 52 | 4 | 12 | UFA | |
| 22. Drew Stafford, WPG | RW | 31 | $4.35 m | 39 | 4 | 12 | UFA | |
| 23. Shane Doan, ARI | RW | 40 | $3.8 m | 59 | 5 | 20 | UFA | NMC |
| 24. Valtteri Filppula, TB | C | 32 | $5 m | 58 | 7 | 34 | 1 year | NMC |
| 25. Jhonas Enroth, ANA | G | 28 | $750 k | 6 | 3.94 | .872 | UFA | |
| 26. Brandon Pirri, NYR | LW | 25 | $1.1 m | 49 | 8 | 17 | RFA | |
| 27. Jiri Hudler, DAL | LW | 33 | $2 m | 24 | 2 | 7 | UFA | |
| 28. Ondrej Pavelec, WPG | G | 29 | $3.9 m | 8 | 3.55 | .888 | UFA | |
| 29. Steve Ott, DET | LW | 34 | $800 k | 42 | 3 | 6 | UFA | |
| 30. Jordan Eberle, EDM | RW | 26 | $6 m | 61 | 12 | 36 | 2 years | |
| 31. Johnny Oduya, DAL | D | 35 | $3.8 m | 36 | 1 | 6 | UFA | NTC |
| 32. Mark Streit, PHI | D | 39 | $5.3 m | 47 | 5 | 20 | UFA | NTC |
| 33. Cody Franson, BUF | D | 29 | $3.3 m | 53 | 3 | 16 | UFA | |
| 34. Michael Del Zotto, PHI | D | 26 | $3.9 m | 32 | 4 | 10 | UFA | |
| 35. Patrick Wiercioch, COL | D | 26 | $800 k | 50 | 3 | 11 | RFA | |
| 36. David Desharnais, MTL | C | 30 | $3.5 m | 29 | 4 | 10 | UFA | |
| 37. Jaroslav Halak, NYI | G | 31 | $4.5 m | 21 | 3.23 | .904 | 1 year | |
| 38. Greg Pateryn, MTL | D | 26 | $800 k | 24 | 1 | 6 | 1 year | |
| 39. P-A Parenteau, NJ | LW | 33 | $1.3 m | 58 | 13 | 26 | UFA | |
| 40. Scottie Upshall, STL | LW | 33 | $900 k | 53 | 5 | 11 | UFA | |