Team Canada rolls past Team Europe to clinch Group A
Jonathan Toews scored a pair of goals and added an assist as Team Canada easily rolled past Europe 4-1 on Wednesday evening in their final preliminary round game of the World Cup of Hockey. Canada will play either Russia or North America in a semifinal on Saturday night.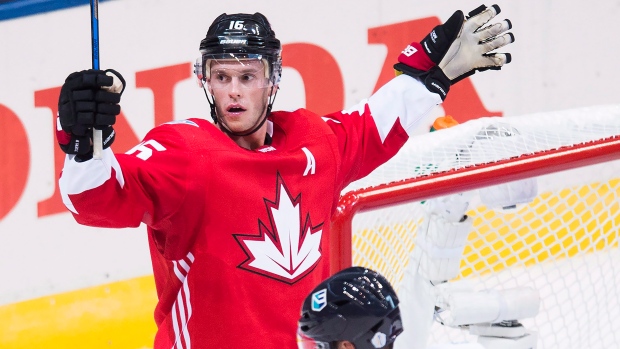 TORONTO — Team Canada has trailed for all of 89 seconds so far at the World Cup of Hockey.
Indeed, the Canadians have advanced to the weekend semifinals without much resistance. They rolled over the Europeans 4-1 on Wednesday evening, concluding an efficient preliminary round that saw them outscore the opposition 14-3. A single elimination semifinal against either Russia or North America lies ahead on Saturday.
Jonathan Toews, who scored twice and added an assist on Wednesday, doesn't believe that Canada has found its best just yet.
"We've shown it in moments, where we hem teams in their zone (and) they can't get out," Toews said of the Canadians' best game. "If they do have the puck we have two guys all over it and we're turning it over and we're throwing it back their way. We want that pressure, four lines going all the time."
Head coach Mike Babcock thought the emotion might've been lacking in Wednesday's decisive, if somewhat clinical, win over Europe. He thought his team was casual at times with the puck, even while outshooting the Europeans 46-20. Canada's talent just overwhelmed the Europeans though as it did the Czechs and Americans in two previous games which weren't all that close.
Tension has not yet been high for Canada.
Babcock wants his team ascending in short tournaments such as this, getting better to the point of near-perfection by the final. That was how things played out at the 2014 Olympics, Canada shutting out Sweden in the gold-medal game.
In explaining the Canadians solid, if unspectacular play so far, Toews suggested that players were still shaking off the rust of the off-season. Typically at this point in mid-September NHL players would be about a week or so into training camp. Instead, just over three weeks from the start of World Cup training camp, the Canadians will play for a spot in the World Cup final.
"I think we're doing some good things considering that (rust), but we know there is another level we have to get to if we want to continue to have success throughout this tournament," Toews said. "We're going to keep striving for that."
Steven Stamkos said Canada was at its best when it controlled the puck with unending grit and tenacity in the offensive zone, firing plenty of shots along the way. He thought that game was evident in the tournament opener against Czech Republic, a 6-0 win, and only in spurts in the two games that followed.
The early surprise team of the World Cup, Europe just didn't have the horses to run with Canada. Much like the two that preceded it, this game was not particularly close even if the scoreboard briefly suggested so.
The Canadians struck first four minutes into the opening period on Sidney Crosby's second goal of the tournament and led the rest of the way.
European No. 1 goaltender Jaroslav Halak withstood some of the onslaught and at one point late in the first frame stopped Brad Marchand three times on the doorstep. Thirteen seconds later though, Halak's clearing attempt found its way to Matt Duchene along the boards. Duchene spotted Toews, who slipped a shot into the European goal for the 2-0 lead.
Shots favoured Canada 17-4 after the first 20 minutes and 46-20 overall.
Canada opted to give Price, Shea Weber and Ryan Getzlaf the night off against Europe with all expected back in the weekend semifinal. Corey Crawford, Claude Giroux and Jake Muzzin all stepped into the lineup. Crawford stopped 19 of 20 shots, beaten only by a weak Marian Hossa shot in the second period.
The goal came at the high point of European resistance and even cut the Canadian lead to 2-1, but tensions never came close to even simmering. Canada added goals from Toews and Logan Couture to secure the comfortable three-goal win.
Whether the North Americans or Russians, the upcoming single elimination semifinal will present a much bigger challenge. Led by Connor McDavid and Auston Matthews, North America is loaded with young fire and about the only team in the tournament with the speed to contend with Canada. The Russians, meanwhile, are flooded with dangerous offensive players, including captain Alex Ovechkin and Tampa Bay Lightning star Nikita Kucherov.
A win for Russia in their preliminary round finale with Finland on Thursday afternoon will seal a date with the heavily favoured Canadians.
Toews thought either matchup would require a tight defensive effort.
"I think that we have a confidence in our ability that if we go out and play it's going to be difficult for teams to beat us," Stamkos said. "But in a short tournament like this where you have an elimination game in the semifinals anything can happen .... We're progressing in the right direction and we know that we have a confident group if we play the way we know we can."