The Oilers need to be careful with an Eberle trade
Edmonton winger has his flaws, but it's hard to see how the Oilers get better by trading away a talented goal-scorer, Travis Yost writes.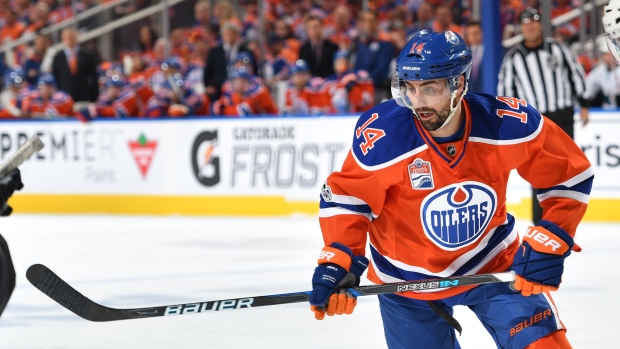 If there's one thing we know about the Edmonton Oilers, it's that they aren't afraid to make a big deal.
We can litigate the merits of the Taylor Hall trade or the Milan Lucic signing until we're blue in the face, but, at the end of the day, general manager Peter Chiarelli recognizes that the Oilers' window to win is now. Such is life when you have Connor McDavid in the prime of his career – probably the best hockey player in the Western Conference and maybe the only guy who can give Pittsburgh Penguins superstar centre Sidney Crosby a run for his money.
For these reasons, it has been interesting to follow Oilers rumour mill over the last couple of weeks. One consistent talking point has been whether or not the team will ship out winger Jordan Eberle. Eberle has two years ($6 million AAV) left on a pretty reasonable contract, but at times he has frustrated the organization. If there's no future for Eberle in Edmonton, it makes sense for the Oilers to flip him for another asset while he has real value.
On that frustration point: I'm paraphrasing a bit, but I suspect the Oilers just don't think he adds a lot of value to the team when he's not consistently scoring. This is a frequent complaint voiced around the league with one-dimensional (or "few" dimensional) attackers, generally because they're weaker defensively and thus can become negative presences in the battle to win on goal differential.
On the offensive productivity side, Eberle's 2016-17 season was a bit of a mystery. For a player with a pretty reliable track record of goal-scoring, his numbers took a bit of a dive. Eberle's 0.24 goals per game – 20 goals over the full season – was the lowest rate of his career. And although he's had some monstrous seasons (like 34 goals in 2011-12), he's been an extremely reliable and consistent attacker in his career. This was the first year where you could consider his output a bit disappointing.
That's why Edmonton needs to be careful with an Eberle trade. This wouldn't exactly be moving him at a time of peak perceived value. Unless Edmonton thinks 2016-17 is a sign of things to come for the player, the Oilers need to exercise some caution here.
The main argument in support of retaining Eberle is that last year's season – which, by the way, was still reasonably productive – looks like a statistical aberration. Historically, if a forward is growing increasingly unproductive, it's because his shot generation rates are starting to slide. Less looks at the net means less chances to score.
In Eberle's case, his shot rates looked perfectly fine. But the bounces didn't come: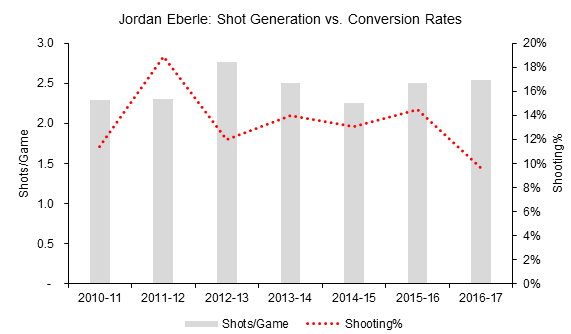 Like I mentioned earlier, Eberle has been extremely predictable. He's generally going to get about 2.5 shots per game and he's going to convert on around 13 per cent of those shots. Over a full season, that's worth about 27 goals – or seven more than he scored in 2016-17.
I'd argue that, based on the above, if there were any time to flip Eberle for a trade, it would've been after that 2011-12 season. Eighteen per cent shooting isn't sustainable for guys like Alex Ovechkin or Ilya Kovalchuk, let alone Eberle. At that moment in time, his perceived value around the league was probably an order of magnitude higher than it should have been. Right now, you have the inverse scenario – his value tainted by something that's probably out of his control, which doesn't help Edmonton.
This brings me to my second point. I don't know what trade options Edmonton has on the table, but guys like Eberle – for all of his flaws – don't exactly grow on trees. Just look at his goal-scoring comparables over the last few years: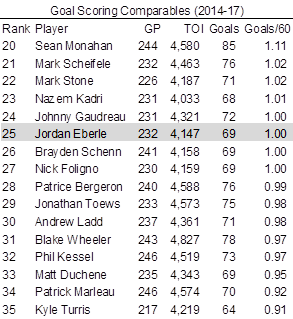 On a rate basis, Eberle's been a top-25 goal scorer in the league over the last three seasons – and again, this data to include his "down year" of 2016-17. I think the most striking thing about his comparables is how the majority of guys on this list are either considered core forwards or are valuable enough that most any trade idea involving them would get nixed by their general manager.
There are exceptions of course – Phil Kessel has been traded, and Matt Duchene has been a hot name on the trade block in recent months. But the larger point here is that Edmonton really shouldn't take for granted what they have in Eberle. He, like many, has his warts. But the one thing he's good at – finding the back of the net with frequency – is an incredibly valuable skill. If the Oilers' window is truly open, it's hard to imagine a scenario in which they trade away a talented goal-scorer and are better off for it.