Tiger-Cats finding identity in fan base
Both Toronto and Hamilton began their season on the road due to large multi-sport events calling the Golden Horseshoe home. The Argos stayed on the road, and will do so again this weekend as they visit a building they have yet to obtain a victory in. TSN 1150's Marshall Ferguson has more.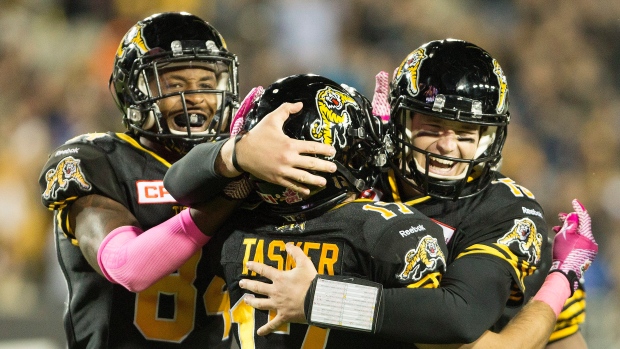 "ARGOS SUCK!"
You can expect to hear it early and often Sunday afternoon and see it painted onto signs around Tim Hortons Field when the Ticats faithful sell out Hamilton's home of football for the last time in 2015. It's poetic these two teams will come together in a clash which will determine the Eastern division final in Ottawa against the impressively reborn Redblacks.
Both Toronto and Hamilton began their season on the road due to large multi-sport events calling the Golden Horseshoe home. The Argos stayed on the road, and will do so again this weekend as they visit a building they have yet to obtain a victory in.
Tim Hortons Field is the home to five straight Toronto Argonaut losses. Three to the Tiger-cats, one to the Calgary Stampeders, and an ugly 34-2 beat down at the hands of the already golfing Montreal Alouettes in one of many scheduling snafu's which defined the Argos summer.
All season long the Tiger-Cats have played exceptional defence and solid, if not explosive special teams. Every late season or playoff push rests squarely on the shoulders of a team's starting quarterback, but perhaps that sentiment has never been more true than for whoever lines up under centre in black and gold Sunday.
The spinning wheel at quarterback for Hamilton will never match that of the Montreal Alouettes or the punting rotation of their opponent Sunday - the Argonauts have used seven this season. However at some point the number of bodies required is irrelevant and the effect of missing just one person becomes paramount.
Zach Collaros brought more than stats to this Tiger-Cats team. Yes, he passed for 883 yards and nine touchdowns with just one interception in three meetings against the double blue this season, but his loss was more than numbers. Collaros served as the emotional engine of an unstoppable freight train through the first twelve weeks of the 2015 CFL season.
A constant stabilizing force that Ticats fans became accustomed to despite the 2015 CFL battlefield strewn with quarterback casualties.
When the beating heart of the roster went down the Tiger-Cats began to soul search for a replacement. That character defining quest has been full of ups and downs, red zone turnovers and sensational interceptions. The Tiger-Cats finished the season post-Collaros with a 2-4 record but what they learned in those six weeks could be much more valuable than any regular season win ever is.
While many suggested the special teams unit could become the Collaros like catalyst for all forward momentum in the playoff push Brandon Banks, Terrell Sinkfield Jr. and company have proven to be more effective as a sporadic gust of positive yardage than as a consistent gale force field position equalizer.
Earlier this week Argonauts Head Coach Scott Milanovich told TSN.ca, "I think Hamilton thrives on big plays on special teams, particularly early in the game." While being accurate in his assessment, Milanovich has surely not seen a consistency in the return game that threatens his Argos. This special teams faith is strongly supported by the return Sunday of kicker Swayze Waters from an injury riddled 2015 campaign.
If special teams would not be the identity of this club could it possibly be the passing attack which terrified defensive backs through twelve weeks?
The offence immediately relied on the arms of three young backups. Requiring such youth to supply alpha-dog leadership and performance in the face of adversity is unfair at best and callously unrealistic at worst.
Ticats fans celebrated the long awaited return of dynamic running back CJ Gable in late October, but the running game never reached the heights of Gable's first return from injury against Saskatchewan in July when he put the Ticats on his back with 20 carries for 135 yards.
By default the Tiger-Cats have become a team based in defence and proud of it.
Hamilton is defence and defence is Hamilton. Loud, brash, opinionated and aggressive.
At times the secondary has struggled and occasionally the pass rush doesn't get home to opposing quarterbacks at the expected rate, but becoming a defensive football team has done more than create an identity, it has engaged a fanbase.
In a season where fan engagement and ticket sales have been better than ever, the heart and soul of the Hamilton Tiger-Cats has not evolved to become a quarterback, return man or defensive end.
The emotional engine of this team after Zach Collaros devastating injury has been you.
The fans.
High scoring offences create high fives and empty beer cans, but defensive struggles define the essence of Hamilton football. The on-field energy produced is in direct correlation to the environment Tiger-Cats supporters have created this season.
The defence asks for noise, you give it to them. In return they make plays which create noise. It's a mutually beneficial relationship and truly a joy to experience.
With this defensive identity the Ticats undoubtedly have talent and ability to reach their third straight Grey Cup.
No matter what this will be the last home game of 2015 for Hamilton and two burning questions remain as we inch closer to kickoff. Will Tiger-Cats fans continue to supply their vocally tangible emotional lifeblood to a franchise in need of every last drip, or will the offence put fans on life support with critical mistakes which at times have nullified all defensive or special teams efforts and forced hands to become seat warmers.
Ah, playoff football. See you Sunday.