Tiger-Cats worked out ex-Browns QB Manziel last week
CFL club not convinced former Heisman Trophy winner is ready to resume his football career after a series of physical and medical tests in Buffalo. The team does, however, plan to keep Manziel on their negotiation list.
Farhan Lalji and Dave Naylor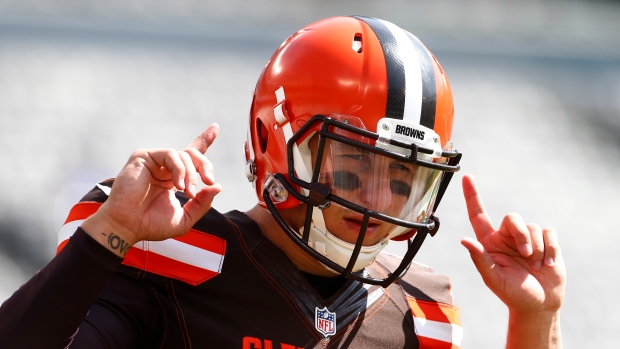 Johnny Manziel worked out last week in Buffalo before a contingent of Hamilton Tiger-Cats coaches and front-office personnel, TSN has learned.
But the former Heisman Trophy winner will not be coming north anytime soon.
The Ticats put Manziel through a series of physical and medical tests during their bye week on Aug. 23 and 24, coming away convinced he's not ready to resume his professional career.
"Too many red flags," said one source.
Hamilton's contingent in Buffalo included head coach June Jones, vice-president of football operations Kent Austin, general manager Eric Tillman, assistant general manager Shawn Burke and team president and CEO Scott Mitchell. The group left the session with the understanding that they would not be pursuing Manziel at this time.
The Cleveland Browns drafted Manziel 22nd overall in 2014, but released him after two seasons marked by poor play and distractions related to his partying and drinking, including a stint in rehab. Manziel has been out of football since the end of the 2015 season and failed in his attempts to get into an NFL training camp this summer.
The Ticats were hoping to learn that Manziel, 24, is ready to put his troubled past behind him and dedicate himself to becoming the player he was in college. Most importantly, the team wondered if Manziel could manage becoming the face of a franchise and the attention that would come with a return to the spotlight.
The answer to those questions was a resounding no, according to sources. Among other concerns, the Ticats were not convinced Manziel is in in game shape or that his off-field regiment is consistent with that of someone dedicated to professional football.
According to a source, the Ticats plan to keep Manziel on their negotiation list. Should his agent declare that Manziel is ready to sign a contract to come to Hamilton, the Tiger-Cats would have 10 days to either sign him or trade his rights to another CFL team.
The Ticats had exchanged information with Manziel's representatives prior to the season, but this is believed to be the first time Hamilton's brass had an up-close look at him.
Hamilton is 0-8 this CFL season and has a crisis at quarterback. Zach Collaros, the CFL's highest-paid player, is the league's lowest rated passer and was recently benched.
The Ticats also have a new coach in Jones, a former Atlanta Falcons coach who tried to recruit Manziel out of high school when he was the head coach at Southern Methodist University in Dallas.
Jones has been extremely interested in Manziel since coming to Hamilton three weeks ago, believing the former Texas A&M star offered the perfect skill set to run the type of offence he prefers. Jones has been fascinated with Manziel since at least 2012 when he burst onto the college football scene with a six-touchdown performance against Jones' SMU Mustangs.
The Tiger-Cats have been the subject of headlines across North America after their failed attempt to hire disgraced former Baylor head coach Art Briles created a firestorm of criticism, forcing the team to reverse its decision in less than 24 hours.
When asked on Tuesday if part of the reason for attempting to hire Briles was that it could lead to other quarterbacks coming to Hamilton, alluding to Manziel and former Baylor quarterback Robert Griffin III, Jones conceded, "Certainly everything was considered, yes."
The backlash against Briles' hiring may have increased the risk for the Ticats in bringing in Manziel, who was charged with domestic violence in January 2016, when he was accused of hitting and threatening former girlfriend Colleen Crowley. Those charges were dropped in December 2016 after Manziel agreed to meet conditions for one year.