Which team gets the biggest offensive boost from its blueline?
The NHL's evolution – one that emphasizes speed, attack, and lightning-quick puck movement – has made it an operational requirement to develop defenders with offensive prowess, Travis Yost writes.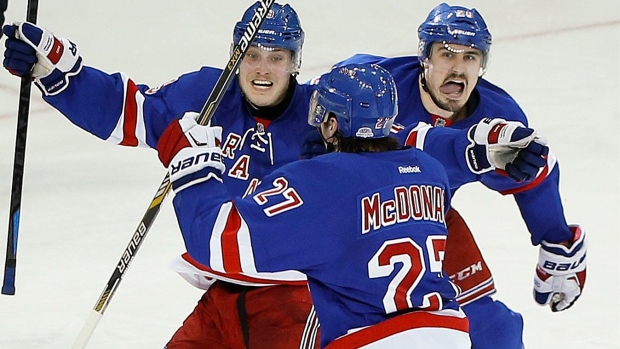 One of the noticeable things about the Stanley Cup playoffs this year was that both the San Jose Sharks and Pittsburgh Penguins had hyper-offensive blueline talents wreaking havoc on opposing defences.
It was just reason why both teams were successful, but the likes of Brent Burns and Kris Letang made a habit of terrorizing all season long, and few teams had an effective remedy to slow down such a talented second-wave attack.
The NHL's evolution – one that emphasizes speed, attack, and lightning-quick puck movement – has made it an operational requirement to develop defenders with a real semblance of offensive prowess. The more pressure applied from more diverse areas of the ice, the more difficult it is to bottle up offences in the neutral and defensive zones.
Thinking about the changing landscape made me curious about which teams in the last few years have received the biggest offensive boosts from their blueline, and which teams have struggled to generate in this department.
Below, you'll see defences by team measured on three criteria: the number of scoring chances defenders generated per-60 minutes (horizontal axis, and using Corsica logic), the number of shot attempts generated per-60 minutes (vertical axis), and the number of points generated per-60 minutes (bubble size – bigger is better).
As you might have guessed, teams like the Sharks have fared quite well here. But there are a few surprises.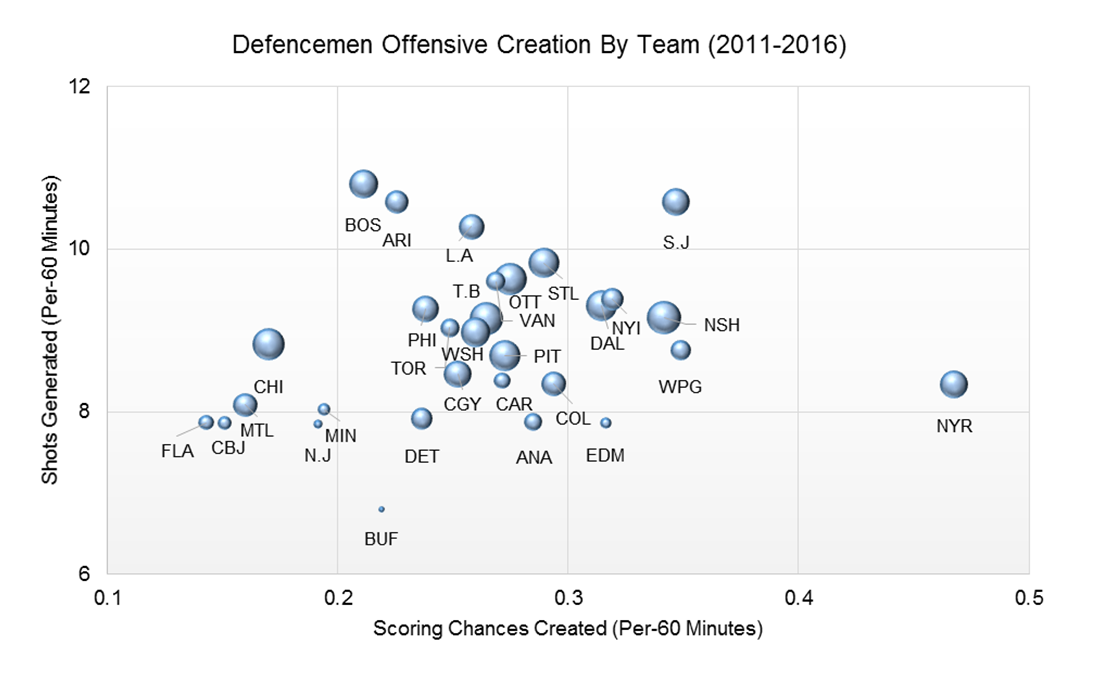 I wouldn't have wagered on the New York Rangers defence being individual scoring chance-generating machines. But alas, the likes of Ryan McDonagh, Dan Boyle, Kevin Klein and Keith Yandle have all had seasons in which they generated a relatively high volume of shots from premier/dangerous scoring areas. I do wonder if this is because the Rangers have sort of morphed into a counter-attacking team over the last couple of seasons – over-reliant on Henrik Lundqvist in the defensive side, and threatening offensively mostly on the rush where they can catch an opposing team behind the run of play.
Also on the positive side of the ledger are teams like Dallas, Nashville, Ottawa, and Boston. At least three of these teams make a lot of sense – the Stars and Predators play a pretty high-pace, high-tempo game with a slew of competent defenders involved in the run of play. The Senators have Erik Karlsson probably the best defender in the world and definitively the most impactful offensive defender in the world. The Bruins are a bit of a curveball – Zdeno Chara was really fantastic up until about a year or so ago, but I think a couple of their secondary guys (like Torey Krug and the recently-departed Dougie Hamilton) have historically been a bit underrated on this front.
The other end of the spectrum is just as enlightening. Teams like Florida and Columbus haven't gotten a lot of offence in any regard, but you'd think that's prepared to change immediately with the recent additions of types like Aaron Ekblad, Keith Yandle, and Jason Demers for the Panthers, and Seth Jones for the Blue Jackets. I was surprised by Minnesota – a team that's invested quite a bit of resources in its defence – who also sits in that lower-left quadrant. Their blueline is certainly one I'd consider capable and talented, yet they just have not been as active in the offensive third as my instincts would've told me.
I anticipated the Devils and Sabres to be poor performers in this department, considering they've been low on talent over the last few years as they rebuild their systems. And yet, still I was taken aback by generally how unproductive their groups have been. One wonders how much new blood in the likes of Damon Severson, Steve Santini, Rasmus Ristolainen, and Jake McCabe will help. There's certainly a big need for both teams.
It will be interesting to see how teams like the Devils and the Sabres – and a number of other teams not mentioned in this space – shift as time progresses. The rebuilding cycle can be cruel for teams who don't draft and develop (and acquire) well, and that's becoming glaringly true for defences in the modern era. That logic is also true for the current contenders. If you want to stay relevant, it helps to continue cultivating the type of back-end talent that can move the needle in the offensive zone.