A very bold strategy for the Florida Panthers
As TSN Hockey Insider Bob McKenzie writes, it will be fascinating to see how things with the Florida Panthers unfold after their surprising coaching change. One way or the other, you get the feeling it's going to be spectacular.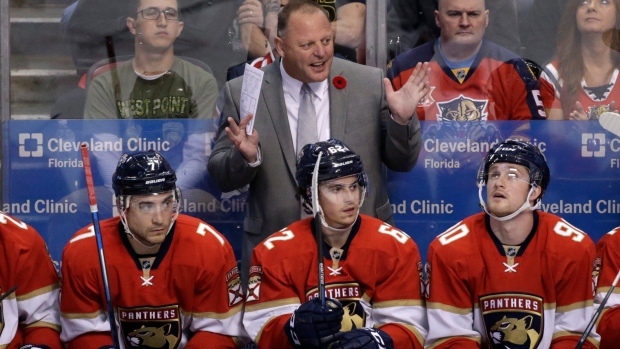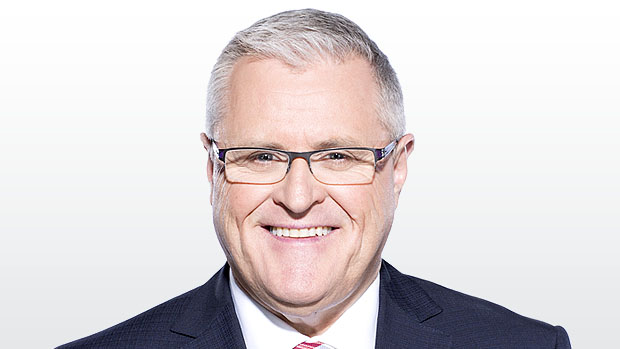 On the Florida Panthers' firing of head coach Gerard Gallant, there's no need to overthink this one.
Not really.
The current management of the Panthers, who did not hire Gallant to be their coach, have a different view of how the team should be coached than the guy who was actually coaching it.
It's as simple as that. When this occurs, it almost always ends the same way.
The coach gets fired.
It's not a new phenomenon in the NHL. Not the first time it's happened; won't be the last either. Although in fairness, it doesn't often happen to a guy coming off a 103-point season.
It's being billed as new school versus old school, or analytics versus non-analytics. There's certainly something to that, no doubt. But let's take the incendiary 'analytics' angle out of it for a just a moment because that tends to make people, on both sides of that seesaw, become irrational.
Panther GM and now interim head coach (for the balance of the season) Tom Rowe, presumably along with assistant GMs Eric Joyce and Steve Werier, simply didn't like how Gallant was coaching. To varying degrees, we're talking about tactics and strategy; player usage and time on ice; line combinations and defence pairings; line matching. That sort of stuff.
As Rowe confirmed today, there was what he called "a philosophical divide." Not so much "friction" as a differing view on how hockey should be played and the Panthers should be coached.
They no doubt let Gallant know that over time and he, in turn, would have responded by making or, more likely, not making enough adjustments to keep his boss(es) happy. This is not an uncommon occurrence in the NHL -- management and coaching butting heads on how things should be done.
It obviously came to a head on Sunday night in Raleigh. And we all should have seen it coming, even though we kind of didn't.
In the last 11 months, this organization has made a series of what can only be described as significant changes to the power and influence structure.
General manager Dale Tallon was "promoted" to president of hockey operations. You'll notice the use of quotation marks on promoted, because we all know it wasn't really so much a promotion as it was a shift in the power base and decision making away from Tallon and towards Rowe, Joyce and Werier.
Dale's still there, but he's not calling the shots like he did before.
The changes didn't stop there. Support staff Chris Scopetto and Chris Moody were let go. So, too, was director of amateur scouting Scott Luce, amongst others. There has been, over the last year, a discernible and radical change in direction as to who wields power and influence in the Panther organization.
What has made that change of direction so noteworthy is that the Panthers were coming off their most successful regular season in the history of the franchise. They had 103 points last season. Gallant was a Coach of the Year finalist and was given a two-year contract extension.
In addition to the off-ice personnel changes, big changes were made to the Panther blue line. Erik Gudbranson, Dmitri Kulikov and Brian Campbell departed, to be replaced by Keith Yandle, Jason Demers and Mark Pysyk. These changes were the vision of Rowe, Joyce and Werier; certainly not the coach Gallant.
Are they good changes or bad changes? Well, likely depending upon whether you're pro or con on hockey analytics, there's a wide divergence of opinion there. The Panthers either won the summer with their moves or broke a 100-plus point machine that didn't need to be fixed. No debating, though, that replacing three of your top six defencemen is massive change.
For me, it's far too soon to declare. Maybe they're good moves; maybe they're not. I'm going to need a lot more than 22 games to draw my conclusion because I'm not predisposed to love or hate analytics. I suppose I could say the 11-10-1 Panthers are sitting outside of a playoff spot right now and, therefore, the moves were bad ones. But, c'mon, it's only 22 games.
And this team has had key injuries, too. Jonathan Huberdeau is out long term. Nick Bjugstad just came back from a lengthy absence; Jussi Jokinen missed a big chunk of games, too. So it's hard to evaluate this team properly.
Of course, taking that logic one step further, I guess I could say it's hard to evaluate, and fire, a head coach under those circumstances, too. And that's most definitely true.
Except this firing obviously isn't about performance. If it were, Gallant's 96-65-25 record in Florida would have gotten him more than a cab ride to the Raleigh airport. Unless I'm missing something, the injuries and the won-loss record - that's so micro, when the rationale here is clearly macro. As in philosophical divides and such.
Fair enough.
I saw one of the pro-analytics crowd on Twitter defending the firing of Gallant by suggesting the Panthers are moving from a results-driven organization to a process-driven one. That is, as gaudy as their 103 points were last year, management doesn't see what they were doing as a sustainable model on which to get to the next level. Hence all the significant changes over the past 11 months to build, in their view, something that will in the long run take them to greater heights than just 103 points and a first-round playoff exit.
Fair enough, again. It's far too soon to say whether it's genius or foolhardy or somewhere in between.
But here's what I don't get about the "process," specifically the decision to fire Gallant Sunday night after the first of six games on the road for the Panthers.
If this indeed was done on the basis of "philosophical divide," and I don't doubt for a minute that it was, what could have possibly happened in the Carolina game, aside from blowing a 2-0 lead, that would have so radically altered management's view of their coach?
I mean, they lost 6-1 to Toronto five games ago. If you're looking for an emotional trigger point, wouldn't that one have made more sense? Or after a 3-1 loss to Philadelphia on home ice last week? A blown 3-2 loss in Carolina on the first of a six-game roadie? If this is indeed a process-driven organization, why did the firing of their coach look so result-driven on the basis of that one game? That does give me some pause to perhaps consider the validity of the "process" at work here.
In the NHL, if given any choice and usually there is, it's almost always better to fire a coach at home than on the road.
General managers, when they know they're likely to be making a coaching change, spend an inordinate amount of time planning the logistics of it -- looking at the schedule; whether the team is at home or away; how many practices with the new coach before the first game; the physical exit strategy for the fired coach so you don't end up with pictures of your fired coach waiting at the curb for a cab.
Optics aside -- the Panthers, by the way, did arrange for Gallant's and fired assistant coach Mike Kelly's ride though it turned out be a cab at the curb side in Raleigh -- it's mind boggling to me that Florida made that decision at that precise moment; that what happened in the Carolina game was the tipping point to fire two coaches in the minutes after it ended and experience a somewhat ham-handed transition that didn't even get formally recognized with a news release until the morning after.
That "process" was far from ideal, especially for an organization that had to know Gallant was living on borrowed time.
Or maybe that's just me being nitpicking and overlooking the obvious.
As in, whether it's ultimately a good move or a bad move.
The first order of business for Rowe and this management team is to win over the players who liked and respected Gallant. He was a players' coach. Many of the players are still trying to grasp why a relatively successful season last year resulted in such massive organizational upheaval.
But players tend to be fairly malleable. They may not like every decision that gets made, but above and beyond all else, they want to win and will do what is asked of them, so long as they see some sort of payoff. That's the part where winning comes in handy.
It's going to be fascinating to watch it all unfold and which direction it's headed. One way or the other, you get the feeling it's going to be spectacular.
In fairness to this new regime, it's okay to alter the process. It's also okay to take the path less traveled if you think it truly gives you a better chance at glory.
But the NHL, like all pro sports, is at its very core a results-driven business and this Panther organization that so radically altered the fabric of a 103-point playoff team of last season is going to be judged on nothing but results from here on in. The old coach and last vestige of the previous regime is gone; this, for better or worse, is entirely their baby now.
To which I can only offer what, for lack of a better term, I'll call Dodgeball wisdom: "It's a bold strategy, Cotton, let's see if it pays off for them."