Chychrun earning rave reviews at Coyotes' camp
Arizona defenceman is pushing hard for a roster spot on team already bursting with young talent, Bob McKenzie writes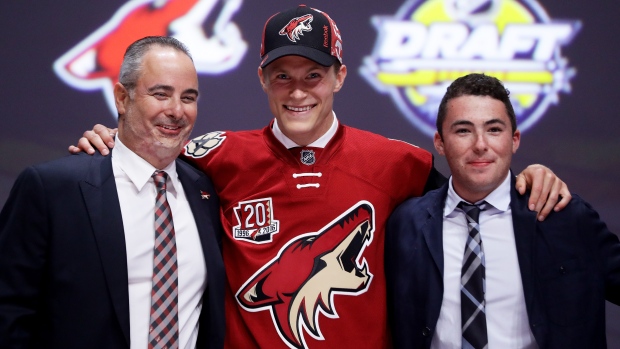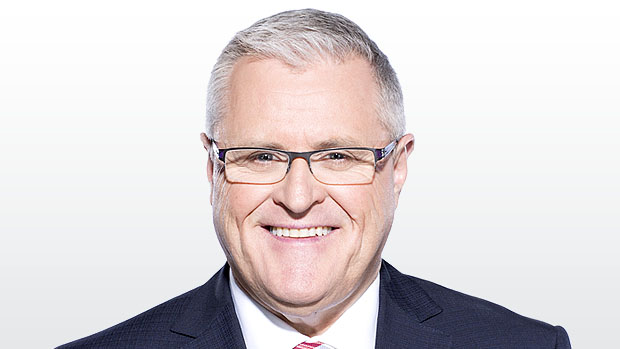 Which is the longer, more agonizing wait for an 18-year-old hockey player?
Is it the 117 minutes between the first pick and finally hearing your name called as the 16th overall selection in an NHL draft where you were initially touted to be a top five pick?
Or is it the more than 190 hours between now and 5 p.m. E.T. on Oct. 11, when you find out if you've made the opening-day, 23-man roster of the NHL club that drafted you?
Only Jakob Chychrun would know for sure, and we dare not ask the 18-year-old Arizona Coyotes' defenceman. At least not yet.
Chychrun's focus right now is singular. The dual Canadian-American citizen from Boca Raton, Fla., doesn't want to think about anything; he just wants to continue doing exactly what he's been doing in four Coyotes' preseason games. That is, playing top-pair minutes — 22:51 versus Los Angeles; 23:56 versus Anaheim; 24:12 versus San Jose; and 26:18 versus Anaheim — and earning rave reviews from Arizona management and coaching staff while playing alongside Connor Murphy.
"He has been one of our better defencemen," Coyotes' general manager John Chayka said, duly noting first-week preseason games are not on par with the second-week preseason games, never mind the regular season.
So how Chychrun fares in any of the remaining Coyotes' three preseason games — tonight in Vancouver; Wednesday in Calgary; and back home Friday against San Jose — may ultimately determine his fate when the final roster is submitted to the NHL next week.
But know this: Chychrun has shown so well to this point in camp, there's an excellent chance he will, at the very least, start this season in the NHL, not with the Sarnia Sting of the Ontario Hockey League. Chychrun could play as many as nine regular-season games without burning the first-year of his entry-level contract and we shouldn't be surprised if he gets that opportunity.
"Jakob is an elite skater," Chayka said. "His lateral mobility has been very good. His gaps have been very good. Physically, he's a man. Unlike a lot of 18 year olds, he isn't physically overmatched [in the NHL]. He has the tools to be new-age physical — below the dots in his own end, he's able to lean on people and eliminate them. He's moving the puck well, getting shots on net. He has all the tools to be a very good NHL defenceman."
So how do we explain Chychrun, who started last season as the consensus No. 2 prospect (behind only Auston Matthews), falling like a rock on draft day to No. 16?
Well, his spotty performance last season clouded his potential for many scouts. Some felt he was feeling the pressure of the draft year and fell into the trap of trying to do too much, skating himself and the puck into trouble too often. Others simply questioned his hockey sense, his ability to read the play, both with and without the puck. Whatever it was, his stock plummeted on draft day.
So far, and it's obviously early, Chychrun's reads and reacts in games have not been an issue for the Coyotes. Whether it's because of the inherent structure of the NHL game — everyone is where they're supposed to be for outlet passes — or because Chychrun knows he must keep things really simple to stay in head coach Dave Tippett's lineup, is something of a moot point.
Chychrun has apparently been "thinking" the game just fine thus far, and no one ever questioned his physical tools, the elite skating and man-strength of a 6-foot-3, 200-pound frame, to be an NHL defender.
"[Chychrun] has been real steady for us," Tippett said. "He's been skating and moving the puck well. We've maybe had to play him more minutes than we should in a couple of games because we lost a defenceman, but he's a really interesting young player, very committed."
It could make Tippett feel really old that he's now coaching a former teammate's son — Jakob's dad Jeff Chychrun and Tippett were briefly together on the 1992-93 Pittsburgh Penguins — but after being part of the coaching staff of the under-24 Team North American entry in the World Cup, Tippett knows all about youthful enthusiasm and its benefits.
"Young or old, you just want good players," Tippett said, "and so many of the young players today are very good players."
Now that Oliver Ekman-Larsson is back from the World Cup, Chychrun will likely lose his partner, Murphy, and top-pairing status. When the season begins for real, Ekman-Larsson and Murphy are expected to be Tippett's go-to pair on defence. Newcomer Alex Goligoski and Michael Stone should be the likely second pair. Chychrun's strong camp could put him as the left shot on the third pairing, but he'll be battling returning veterans Klas Dahlbeck, Kevin Connauton (who has been out with a lower-body injury) and Jarred Tinordi. Right-side options for Arizona include Zbynek Michalek, Luke Schenn, Jamie McBain and power-play specialist Anthony DeAngelo.
If the 18-year-old Chychrun makes the Coyotes' 23-man roster to open the season, he should have plenty of age-appropriate company.
Nineteen-year-old Dylan Strome, the 6-foot-3 skilled centre who was the third pick in the 2015 draft, is virtually guaranteed to be on the opening-day roster, though is eligible to be sent back to Erie of the OHL. Strome has size, skill and smarts. His skating has improved but he still has to show he's up to NHL pace in his game, though his elite skills and smarts compensate greatly.
There is also a strong possibility big 19-year-old winger Lawson Crouse, who came over from Florida in an off-season trade after being the 11th overall pick in 2015, will be in Arizona's top 23 to start the season, though he is eligible to be returned to Kingston of the OHL. Crouse has NHL size, strength, speed and positional smarts to play the prototypical up-and-down wing game, in the bottom half of the lineup to start.
Christian Fischer, Arizona's second-round pick, 32nd overall, in 2015, is making a spirited bid to make the team but could see some AHL seasoning, even though he is still eligible to be sent back to Windsor of the OHL. Fischer was drafted out of the U.S. under-18 program, so the Coyotes are permitted to send the 19-year-old to the AHL instead of junior.
Throw in 20-year-old centre Christian Dvorak, the Coyotes' second-round pick in 2014 who starred for the London Knights last season but is no longer junior eligible, and the Coyotes are quite likely to have four rookies in the lineup, with three of them (Chychrun, Strome and Crouse) still eligible to play junior hockey. This for a lineup that broke in stellar rookies Max Domi and Anthony Duclair last season.
"We're all on board in Arizona to bring the kids along," Tippett added. "They are a big piece of what we're trying to do here. But this is also a critical week [for the kids]. The level of [preseason] competition is going to take a big step up, so we'll see how they react to that."
Martin Hanzal and Brad Richardson are the veteran presence at centre for Arizona, but Strome, Dvorak and 21-year-old second-year pro Laurent Dauphin will almost certainly round things out at the generally youthful pivot position to start the season.
As for Chychrun, he just wants to keep doing what's doing and give himself a chance for something good to happen as the seconds, hours and days tick off the clock.