Dreger Report: Ducks continue to test Murray's patience
Anaheim general manager Bob Murray has had plenty of chances to fire head coach Bruce Boudreau, but he doesn't want to let the players off the hook, Darren Dreger writes.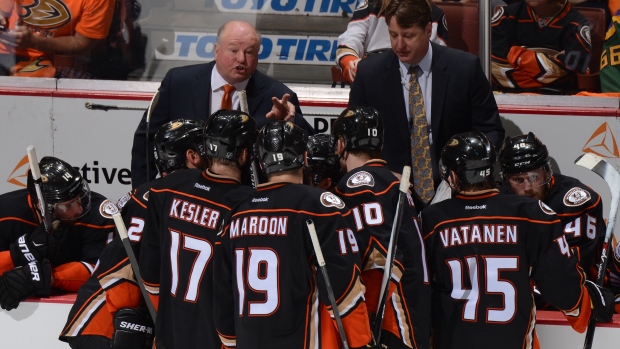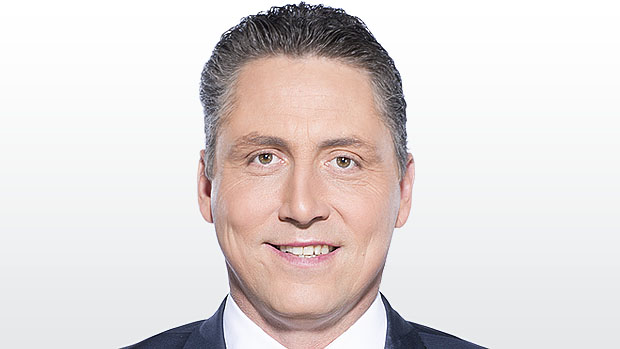 The Anaheim Ducks are near the bottom of the league and back-to-back losses to Carolina and Buffalo have once again raised the possibility of a coaching change, not to mention the blood pressure of Ducks' management.
General manager Bob Murray has had plenty of chances to fire head coach Bruce Boudreau, but he doesn't want to let the players off the hook. So while it's possible Murray is nearing his breaking point, he doesn't appear ready to make the change...yet.
Anaheim peppered Sabres goalie Chad Johnson in Buffalo on Thursday night. Johnson made 44 saves, including 18 in the third period, in a 3-0 Sabres win over the Ducks in the opener of a four-game road trip. Anaheim outplayed and out-chanced Buffalo, but didn't win because they couldn't outscore the Sabres.
Ryan Getzlaf registered two shots on goal in Buffalo and hasn't scored in 12 games. His lone goal on the season was scored Nov. 16, in a 4-1 victory over Carolina. Getzlaf ranks 430th in the NHL in goals this season and is clearly frustrated by his play, lack of production, and the fact Anaheim, a preseason Stanley Cup favoured team, is floundering.
"We don't have enough hunger, we don't have enough drive," Getzlaf told reporters following the loss to the Sabres. "Everything right now feels like we're almost there. It was almost a nice play. It was almost in this league, that's not good enough."
Boudreau agreed and once again identified his leaders and top players as the primary reason for Anaheim's woeful record.
"Quite frankly, when your best players aren't your best players you're not going to win the game and that's the bottom line," Boudreau said. "On a too consistent basis, our best players aren't our best players."
No one needs to remind Getzlaf he has to do more. He's never gone this dry or been this ineffective. Even though he's a veteran player and the Ducks captain, perhaps he too is simply learning how to deal with a slump.
Firing Boudreau is easy, and if things don't vastly improve in the near future, a coaching change might be the only option. Murray still has faith in his team and has been trying to make a trade to add scoring punch, but trading in the NHL has become a lost art.
There are deals to be made if names like Cam Fowler, Sami Vatanen or Hampus Lindholm are included in a package, which isn't going to happen. There are also budget restrictions preventing the Ducks from adding a big contract, so Murray either continues to be patient or he sacks his coach.
For the time being, it appears he's willing to wait, hopeful the core of this team will find the scoring touch that has eluded them through most of this season.
A Jolt for Johansen
Ryan Johansen spent Thursday night in Glendale, Ariz., in the press box.
Sidelined as a healthy scratch by Blue Jackets' head coach John Tortorella, Johansen watched his team squeak out a 7-5 win over the Coyotes in a game that included a calamity of errors and was described as "disgusting," by Coyotes coach Dave Tippett.
Columbus will take the win; they've lost more than their share to this point and a few they should have won. But the win on this night doesn't trump the story of the day: the future of Ryan Johansen.
Was it Johansen's attitude, which allegedly included the budding young star blowing off Tortorella during a TV timeout, that led to his benching in the third period versus the Dallas Stars and subsequent scratching in Arizona? Was it the turnovers and lack of structure in his play in Tuesday's game and others that pushed Torts and Blue Jackets' general manager Jarmo Kekalainen to sit him out?
It's all of that, plus the fact that the upside of Johansen is worth the effort to make things right.
"Full responsibility...my fault," Johansen told Columbus Dispatch reporter, Aaron Portzline. "I'm going to use it as a positive and take this day to watch the guys and realize that I don't want this to happen again."
More than words, his play will dictate how this saga plays out both short and long-term. How he responds is also of keen interest to a number of NHL general managers who have their trade goggles on and the 6-foot-3, 23-year-old centre in their sights.
Depending on the team, for the Blue Jackets to consider trading Johansen either a top young defenceman or a top young centre has to be included in the return. As steep as the asking price might be, there is also some concern among interested clubs about the issues Columbus is currently addressing with Johansen, plus his contract bumps to $6 million next year and he can potentially become an unrestricted free agent in two and half years at the age of 26.
Johansen is a good player with the potential to be great, so it's unlikely the Blue Jackets rush into any decision regarding his future.
Talking Trash
Trash talking has always had a place in the National Hockey League and traditionally, common sense establishes the line between what is or isn't acceptable. Racial or homophobic slurs obviously extend well beyond the boundaries, and the NHL disciplines those who cross the line.
However, a tweet from former NHLer Patrick O'Sullivan Thursday evening, recalling an incident with Vancouver Canucks forward Alex Burrows, sparked mass reaction on twitter and an apology from Burrows.
"I apologize if I offended him back then. I did say some stuff that may now, looking back ... I could see how it would've offended him, like a lot of things I said back in the day," Burrows said. "I read his story on The Player's Tribune. It's tough to see."
The Burrows allegations aside, teams — the Canucks included — remind their players there is nowhere to hide in today's game. Everything is caught on camera or picked up by a microphone, so players are encouraged to be careful as the old code of "what happens on the ice stays on the ice," no longer applies.
However, transferring what happened years ago to today's game is difficult. It would be unrealistic for the NHL or NHLPA to have to police trash talking unless the comments clearly require league attention.
Burrows deserves public ridicule for a ridiculously insensitive remark. No question he has to choose his words more carefully. However, verbal jousting is a tool he uses to pester the opposition. It's only part of what makes him a good hockey player and, according to those close to him, a really good guy.
A really good guy who has made a couple of very public mistakes.