Dreger Report: Maurice shouldn't be punished for profanity
Winnipeg Jets coach left was left fuming after overtime penalty call against his team, but his comments aren't worthy of league discipline, TSN Hockey Insider Darren Dreger writes.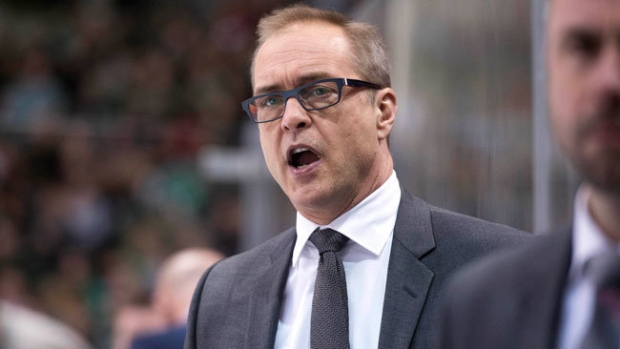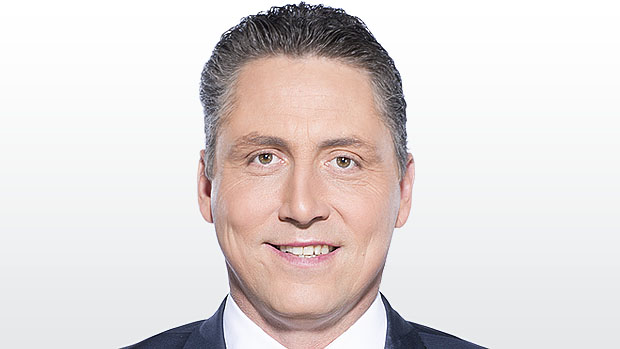 As the story goes, the game of hockey, in its infancy, was once played with chunks of horse manure used as pucks on frozen ponds during the frigid winters in Canada.
Fast forward 140-plus years and we hear the same animal excrement used to describe a costly penalty assessed to the Winnipeg Jets.
That was the response from Jets head coach Paul Maurice when asked post game if the too many men on the ice penalty called in overtime against his team was tough to swallow. Even when fuming, the man has a dry, yet sharp sense of humour. In this case, to be sure, Maurice was not trying to be funny.
The NHL's hockey operations staff protects its own, and while those who supervise games from Toronto on a nightly basis may not always agree with the officials, coaches have been fined for similar outbursts in the past. But this remark from Maurice doesn't rise to the level worthy of discipline.
The Jets would argue they had two players jump on while two were headed off and might concede it was close, but in 3-on-3 overtime close shouldn't be good enough to warrant the call. Conversely, the officials may have been drawn by a suspect Winnipeg line change that seemingly turned a Capitals' two-on-one into a three-on-two with Tobias Enstrom and Patrik Laine racing in to break up a scoring chance.
Stephen Walkom, the NHL's director of officiating, will review the play with the on-ice officials, which is standard operating procedure. It wouldn't be unusual for Colin Campbell, executive vice-president and director of hockey operations, to make a warning call to the Jets, or at least discuss the case with Winnipeg's management.
It's time to put that horse back in the barn.
League making headway on goalie gear
I touched on this story Thursday in Insider Trading. Slowly, but surely, the NHL is making headway in its quest to fit goalies with anatomically appropriate equipment. The league had hoped to have the equipment adjustments completed in time for the start of the season, but red tape, manufacturing complications and buy-in from the goalie fraternity required more time.
A more size-sensitive pant is currently being distributed to NHL goaltenders as they are made available to the league by the manufacturer. A number of goalies have the new pants, but they are not allowed to use them until every goalie in the league has been supplied with the fitted protection. Once every goaltender has the pant, they will be allowed to practise with them over a short period of time before the change is introduced into regular-season play.
There is no official time frame on when the change will be implemented, however a source involved in the process says it should be completed in the near future.
Vesey proving his value
It hasn't taken Jimmy Vesey long to establish that he was worth every bit of the fuss and attention most NHL teams paid to him prior to his decision to sign with the New York Rangers in August.
Vesey's six goals place him among the NHL's big boys. His two game winners and three power-play goals have helped him earn the trust of coach Alain Vigneault. However, as a rookie, there will be nights like Thursday night versus Connor McDavid and the Edmonton Oilers when his inexperience finds him seemingly lost in the shuffle. Vesey played the fewest minutes of any Rangers forward as Vigneault worked his bench to secure the win on home ice.
For every young player, nights like this are part of the learning curve. Vigneault knew what he was getting when he took a primary role in recruiting Vesey alongside Rangers general manager Jeff Gorton and assistant GM Chris Drury. The highly skilled, intelligent, somewhat understated and always very respectful 23-year-old forward was the perfect fit for the Rangers, but the Rangers didn't know if they were the right fit for Vesey.
Toronto, Pittsburgh, New Jersey, Buffalo, Chicago and both New York teams made it to the final round, although all but a couple of NHL teams had expressed interest at varying points. Vesey made it clear he preferred the east and wanted to stay in proximity of his hometown, Boston, but, beyond that, even those closest to him didn't have a strong sense as to which organization he would choose.
With his father, Jim Sr., a scout for the Maple Leafs, Toronto was rumoured throughout the process to be a top contender. The Leafs certainly didn't make the decision easy. Head coach Mike Babcock was exceptionally well prepared for his meeting with the college free agent. He was very in tune with Vesey's game and had watched a ton of video in preparation for Toronto's presentation. In many ways, the Maple Leafs viewed Vesey as the perfect winger for Auston Matthews. Babcock wanted him bad and Vesey recognized the great opportunity to grow with a developing team in Toronto, but there was something about New York and the Rangers he connected with.
New Jersey's John Hynes and Pittsburgh head coach Mike Sullivan also made convincing arguments, and it's believed Pens captain Sidney Crosby reached out to Vesey as well, trying to lure him to the defending Stanley Cup champions. Many teams brought out the big guns to enhance their pitch, yet despite an impressive push from all teams involved, the Rangers prevailed.
Vesey felt comfortable with Vigneault and Rangers management and also had a workout buddy, New York forward Kevin Hayes, in his ear daily selling the Hobey Baker winner on the virtues of the team and the city. New York City did have some influence in the decision. Aside from being one of the greatest cities in the world, the Big Apple also provides an opportunity to disappear from the spotlight from time to time, something that's hard to do in hockey-crazed centres like Toronto and Boston.
So far, his Broadway act is a big hit.
Fighting the good fight
Shout-out to the National Hockey League for the great work done in its Hockey Fights Cancer campaign. There are so many heartfelt and inspiring stories currently posted on NHL.com, including one on my good friend John Druce, who lost his beautiful daughter Courtney to cancer last April. Saturday, just prior to Washington's game against the Florida Panthers, the former Capitals forward will participate in a ceremonial faceoff as the Caps host one of the league's many Hockey Fights Cancer awareness nights.
Well done!
Tis the season...
As promised via Twitter earlier this week, here is a collection of developing backyard rinks from across North America. It may seem early, but even putting down a basic frame this time of year allows you to act quickly when the weather turns and it's time to install the liner and get flooding.
This gallery of budding backyard rinks pulls at my heart strings. As I've said many times, everything about this process is therapeutic for me. Watching my kids (now 17 and 15) grow up and enjoy countless hours of fun was worth every second of lost sleep spent painstakingly trying to keep the rink going in an often difficult southern Ontario climate.
Sadly, we outgrew the 25 x 40 rink and the house that also occupied the property and replaced it with more room and a nearby pond that we proudly developed into the postcard like paradise you see here: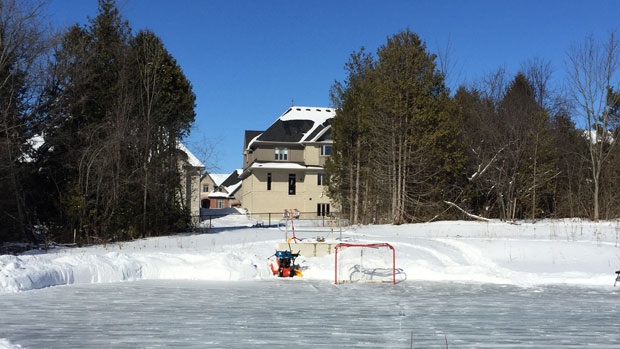 When the weather cooperates, it's beautiful. But there's no build, and it's not quite as satisfying when Mother Nature does most of the work.
Good luck and thanks to all who tweeted photos of their impressive rink projects. We'll post a progress report and collection of pictures just before Christmas in the Dreger Report.
Have a great weekend.