Less is more from Raptors' Johnson
Neither Dwane Casey nor James Johnson would reveal the nature of their sit-down chat ahead of Friday's 94-83 win over the Los Angeles Lakers. "I talk to James every day," Casey had said, dodging questions about the pep talk after Johnson mentioned it on the team broadcast post-game.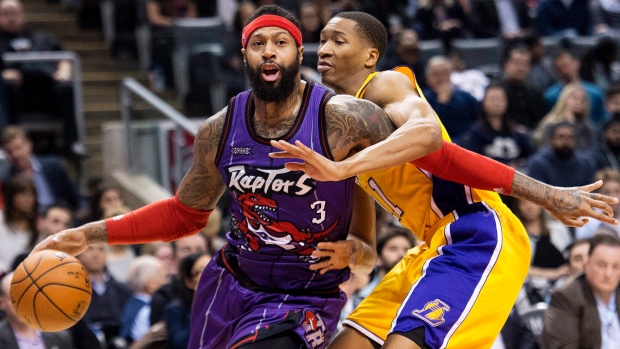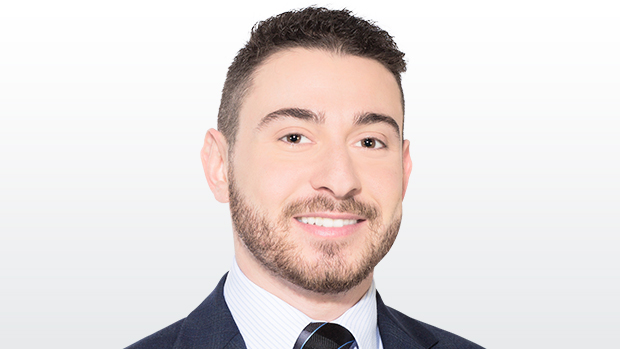 TORONTO - Neither Dwane Casey nor James Johnson would reveal the nature of their sit-down chat ahead of Friday's 94-83 win over the Los Angeles Lakers.
"I talk to James every day," Casey had said, dodging questions about the pep talk after Johnson mentioned it on the team broadcast post-game.
"It's a family matter," the Raptors' forward added following practice a couple days later. "We're going to keep it like that."
Whatever the topic was, it seemed to get Johnson's attention. Logging over 20 minutes for the first time this month, the versatile reserve scored 17 points - his most since Feb. 21 - on 7-of-10 shooting, sparking Toronto's second-half comeback.
"I calmed down," he said. "Got to relax a little bit and re-evaluate, reflect on what I have to do."
Johnson's role has changed as much or more than any Raptor player this season. He's started 17 games and he's been a key contributor off Toronto's bench. He's teetered on the edge of Casey's rotation and he's been a healthy scratch four times, most recently in Tuesday's loss to Detroit.
The primary reason why was almost certainly covered in that pre-game discussion.
"James' strength is also his weakness," Casey said Sunday afternoon. "He feels like he can help on a lot of things [defensively] and gets himself in trouble. But I thought he played with a lot of discipline [Friday] and I thought that was one of the most important things."
"I made a lot of mental mistakes on defence," acknowledged Johnson. "Switching and trying to get back to the man I switched on. So, me and Coach had a talk about that today too, about switching and staying on that man instead of trying to help and over-help. Sometimes my greatest attribute can be my weakness too, because I always want to help somebody."
A crowd favourite, Johnson's sporadic usage has been a perplexing thing for most Raptors fans, justifiably so in some cases. Casey has lamented his team's defensive regression all season long - they've gone from a top-10 club to the 25th ranked group on that end of the floor. Meanwhile, Johnson - brought back over the summer for his reputation as a stopper at the wing position - has their second best defensive rating.
On the surface, it seems unwise to leave one of your best defenders on the bench while your team is searching for some semblance of defensive cohesion. But Casey has his reasons, whether you agree with them or not.
Despite Johnson's strengths as a one-on-one defender, he has drawn the ire of his coach for his tendency to gamble off his man and go rogue. Although the two have a history - they clashed over role definition during Johnson's initial stint in Toronto - this is nothing personal. Defensive-risk taking has always been one of Casey's biggest pet peeves.
By design, Casey's Raptors teams have each ranked towards the bottom of the league in forcing turnovers. He often preaches discipline, communication and being in the right place at the right time. There's no room for heroes in his defensive schemes.
That was one of the things he and Kyle Lowry butted heads over during the point guard's first year in Toronto. Lowry would regularly sacrifice his positioning to gamble for a steal. He would hang around the paint or dart towards the rim in the hopes of grabbing an offensive rebound, rather than getting back on defence. As a result, Casey would lean on incumbent point guard Jose Calderon, an inferior defender but one who was more familiar with and loyal to his schemes.
Although Lowry's improved defence has fallen off this season, he was among the league leaders in drawing charges a year ago and Casey often credits his growth from that standpoint. Now, they're working with Johnson hoping he can make the same transformation.
"We worked on drills today where he had to be disciplined, put him in situations," the coach said. "Because he's going to be guarding guys down the stretch and in the playoffs that are very lethal offensive players and if you make a mental mistake in those situations they'll make you pay. It's something we continue to work with him on, talk to him about and hopefully he gets better with it."
Johnson is well intentioned. He used to have a similar issue offensively, trying to do too much, but has bought into his role this year and rarely plays outside his comfort zone. When he gets into trouble on the defensive end, it's mostly instinctual.
"One thing about James, he tries to make up for other people's mistakes," DeMar DeRozan said of the athletic 28-year-old. "He's all over the floor and you've got to give him credit because he loves being on the floor helping everybody who is out there, doing whatever it takes to win. When he's on the floor he's going to try to do it all."
"That's the main focus right now," Johnson agreed. "It's hard for my teammates to be on the string with me when I'm running everywhere and then they're getting pulled back and forth with different guys. So, like I said, just gotta stick to the little things and stick to the basics. Hopefully everywhere gets to where they need to be and I stick to my principles."
Heading into the playoffs, Casey's intention is to tighten his rotation to nine players, meaning either Johnson or Tyler Hansbrough will be the odd man out. By merit, neither forward deserves to lose playing time. An unheralded defender - his defensive rating leads the team - Hansbrough has also bought into his role this season, bringing energy and toughness off the bench. For now, with Lowry out of the lineup, both should continue to play but, come playoff time, the match-up will likely determine which forward sees the floor.
"Both of them are going to contribute, I think, in some type of way in the playoffs just because of their physicality," Casey said last week. "It may not be the long, extended minutes that they want. But there's going to be certain situations in the playoffs where you're going to have a need for a Tyler Hansbrough or a James Johnson, whether it's matchups, physicality, energy to change the game."
"James does so many things defensively and offensively. He's one of our best rebounders in traffic and he's one of our better ball handlers on the break. So there's going to be different situations where both of them contribute."
"[Johnson's] probably one of the most talented guys on our team in certain match-ups and he can fit certain situations for us. But the key for him is just being disciplined on both ends of the floor."