McKenzie's Draft Ranking: Top 93 and honourable mentions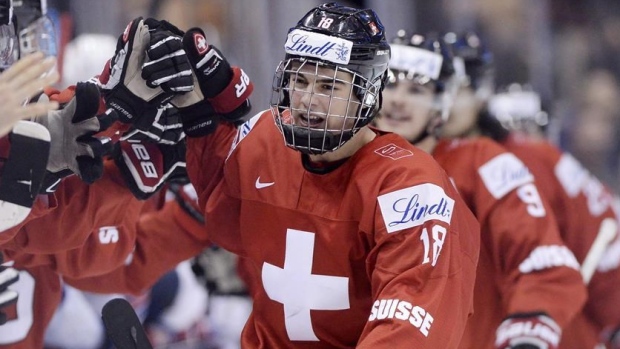 TSN Hockey's Final NHL Draft Ranking is a compilation list put together by TSN Hockey Insider Bob McKenzie.
It is based on input from various scouts around the National Hockey League.
For the final edition, Bob has ranked the Top 93 players, covering what would be the first three rounds of the draft, as well as seven honourable mentions making it a Top 100.
Click on a player's name below for full profiles, statistics, scouting reports, NHL player comparables and video analysis from TSN Director of Scouting Craig Button.
The 2017 NHL Draft will take place in Chicago on Friday and Saturday.
The Final Ranking
| RK | Player | Team | POS | HT | WT | GP | G | P |
| --- | --- | --- | --- | --- | --- | --- | --- | --- |
| 1 | Nico Hischier | Halifax (QMJHL) | C | 6'1 | 176 | 57 | 38 | 86 |
| 2 | Nolan Patrick | Brandon (WHL) | C | 6'2 | 198 | 33 | 20 | 46 |
| 3 | Miro Heiskanen | HIFK (SM Liiga) | D | 6'0 | 170 | 37 | 5 | 10 |
| 4 | Cale Makar | Brooks (AJHL) | D | 5'11 | 180 | 54 | 24 | 75 |
| 5 | Gabe Vilardi | Windsor (OHL) | C | 6'3 | 201 | 49 | 29 | 61 |
| 6 | Casey Mittelstadt | Eden Prairie (USHS) | C | 6'1 | 201 | 25 | 21 | 64 |
| 7 | Elias Pettersson | Timra (SWE-Als) | C | 6'2 | 161 | 43 | 19 | 41 |
| 8 | Cody Glass | Portland (WHL) | C | 6'2 | 178 | 69 | 32 | 94 |
| 9 | Michael Rasmussen | Tri-City (WHL) | C | 6'6 | 215 | 50 | 32 | 55 |
| 10 | Owen Tippett | Mississuaga (OHL) | RW | 6'0 | 200 | 59 | 44 | 75 |
| 11 | Martin Necas | Brno (Czech) | C | 6'0 | 167 | 41 | 7 | 15 |
| 12 | Nick Suzuki | Owen Sound (OHL) | C/RW | 5'11 | 183 | 65 | 45 | 96 |
| 13 | Lias Andersson | HV71 (SHL) | C | 5'11 | 198 | 42 | 9 | 19 |
| 14 | Juuso Välimäki | Tri-City (WHL) | D | 6'2 | 204 | 60 | 19 | 61 |
| 15 | Kristian Vesalainen | HPK (SM Liiga) | LW | 6'3 | 207 | 26 | 1 | 6 |
| 16 | Timothy Liljegren | Rogle (SWE) | D | 6'0 | 191 | 19 | 1 | 5 |
| 17 | Eeli Tolvanen | Sioux City (USHL) | RW | 5'10 | 170 | 52 | 30 | 54 |
| 18 | Klim Kostin | Moscow (KHL) | RW | 6'3 | 196 | 9 | 1 | 1 |
| 19 | Ryan Poehling | St. Cloud St. (NCAA) | C | 6'2 | 183 | 35 | 7 | 13 |
| 20 | Cal Foote | Kelowna (WHL) | D | 6'4 | 212 | 71 | 6 | 57 |
| 21 | Robert Thomas | London (OHL) | C | 6'0 | 188 | 66 | 16 | 66 |
| 22 | Urho Vaakanainen | Jyvaskala (SM Liiga) | D | 6'0 | 185 | 41 | 2 | 6 |
| 23 | Josh Norris | USA NTDP (USHL) | C | 6'1 | 192 | 52 | 23 | 51 |
| 24 | Kailer Yamamoto | Spokane (WHL) | RW | 5'8 | 153 | 65 | 42 | 99 |
| 25 | Nicholas Hague | Mississuaga (OHL) | D | 6'6 | 215 | 64 | 18 | 44 |
| 26 | Jake Oettinger | Boston U (NCAA) | G | 6'4 | 212 | 35 | 2.11 | .927 |
| 27 | Isaac Ratcliffe | Guelph (OHL) | LW | 6'6 | 200 | 67 | 28 | 54 |
| 28 | Conor Timmins | S.S. Marie (OHL) | D | 6'1 | 185 | 67 | 7 | 61 |
| 29 | Erik Brännström | HV71 (SWE J20) | D | 5'10 | 173 | 35 | 1 | 6 |
| 30 | Jason Robertson | Kingston (OHL) | LW | 6'2 | 192 | 68 | 42 | 81 |
| 31 | Filip Chytil | Zlin (CZE-Jr.) | LW | 6'0 | 178 | 38 | 4 | 8 |
| | | | | | | | | |
| 32 | Shane Bowers | Waterloo (USHL) | C | 6'1 | 183 | 60 | 22 | 51 |
| 33 | P-Olivier Joseph | Charlottetown (QMJHL) | D | 6'2 | 161 | 62 | 6 | 39 |
| 34 | Henri Jokiharju | Portland (WHL) | D | 6'0 | 180 | 71 | 9 | 48 |
| 35 | Jesper Boqvist | Timra (SWE-Als) | C | 6'0 | 179 | 19 | 3 | 12 |
| 36 | Jaret A-Dolan | Spokane (WHL) | C | 5'11 | 188 | 72 | 39 | 76 |
| 37 | Maxime Comtois | Victoriaville (QMJHL) | LW | 6'2 | 200 | 64 | 22 | 51 |
| 38 | Morgan Frost | S.S. Marie (OHL) | C | 5'11 | 170 | 67 | 20 | 62 |
| 39 | Kole Lind | Kelowna (WHL) | RW | 6'1 | 178 | 70 | 30 | 87 |
| 40 | Marcus Davidsson | Djurgårdens (SHL) | C | 6'0 | 191 | 45 | 5 | 9 |
| 41 | Michael DiPietro | Windsor (OHL) | G | 6'0 | 200 | 51 | 2.35 | .917 |
| 42 | Grant Mismash | USA NTDP (USHL) | LW/C | 6'0 | 186 | 54 | 23 | 49 |
| 43 | Alex Formenton | London (OHL) | LW | 6'2 | 165 | 65 | 16 | 34 |
| 44 | Dylan Samberg | Hermantown (USHS) | D | 6'3 | 190 | 31 | 11 | 34 |
| 45 | Joni Ikonen | Frolunda (SWE J20) | C | 6'0 | 178 | 40 | 22 | 41 |
| 46 | Jonah Gadjovich | Owen Sound (OHL) | LW | 6'2 | 209 | 60 | 45 | 73 |
| 47 | Josh Brook | Moose Jaw (WHL) | D | 6'1 | 182 | 69 | 8 | 40 |
| 48 | U-P Luukkonen | HPK (SM Jr Liiga) | G | 6'4 | 196 | 35 | 1.78 | .916 |
| 49 | Alexei Lipanov | Balashikha (MHL) | C | 6'0 | 165 | 21 | 3 | 8 |
| 50 | Aleksei Heponiemi | Swift Current (WHL) | C | 5'10 | 147 | 72 | 28 | 86 |
| 51 | Ostap Safin | Sparta (CZE-Jr.) | RW | 6'4 | 191 | 24 | 6 | 18 |
| 52 | Ian Mitchell | Spruce Grove (AJHL) | D | 5'11 | 173 | 53 | 8 | 37 |
| 53 | Keith Petruzzelli | Muskegon (USHL) | G | 6'5 | 180 | 35 | 2.4 | .918 |
| 54 | Nikita Popugaev | Prince George (WHL) | LW | 6'6 | 217 | 40 | 22 | 51 |
| 55 | Alexandre Texier | Grenoble (FRA) | C | 6'0 | 187 | 40 | 10 | 19 |
| 56 | Eetu Luostarinen | KalPa (SM Liiga) | C | 6'2 | 178 | 32 | 3 | 7 |
| 57 | Nate Schnarr | Guelph (OHL) | C | 6'3 | 180 | 54 | 18 | 36 |
| 58 | Lukas Elvenes | Rogle (SWE J20) | RW/C | 6'0 | 173 | 41 | 15 | 45 |
| 59 | Matthew Strome | Hamilton (OHL) | LW | 6'4 | 206 | 66 | 34 | 62 |
| 60 | David Farrance | USA NTDP (USHL) | D | 5'11 | 189 | 53 | 5 | 30 |
| 61 | Jake Leschyshyn | Regina (WHL) | C | 5'11 | 185 | 47 | 17 | 40 |
| 62 | Mackenzie Entwistle | Hamilton (OHL) | RW | 6'3 | 175 | 54 | 12 | 25 |
| | | | | | | | | |
| 63 | Filip Westerlund | Frolunda (SWE) | D | 5'11 | 180 | 33 | 0 | 4 |
| 64 | Maxim Zhukov | Green Bay (USHL) | G | 6'2 | 187 | 31 | 2.25 | .913 |
| 65 | Stelio Mattheos | Brandon (WHL) | C | 6'1 | 192 | 69 | 26 | 61 |
| 66 | Reilly Walsh | Chicago (USHL) | D | 5'11 | 181 | 24 | 2 | 10 |
| 67 | Ben Mirageas | Bloomington (USHL) | D | 6'1 | 180 | 45 | 1 | 10 |
| 68 | Eemeli Rasanen | Kingston (OHL) | D | 6'7 | 208 | 66 | 6 | 39 |
| 69 | Luke Martin | Michigan (NCAA) | D | 6'4 | 216 | 35 | 1 | 7 |
| 70 | Antoine Morand | A-Bathurst (QMJHL) | C | 5'10 | 178 | 67 | 28 | 74 |
| 71 | Stuart Skinner | Lethbridge (WHL) | G | 6'3 | 205 | 60 | 3.26 | .905 |
| 72 | Scott Reedy | USA NTDP (USHL) | C | 6'2 | 204 | 51 | 20 | 40 |
| 73 | Nick Henry | Regina (WHL) | RW | 5'11 | 191 | 72 | 35 | 81 |
| 74 | Michael Anderson | Waterloo (USHL) | D | 6'0 | 197 | 54 | 5 | 34 |
| 75 | Zach Gallant | Peterborough (OHL) | C | 6'2 | 188 | 60 | 21 | 47 |
| 76 | Dmitri Samorukov | Guelph (OHL) | D | 6'2 | 180 | 67 | 4 | 20 |
| 77 | Adam Ruzicka | Sarnia (OHL) | C | 6'4 | 202 | 61 | 25 | 46 |
| 78 | Jack Rathbone | Dexter (USHS) | D | 5'10 | 177 | 22 | 16 | 35 |
| 79 | Ivan Lodnia | Erie (OHL) | RW | 5'10 | 182 | 66 | 24 | 57 |
| 80 | Jonas Rondbjerg | Växjö (SWE J20) | RW | 6'2 | 187 | 42 | 9 | 31 |
| 81 | Mario Ferraro | Des Moines (USHL) | D | 5'10 | 184 | 60 | 8 | 41 |
| 82 | Fabian Zetterlund | Farjestad Jr. (SWE J20) | LW/RW | 5'11 | 195 | 40 | 16 | 36 |
| 83 | Evan Barratt | USA NTDP (USHL) | C | 6'0 | 188 | 52 | 15 | 45 |
| 84 | Cayden Primeau | Lincoln (USHL) | G | 6'3 | 181 | 30 | 3.16 | .895 |
| 85 | Gustav Lindstrom | Almtuna (SWE) | D | 6'2 | 187 | 48 | 2 | 9 |
| 86 | Morgan Geekie | Tri-City (WHL) | C | 6'2 | 178 | 72 | 35 | 90 |
| 87 | Cameron Crotty | Brockville (CJHL) | D | 6'3 | 182 | 41 | 4 | 13 |
| 88 | Max Gildon | USA NTDP (USHL) | D | 6'3 | 191 | 53 | 7 | 25 |
| 89 | Jack Studnicka | Oshawa (OHL) | C | 6'1 | 171 | 64 | 18 | 52 |
| 90 | Robin Salo | Sport (SM Liiga) | D | 6'1 | 187 | 54 | 1 | 16 |
| 91 | Ian Scott | Prince Albert (WHL) | G | 6'3 | 172 | 50 | 3.69 | .895 |
| 92 | Markus Phillips | Owen Sound (OHL) | D | 6'0 | 202 | 66 | 13 | 43 |
| 93 | Tyler Inamoto | USA NTDP (USHL) | D | 6'2 | 194 | 42 | 2 | 11 |
| | | | | | | | | |
| HM | Jack Badini | Chicago (USHL) | C | 6'0 | 190 | 59 | 28 | 42 |
| HM | Cale Fleury | Kootenay (WHL) | D | 6'1 | 201 | 70 | 11 | 38 |
| HM | Tobias Geisser | EVZ Academy (SUI-2) | D | 6'4 | 200 | 34 | 3 | 10 |
| HM | Kasper Kotkansalo | Sioux Falls (USHL) | D | 6'2 | 198 | 47 | 1 | 12 |
| HM | Kirill Maksimov | Niagara (OHL) | RW | 6'2 | 192 | 37 | 6 | 16 |
| HM | Mason Shaw | Medicine Hat (WHL) | C/LW | 5'8 | 180 | 71 | 27 | 94 |
| HM | Lane Zablocki | Red Deer (WHL) | RW | 6'0 | 190 | 64 | 28 | 54 |