McKenzie: The fascinating story of Rangers forward Duclair
It's early yet - just three games in for the New York Rangers - but one of the more fascinating stories of the young NHL season is that of Anthony Duclair. As TSN Hockey's Bob McKenzie writes, the 19-year-old could be back with the Quebec Remparts of the Quebec Major Junior Hockey League but instead he's skating alongside Marty St. Louis and Rick Nash on the Blueshirts' top line. And, so far, looking awfully good doing it.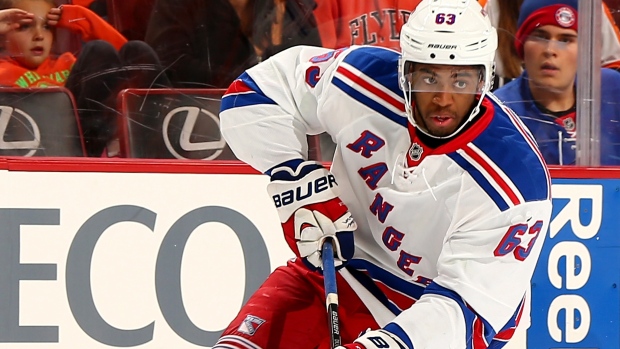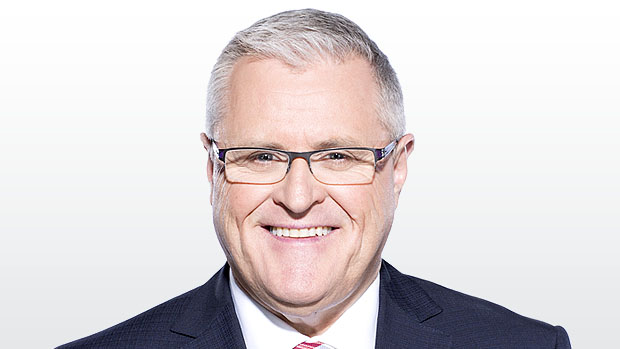 It's early yet – just three games in for the New York Rangers – but one of the more fascinating stories of the young NHL season is that of Anthony Duclair.
The 19-year-old could be back with the Quebec Remparts of the Quebec Major Junior Hockey League but instead he's skating alongside Marty St. Louis and Rick Nash on the Blueshirts' top line. And, so far, looking awfully good doing it.
He played only 11:12 in the Rangers' opening night win in St. Louis, but was up to 14:09 two nights later in a loss at Columbus, picking up his first two NHL points on lovely primary assists, one on a Lee Stempniak goal and another on a Nash goal. The Rangers' home opener was an unmitigated disaster – a 6-3 loss to Toronto – but Duclair was a bright spot on an otherwise dismal night. He led all Rangers forwards in icetime with 18:36, in part because linemate Nash left after two periods to be with his wife who had gone into labor, but Duclair was noticeable, winning battles, controlling the puck, making plays, and generating shots (three on goal, six attempted).
Listed at 5-foot-11 and 185 pounds - Duclair looks bigger and stronger than that. He's got an oversized engine in that mid-range chassis, high-end, explosive speed and power to go with the flashy stick-and-puck skills that helped him to score 50 goals and 99 points in only 59 games for the Remparts last season.
One might well ask the question, how did a 2013 third-round pick (80th overall) make the Rangers as an underage junior? But maybe the more interesting query is how he came to be a third-round pick at all.
"We didn't have a first- or second-round pick in that (2013) draft," said Ranger director of player personnel Gordie Clark, "so we were really surprised to see (Duclair) still there in the third."
Not so surprised, though, to take him with the 65th overall pick, which the Rangers used to select Adam Tambellini. Or, for that matter, not surprised enough to take him with the 75th pick, when New York drafted Pavel Buchnevich instead.
Not only was Duclair a third-round pick, he was the Rangers' third pick in the third round, a stunning fall for a dynamic and offensively gifted prospect who started the 2012-13 season as a potential first-rounder.
What happened?
Well, he had a draft year from hell, dealing with injury, inconsistency and questions about his attitude and coachability.
In his rookie QMJHL season in Quebec, Duclair scored 31 goals, the same as Nate MacKinnon, the Halifax Moosehead sensation of the same age. MacKinnon had 78 points that season; Duclair had 66.
In August of 2012, MacKinnon and Duclair both were highly-touted members of Canada's Under-18 team for the Ivan Hlinka tournament in the Czech Republic. MacKinnon centered the top line with Jonathan Drouin on one wing and Curtis Lazar on the other and led Canada to the gold medal; Duclair, meanwhile, ended up as the 13th forward, barely playing at all, falling into disfavor with a coaching staff led by Todd Gill. In the championship game, Duclair played no more than a shift or two.
Duclair returned to the QMJHL, scored eight points in his first three games but suffered a high-ankle sprain that kept him out of the lineup for more than five weeks. He finished his draft year with only 20 goals and 50 points in 55 points. There were questions about his attitude and a one-game team suspension (along with Adam Erne) imposed by then Quebec GM-coach Patrick Roy didn't help Duclair's reputation with the scouts, who were filing reports that looked like this:
"We thought he was selfish with too much 'me' and not enough 'we' in his game, plus he played careful. He didn't want to pay the price against tough competition but lit up weak teams."
The exclamation point on a really difficult draft year was that even when Roy left Quebec to become the head coach and dominant voice of the Colorado Avalanche, he didn't use his influence for the Avs to take Duclair in the second round (Colorado took Chris Bigras 32nd overall) or even the third (goalie Spencer Martin 63rd overall was Colorado's choice).
The Avalanche looked as though they were poised to take Seth Jones No. 1 overall that year but from the moment Roy arrived in Denver, the focus shifted to MacKinnon. Roy's powers were far greater than that of a mere head coach. If Roy had really wanted Duclair, the belief throughout the NHL was that he was there for the taking. When Colorado passed on Duclair in the second and third round, it was interpreted a giant red flag for the rest of the league. So his stock plummeted.
"The funny thing is we had heard all the stuff about attitude and selfishness but in our interviews with him leading up to the draft, we didn't see any of that," said Clark. "We just saw a kid who admitted he had a really tough (draft) year. He seemed humble."
But it was a game in Duclair's rookie QMJHL season that Clark couldn't get out of his mind. It was Dec. 3, 2011, and the high-flying Remparts, led by Mikhail Grigorenko and the rookie Duclair, were in Halifax to face the Mooseheads and their 16-year-old sensation MacKinnon.
There was a seven-minute stretch in the late first and early second period that stayed with Clark, who was scouting the game.
"Grigorenko scored a go-ahead goal and Duclair assisted on it," Clark said. "Well, that was like a challenge to MacKinnon (who scored to tie it up). Not long after that (36 seconds, actually) Duclair went coast to coast to put Quebec ahead 'anything you can do I can do better' and then it was like Duclair saying to MacKinnon, 'oh, yeah, here you go.' It was great. I couldn't get that game out of my mind, even after things didn't go well for him (in his draft year)."
For the record, MacKinnon made the ultimate statement that night. After Erne put Quebec up 4-2, MacKinnon scored four straight goals, including an empty netter, for five on the night in a 6-4 Halifax win. MacKinnon was named the first star; Duclair was the second star.
In Duclair's difficult draft year, New York's Quebec-based scout Daniel Dore really honed in on the talented winger. It took awhile but by February or March, Dore liked what he was seeing.
"You could always see his speed and it was obvious he could carry the puck," Clark said. "We wondered about whether he could finish but the skating and power were tremendous. There wasn't a lot of love for the kid, that's for sure."
It was a credit to Duclair he bounced back with a 50-goal season in Quebec, though he was never really on the radar for a spot on Canada's 2014 national junior team last Christmas. He was, however, invited to the 2015 national junior team camp this past summer in his hometown of Montreal and was electrifying at times there, skating his way back into the good graces of Hockey Canada. He's a top contender for a spot on this year's national junior team – if he's not in the NHL, that is.
The Rangers didn't go into their training camp expecting Duclair to make the team – head coach Alain Vigneault isn't easily impressed by teenagers though he did provide the kid a nickname, The Duke - but a run on injuries and the fact Duclair was often times their best player in pre-season games left the Rangers with little choice. With his speed, skill, ability to make plays and no apparent hesitation to battle for pucks, Duclair simply played his way onto the NHL club, necessitating a two-for-one pre-season trade with Florida that allowed New York to make room for him on the club's 50-contract roster.
With all the usual disclaimers that go with first-week NHL stories, and 19-year-old underagers to boot, the Rangers feel fortunate they took a chance on Duclair in the third round.