Nash admits NBA career likely over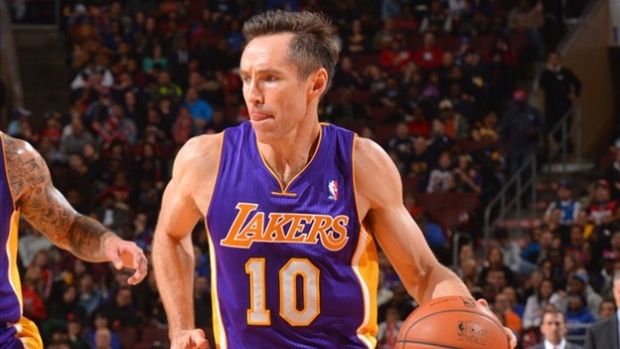 Though he has yet to confirm his retirement, Steve Nash is under no delusions when it comes to the fact that his NBA career is at its end.
The Los Angeles Lakers point guard joined the The Bro Jake Show on TSN Radio 1040 Vancouver on Tuesday morning and pulled no punches when it came to the state of his game.
"Unfortunately the NBA game is just a touch too far for me," said the 41-year-old native of Victoria, BC. "I play one game and I'm out a month. I have a bunch of back things going on that compromise that nerve."
Nash has played just 45 games over the past two seasons and has missed this current season entirely with a myriad of back issues.
"I never worked as hard as I did the last 18 months, two years, twice a day almost every day to try to just give it that one last year," said Nash. "And I finally just had to admit that it's just not meant to be."
In November, Nash wrote an open letter to Lakers fans who were angry when Nash appeared golfing in a video on his Instagram account, saying that he's "worked like a dog to not only overcome these setbacks, but to find the form that could lift up and inspire the fans in LA as my last chapter. Obviously, it's been a disaster on both fronts but I've never worked harder, sacrificed more or faced such a difficult challenge mentally and emotionally."
Though disappointed on how his career has seemingly wrapped up, the eight-time All-Star and two-time MVP is in a place of acceptance.
"[It's] tough, but I also feel a sense of acceptance because I gave it everything I possibly could," he said.