Report: Jays ready to sell, teams scouting Stroman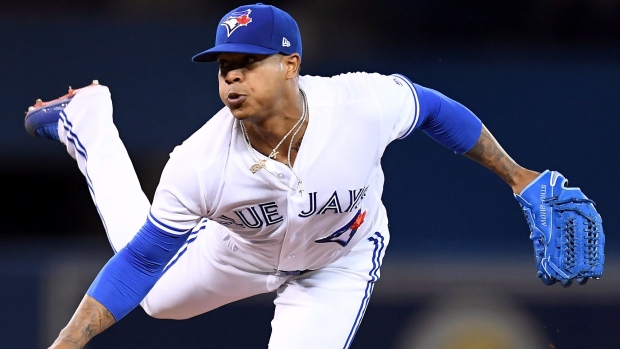 The Toronto Blue Jays have dropped five straight games and now sit 10.5 games back of the Boston Red Sox for the lead in the AL East and have seven teams ahead of them in the race for the second wild-card spot.
ESPN's Buster Olney told TSN Radio 1050 Toronto's Naylor and Landsberg Tuesday morning that the team is preparing to take a "hard right-hand turn into retooling or rebuilding."
Olney also said that other clubs are scouting Blue Jays pitcher Marcus Stroman in anticipation he may become available via trade this month.
Pitchers Marco Estrada and Francisco Liriano are both playing on expiring contracts, while right fielder Jose Bautista's contract holds a mutual option at $17 million next season. All three could be on the block if the Jays decide to sell by the non-waiver deadline on August 1.
Toronto Blue Jays general manager Ross Atkins said last week the team was still focused on adding pieces to get better at the trade deadline.
Stroman, who left Monday's start against the Yankees due to a blister, has arbitration rights through 2020. Olney notes that timeline puts Stroman close to free agency by the time the Blue Jays complete their rebuild.
"The question becomes would the Blue Jays actually move (Stroman)," Olney said. "If I were sitting in their shoes, and you knew you were wanting to make the decision you're going to blow up the team this summer, absolutely you would take a serious look at whatever offer you were to get because the time they would finish some kind of a retooling cycle, Marcus would be getting very close to free agency. So, absolutely you would take a look at it.
"Plus in terms of the pitching part of it, you ask yourself the question, 'what is Marcus Stroman going to be moving forward, is this what he's going to be?' and if the answer is yes, then you would probably look to move him sooner rather than later."
Stroman, 26, owns a 8-5 record this season in 17 games with a 3.42 ERA and a 1.26 WHIP. He is making $3.4 million this season.
Olney lists the Chicago Cubs Houston Astros and New York Yankees as teams who could be interested as they look to add non-rental starters to their rotation ahead of the trade deadline.
Stroman owns a career 32-21 record with the Blue Jays since making his debut in 2014. He owns a career ERA of 3.80 in 79 games.