Shanahan promises more changes coming
Maple Leafs president Brendan Shanahan says more changes are coming in Toronto as he starts to build a "resilient" team with "character." Shanahan addressed the media a day after a housecleaning that saw the firing of general manager Dave Nonis, interim head coach Peter Horachek and key members of the scouting staff.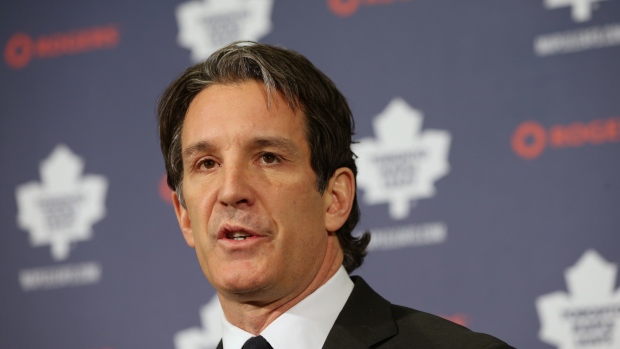 TORONTO - In just over a year as president of the Toronto Maple Leafs, Brendan Shanahan has sacked the team's general manager, two different head coaches and several assistants and scouts.
"(Players) understand yesterday was just the beginning, that there will be some changes," Shanahan said Monday, a day after firing general manager Dave Nonis, interim coach Peter Horachek, his staff and several scouts.
With a long-term vision in mind, Shanahan and his already-established staff will hire a new general manager and coaching staff and begin the process of trying to build the Leafs into not just a playoff team but a Stanley Cup contender. Shanahan's goal is to find "resilient" people to fill those spots, in the front office, behind the bench and on the ice to carry out his vision.
"The challenge here in Toronto is not to come up with the plan. The challenge in Toronto is to stick to it," Shanahan said. "Shortcuts have gotten this organization into trouble in the past. This has to once and for all be a build that we are committed to and that we don't stray from."
Plans change, but Shanahan's vision didn't include Nonis, former head coach Randy Carlyle or Horachek. It does include director of player personnel Mark Hunter and assistant general manager Kyle Dubas, both Shanahan hires who will share interim GM duties and could be candidates for the full-time job.
After the team's worst season with the current group of core players, the next few months are expected to bore out that the vision doesn't include the likes of captain Dion Phaneuf and right-winger Phil Kessel. Shanahan didn't name names but made it clear the roster won't look the same when the puck drops for the 2015-16 season.
"As a group, as a mix, I think they've shown and they understand and accept that over the last several years, not just this year, for whatever reason the mix doesn't work," Shanahan said. "After what's happened here over the last several years, I think (change) has to include everybody."
Toronto missed the playoffs for the second straight year. The team's last trip to the post-season in 2013 was during a lockout-shortened season and ended with a collapse against the Boston Bruins in Game 7 of the first round. Roster tweaks have been made since then, but the next GM will be tasked with a more thorough overhaul.
Shanahan won't be looking for the most experienced, veteran GM available. Instead, the person he hires will follow a blueprint that is already in place.
"This job won't be for some general managers, but those general managers won't be for us," Shanahan said. "There will be no shortage of the right people that want to be a part of this."
After the Leafs won just nine games under Horachek and fell apart in the second half, players figure this will be a summer of upheaval. The firings provided further evidence of that.
"You can only shoot so many generals before some soldiers have to go," centre Peter Holland said. "(Shanahan is) making his footprint felt right away. ... It's going to be interesting to see what he does next."
Not just next but over the next few years, considering the man who hired him — Maple Leaf Sports & Entertainment president and CEO Tim Leiweke — is leaving and Shanahan will have a new boss. Shanahan is confident ownership is on board with a long-term plan to get the Leafs back to respectability.
But he won't put a timeline on that.
"It takes as long as it takes," Shanahan said. "Whether people have the patience for that or not, in my opinion you don't deviate from the vision. You have to adapt and make changes to the plan as you're going along because it's a fluid game, there's 29 other smart teams out there trying to beat us and trying to stay ahead of us."
The long-term plan figures to include defenceman Morgan Rielly, left-winger James van Riemsdyk and potentially a handful of other young players like Holland, centre Nazem Kadri, goaltender Jonathan Bernier and defenceman Jake Gardiner. But without a GM in place and without Shanahan sharing his ideas, there are plenty of unknowns.
One of those is where the Leafs will pick in the first round of the draft, with the possibility of landing franchise-changing talent Connor McDavid if they win the lottery Saturday. They have a 9.5 per cent chance, and that dream made Shanahan's face light up even after 20 minutes of talk about a long-term future.
"It would certainly speed things up," he said.
---
Follow @SWhyno on Twitter