Trade Talk: Virtanen for Kane?
Would the Vancouver Canucks be interested in dealing prospect Jake Virtanen in a package for Winnipeg's Evander Kane? Check out today's trade rumours and speculation from around the NHL beat, including the latest on the Maple Leafs, Rangers and the Canadiens.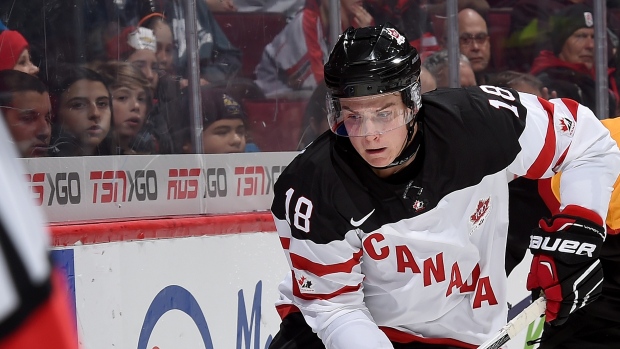 The NHL's Mar. 2 Trade Deadline is approaching and teams are making decisions on whether to buy or sell and decide which players can make the biggest difference and hold the greatest value. Check out today's trade rumours and speculation from around the NHL beat. And follow TradeCentre on TSN and TSN.ca through Deadline Day for all the updates.
A Kane deal for Vancouver?
Jason Botchford of The Vancouver Province suggested Monday night that a package offer including blue chipper Jake Virtanen might be what it takes to land former Vancouver Giant Evander Kane from Winnipeg. But as Botchford adds, if the Canucks aren't willing to deal Virtanen (and aren't right now), they are saying Kane's "baggage" is riskier to them than whether or not they think Virtanen will become a dominant top six player.
Botchford says a deal with Virtanen might not even be enough to get Kane. He believes the Jets are "looking for (Bo) Horvat, an A-prospect (Jared McCann) and a first-round pick - a deal that the Canucks won't make because, "they love Horvat."
Break Up The Leafs
As Steve Simmons of The Toronto Sun and TSN's The Reporters wrote late Monday night, the Maple Leafs are poised for a "bare-bones, strip-the-engine, long-term rebuild" with just about every player available.
Simmons adds that the team plans to acquire as many young players, prospects and draft picks as possible and groups their players by the likelihood of being dealt. Defenceman Morgan Rielly and forward James van Riemsdyk are 'Untouchables,' while the 'For Sale' sign is posted for blueliner Cody Franson and forwards Tyler Bozak, Joffrey Lupul, Mike Santorelli and Daniel Winnik.
Captain Dion Phaneuf and winger Phil Kessel were grouped under 'For Sale - but more likely in off-season' and David Clarkson - with five years left on his contract at $5.35 million a season - was tagged with the header, 'The Luongo Problem - His Contract Sucks.'
Under the heading 'Leafs still believe in...sort of,' Simmons lists goaltender Jonathan Bernier and Nazem Kadri, as the team still has to examine how they'll turn out.
From Blue And White To Blueshirt?
Larry Brooks of the New York Post wrote on Monday night that Santorelli, who hits the ice on Tuesday against the Rangers, would be a great fit with New York and acquiring him on the way out of the Air Canada Centre would help a Rangers lineup that won't have Henriik Lundqvist for a few weeks.
Brooks adds that Santorelli's $1.5 million cap hit would fit for the Rangers, who have about $1.25 million of space that would compound to more than $2 million on Mar. 2. He also thinks a second-round pick or centre J.T. Miller would be a good return going the other way.
What Are The Habs' Plans?
As Hockey Insider Darren Dreger told Montreal's TSN Radio 690 on Tuesday morning, Canadiens general manager Marc Bergevin is believed to be kicking the tires on Western Conference defencemen for blue line help and would still like to add a forward before the Mar. 2 trade deadline.
Hockey Insider Pierre LeBrun told Ottawa's TSN Radio 1200 on Monday afternoon that he would be very surprised if Bergevin didn't add a piece that's worth talking about between now and Mar. 2.
"I know that from talking to other teams around the league Marc Bergevin has been very busy just making sure what's out there and what the asking price is," he said. "In other words, I don't think he's gone that far in terms of going after a certain player and going down that path, but he has made a lot of phone calls and done his homework in terms of knowing when the time is right what exactly it's going to cost and what he can get.
"So I would be surprised if he didn't make a move. I think his preference would be to make a hockey deal. In other words, a guy that has term past this year. But, as he showed last year with Vanek, if the price is right I think he could live with a rental too."