What's holding up Kopitar's new contract?
As TSN Hockey Insider Bob McKenzie writes, everyone figured Anze Kopitar's new deal with the Los Angeles Kings would be done by now. It's "close," though using "close" in a negotiation that isn't "done" is a mug's game.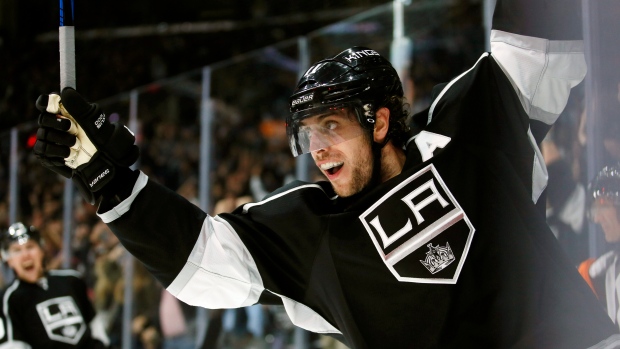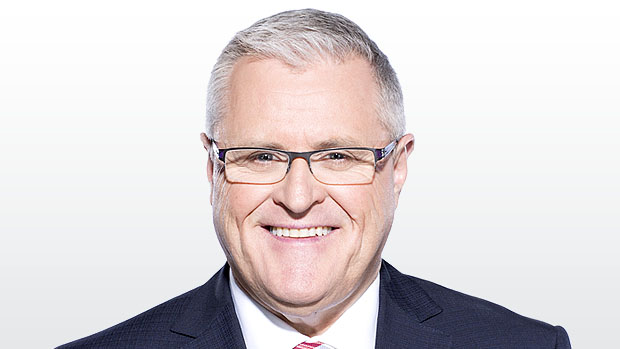 Let me be crystal clear on this: Anze Kopitar's contract extension with the Los Angeles Kings is not done.
But hands up anyone who thinks it's not going to get done?
That's what I thought, although I might have seen just one or two hands hesitantly raised at the back of the room, and what if one or both belong to Los Angeles Kings GM Dean Lombardi and/or Kopitar's agent Pat Brisson? What then?
It's been an odd dynamic on this Kopitar negotiation – not as odd as Steven Stamkos and the Tampa Bay Lightning, but that's another story for another time.
Honestly, we all figured Kopitar's deal would be done by now. Actually, way, way before now. It's almost December.
I do believe it's "close," though using "close" in a negotiation that isn't "done" is a mug's game.
You know the drill on deals - be they an individual player's contract or a trade or a collective bargaining agreement. Until they're "all done," they're "not done at all."
And at the risk of repeating my repetitive self, Kopitar's extension with the Kings is – yup, you guessed it – not done.
I get the sense the term and dollars are, more or less, in place.
It's expected to be the maximum allowable eight-year term. If the average annual value (AAV, better known as the annual salary cap hit) isn't $10 million, it's going to be awfully close to it.
But it does appear some other element of the contract is missing.
Structure? Allocation of the dollars by year perhaps?
Possibly, but I wouldn't be surprised if that's tentatively in place.
Could it be the wording/terms of a No Move and/or No Trade Clause(s)?
That would be my best guess.
But here's what I don't get. How difficult can it be to figure out NMC and NTC on a player like Kopitar? And, by all accounts, I don't believe there's been a lot of hot 'n' heavy negotiating action on this in the last couple of weeks. Which is to suggest it may appear to be really "close" but if it's been "close" for the last couple of weeks and it's still not "done," well, can it still be called "close?"

My head hurts.
I'm thinking there's bound to be a little frustration – not likely to amount to anything of consequence -- on both sides of the negotiating fence on this one.
If I'm Kopitar, I'm thinking it didn't take the Chicago Blackhawks this long to figure out the eight-year, $10.5 million per year extensions for Jonathan Toews and Patrick Kane. Those two players, by the way, are also represented by Kopitar's agent Brisson.
If I'm Lombardi, I'm thinking that while it's nice Kopitar didn't insist on the same $10.5 million AAV as Toews/Kane, a bigger hometown discount would be nice, especially since those dual $10.5 million cap hits, to say nothing of less salary cap growth than anticipated, have contributed to a Chicago cap crunch that has seen Brandon Saad, Patrick Sharp and Johnny Oduya, amongst others, lost to trade or free agency. The moral of the story, of course, being that while Kopitar is to the Kings what Toews is to the Hawks, if Kopitar wants to continue to play with good players, a cap hit well south of $10 million would help the cause.
At the end of the day, though, we have no choice but to fall back on what we believe to true: Kopitar loves it in L.A. and wants to remain a King; the Kings don't even want to think about the notion the big centre would walk himself to free agency on July 1. So, they should all live happily ever after, right?
Hence, we continue to believe a deal is inevitable, maybe it's "close" or maybe it's not, but did I mention it's not yet "done?"
STAMMER-RAMA
Since Kopitar's Kings are playing Stamkos's Lightning tonight, maybe we should take a short run at trying to decipher what is going on with No. 91 and the Bolts.
Emphasis on the word short.
Like Kopitar, Stamkos is an unrestricted free agent on July 1. Unlike Kopitar, it doesn't appear as if the Stamkos-Tampa negotiating process is as far as long as Kopitar with the Kings, but if it were, would we even know?
Lightning GM Steve Yzerman and Stamkos's agent Don Meehan have agreed to a veritable news blackout. Meehan, incidentally, is at the game tonight in Tampa but for no apparent reason other than to check in on his clients on both the Lightning and the Kings. Before you go crazy with the reports of clandestine meetings, note that Yzerman isn't in Tampa tonight.
There are all sorts of wild theories out there, from how much Stamkos is demanding to how much the Bolts are prepared to pay him, as well variations on whether Stamkos really wants to stay or go. Heard 'em all.
Since no one is commenting on any of this, we're left to try to figure things out on our own, which is a dangerous endeavour. No hard information + much free time = imagination running wild.
With that disclaimer prominently stated, here's just one man's sense of it: In a perfect or theoretical world, I believe Tampa wants to sign Stamkos and Stamkos wants to stay with the Lightning.
But I can't help but feel as though there are unspoken reservations from each side. I think the Lightning are still trying to get their head around how much to pay any one individual on a team, even if he's a marquee talent such as Stamkos. I think Stamkos is waiting to see how the season plays out, both for him and the Lightning, before he makes any long-term commitment. It has got a weird "we do mostly, sort of, love each other but let's be really careful about the public displays of affection" vibe to it. So much so that I don't believe either side – Stamkos or the Bolts – have put any specific numbers on the table or there's been any hard horse trading like there has been on Kopitar with the Kings.
I've come across all sorts of people in the game who are convinced Stamkos is as good as gone. I can find others who say we shouldn't read too much into the seeming snail's pace of negotiation and odds are in favour of Stamkos eventually re-upping in Tampa.
I can't tell you Stamkos will re-sign; I can't tell you he won't. I can tell you with a full no-trade clause, the player is ultimately driving the bus on any future destination.
There's some insight for you.
But I will grant you, given the stature of the player involved, the whole thing has an odd feel to it, for whatever that is worth.
Preds can do little but wait for prospect Vesey
One can only imagine that Nashville general manager David Poile's heart skipped a beat this past summer when the Toronto Maple Leafs hired Jim Vesey Sr. as an amateur scout in the New England region.
That's because Harvard Crimson senior winger Jimmy Vesey currently regarded as the "best player in U.S. college hockey" - is a Nashville Predator prospect who, if he so chooses, can become an unrestricted free agent on August 15, 2016, by simply not signing with the Preds before then.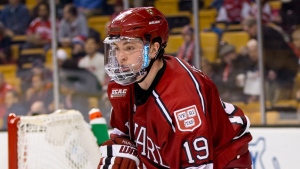 The Leafs hiring the father of a top prospect, who could opt for free agency over the Predators, was widely viewed in the NHL community as an all-too-obvious inducement to perhaps skew the player's decision-making process in Toronto's favour.
All's fair in love and war and recruiting of NHL-ready goal-scoring wingers?
Perhaps.
The Leafs, however, maintain it was the elder Vesey who reached out to Toronto about a scouting job. Also worth noting is that Toronto drafted Nolan Vesey, Jimmy's younger brother, in the sixth round (158th overall) of the 2014 draft. Nolan is currently a sophomore at the University of Maine.
There is also a third-party connection between Maple Leaf president Brendan Shanahan and Vesey Sr. that actually led to the hiring. They have a good mutual friend in former St. Louis Blue Kelly Chase. Vesey Sr. and Chase were teammates in the Blues' organization for the better part of three seasons and remain good friends today. Chase and Shanahan were also NHL teammates and remain good friends.
While Shanahan and Vesey Sr. didn't cross paths in their respective times in St. Louis, it was Chase who reached out to Shanahan last summer to inquire about Vesey being considered for a Leaf scouting job. Vesey Sr. spends most of his time in college rinks anyway, watching his two boys play; he figured why not see if he could turn it into a paying gig and asked Chase to keep his ears open if someone was looking for a college scout in the Boston area. Chase called Shanahan to make the Leaf boss aware of Vesey Sr.'s interest in a scouting job.
For years, Shanahan has been unwittingly imitating Vesey Sr.'s thick Charlestown accent by always greeting Chase with an emphatic "Chase-ah" (Chaser), which is how Vesey Sr., of course, always addressed Chase. Shanahan referred the request from Chase to Toronto's director of scouting Mark Hunter, who subsequently made the hire.
Now all eyes will be on Jimmy at Harvard this season. He scored 32 goals in 37 games last season; he has five in the first six games this season. Nashville has tried in each of the last two seasons to get Jimmy to turn pro, but the family has been adamant about him graduating from Harvard. So the Preds will wait it out this season with their fingers and toes crossed.
Poile has said on countless occasions there's an NHL spot awaiting Jimmy for whenever he decides to turn pro, that they tremendously value the 6-foot-1, 195-pound winger, but is also well aware of the risks involved because of the CBA rule that allows him to go to free agency this summer.
The Predators are hoping Jimmy's loyalty to the franchise that drafted him 66th overall in 2012, and the opportunity to play this season in the NHL regular season and/or playoffs as soon as Harvard's year is over, are the factors that will weigh most heavily in his decision.
We'll see.
'Smaht' Kids Can Go Free
It's safe to say most NHL general managers do not like article 8.6(c)(i) of the CBA.
That is the clause that allows Vesey, and other drafted U.S. college seniors, to become free agents on Aug. 15 if they don't sign after they graduate.
As one NHL GM (not Poile, by the way) said: "You try to do right by kids in college and let them stay there to develop but if you don't sign them before their senior year, you run the risk of losing them."
Another GM said: "It's a stupid rule."
But it's a part of the CBA and, therefore, not changing any time soon.
Some of the other higher-profile, drafted college seniors in the same situation as Vesey:
- Matt Grzelcyk, the 21-year-old Boston University defenceman and team captain was drafted by his hometown Bruins in the third round of 2012.
The presumption has always been that a local kid who plays college hockey in his hometown with an opportunity to stay there with his NHL club won't consider going anywhere else. Well, that may turn out to be the case, but it may also be too presumptuous in that the player is likely to survey the landscape, both with Boston and other teams, before making a commitment at the end of his college season.
Grzelcyk just recently started playing games (two goals and five points in six games) with the Terriers after undergoing off-season knee surgery. At 5-foot-9 and 174 pounds, he's viewed as a little undersized but has the puck-moving and offensive ability to compensate.
- Mark Jankowski, the 21-year-old Providence College centre who was a somewhat off-the-board first-round pick (21st overall) by Calgary in 2012.
Jankowski is off to a good start with the defending NCAA champion Friars, with seven goals and 15 points in 11 games.
At 6-foot-4 and 200 pounds, he's starting to physically mature. Though he may not necessarily be considered NHL ready, he is a prospect the Flames plan on signing. There's no sense, at this point anyway, the player would favour free agency over the Flames.
- Cristoval (Boo) Nieves, the 21-year-old University of Michigan second-round pick (59th overall) by the New York Rangers in 2012.
Nieves, a 6-foot-3, 200-pound forward, is an elite skater with good playmaking ability. He has one goal and four points in six games this season, recently coming back after missing a few games because of a concussion. He has had an up-and-down four years with the Wolverines. With that size and speed, Nieves is still considered a prospect by the Rangers – he's been at all their summer development camps and has looked good there – but New York will be watching his development this season for a final determination on where his game is at before they sign him.
League looking at options to replace Collins
With John Collins departure as chief operating officer of the NHL, which was announced yesterday, the league is looking at its options to replace him.
No firm plans have been made yet, a number of scenarios are still being looked at. One of them would include going outside of the league office for a new hire to replace Collins but also expanding the roles and/or promoting some key existing executives who worked under Collins. That group includes Keith Wachtel (NHL EVP, Global Partnerships), David Proper (NHL EVP, Media Strategy and Distribution) and Stephen McArdle, (NHL EVP, Business Development and Strategic Planning).
Collins, meanwhile, is expected to announce on Monday the details of the opportunity that led him to leave the NHL. Collins is believed to be getting an equity position with Bruin Sports Capital, a privately held international media, sports, marketing and branded lifestyle company.
BSC was founded by American business executive George Pyne, who started the investment firm that utilizes funds to acquire and build businesses in the sports, entertainment, media and lifestyle segments globally.