Leafs have remote chance of landing Stamkos
Envisioning the Lightning star in a Leafs sweater is easy to do, but TSN Hockey Insider Darren Dreger doesn't see Steven Stamkos choosing Toronto if he's a free agent on July 1.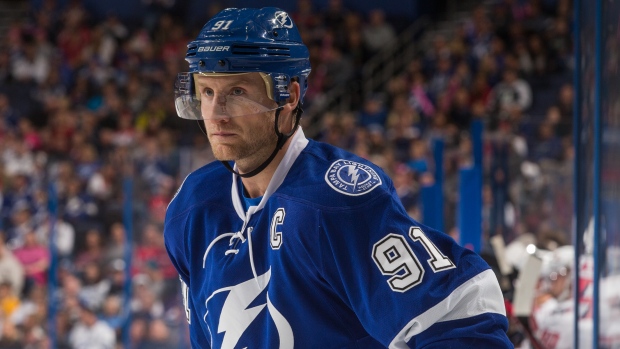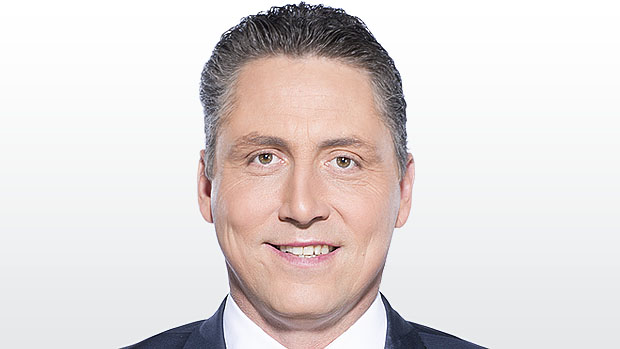 I will amend this story in a future Dreger Report if information unexpectedly materializes that forces me to adjust the position I'm about to present on the likelihood of Steven Stamkos choosing the Toronto Maple Leafs on July 1, otherwise known by TSN faithful as the "Free Agent Frenzy."
I hear the promo every morning during my daily radio appearance on the Mike Richards in the Morning show on TSN Radio 1050, loudly counting down the days. Each time I hear it I chuckle, mostly because I know the twisted mind who first thought it would be a good idea to hand out "Sign Stamkos" signs when the star forward and the Tampa Bay Lightning visited Air Canada Centre in December, then followed that stunt up with the daily countdown we hear on our favourite all-sports radio station.
Envisioning Stamkos in a Leafs sweater is easy to do. He's a hometown boy who would secure his place in Leafs' lore and history by leading Toronto back to hockey's promised land.
Toronto's legion of fans long for it, dream of it, and are seemingly counting on it.
In the days leading up to the Feb. 29 NHL Trade Deadline, Stamkos will be poked and prodded by the media, as he was this week by TSN's Senior Hockey Reporter Frank Seravalli, who asked Stamkos how he would respond if Lightning GM Steve Yzerman asks him to waive his no-trade clause.
"I think the answer is we'll cross that bridge at the time," Stamkos said. "I don't think it's that time right [now]. So, I continue to come to the rink every day as the leader that I am and the teammate that everyone in this room knows that I am, and give my best effort. I've said that since Day 1 of training camp and that hasn't changed.
"The trade deadline is coming up in a couple weeks. I'm sure everyone will have some answers in a couple weeks when that time comes. We've kept everything to ourselves and I know it sucks for you [media], I totally understand. But I think you can appreciate the way we've conducted business and whatever happens in the next couple weeks, obviously there's going to be some answers."
For the time being, nothing has changed. As much as we would like to conjure up a multitude of trade scenarios, unless told otherwise in the days ahead, it's believed Stamkos is intent on doing what he can to help Tampa Bay vie for the Stanley Cup in June.
This isn't going to cool the speculation and desperate hope of Maple Leafs fans who are more than willing to wait, anticipating Stamkos will arrive at Air Canada Centre on July 1 in a blue and white limo flanked by Mike Babcock on one side and Brendan Shanahan and Lou Lamoriello on the other, eager to introduce their newest and perhaps most prized possession.
Nothing sparks a rebuild like convincing one of the game's brightest stars to sign on for seven years at $12 million per to jump-start the long trek back to Stanley Cup contention.
Is it possible? Of course it is. Is it likely? Not when you sift through the facts Stamkos is consuming as he weaves his way through the regular season, playoffs and then into a boardroom at Newport Sports to meticulously hammer out the contract of his career.
First of all, it's still a large assumption Steve Yzerman and Lightning ownership won't or can't find the balance between good business and keeping Stamkos, a key cog in their long-term plans. It's unlikely Tampa Bay will move from $8.5 million to $12 million, a figure I use in relation to the Leafs because if Stamkos is giving up two, three, or more contending years, he's going to get paid to do it and paid large. So, provided the Lightning move a bit on the money, there's no reason to think his days in Florida are numbered.
Beyond signing an extension, Stamkos will obviously have multiple options if a decision is made to go to market. Teams will be packing offers creatively mapping out the financial benefits, endorsement ideas and, most importantly, convincing arguments on why Stamkos is the missing piece in their Stanley Cup puzzle.
Toronto could be near the front of this line in terms of offers, bells and whistles, Stamkos street signs, etc. However, further analysis charts their chances at this stage as remote.
When the Leafs win Toronto is electric, among the best playoff cities in the world. But, when things aren't going well, which has been often for this franchise over recent years, this city and market can be a cesspool.
Stalking media digging for scoops (including TSN Insiders). Talk radio picking apart you, your game, your family, your lifestyle...it gets rabid. It gets ugly. In Canada, it comes with the territory.
Make no mistake, balancing the long list of positives the Leafs and Toronto might be able to provide is the vast collection of negatives that go hand in hand. Seldom are they overlooked by unrestricted free agents in their decision making.
The Newport agency bombards its clients with information. A thorough criterion of 25 points or more are used to build a case for every contending city and team. If Stamkos doesn't have this intel by now, it will come.
Always at the top of the list: can you win?
Let's answer that question. As great as the Leafs might be one day, with arguably the best coach in hockey leading the way, does anyone expect Toronto to be a playoff contending team in the next two or three years? A Stanley Cup contender in four years or less?
Stamkos wants to win a Stanley Cup more than anything. He wants to win a championship now and wants to win it again and again and again. Every player does, but not all players have the skill set or contractual freedom Stamkos does.
Winning aside, let's consider the hockey dynamics that will also have to be determined. Does Babcock see Stamkos as a centre or a winger? If Stamkos had been able to play in Sochi, he would have been on the wing. It was a star-studded, Olympic gold-medal-winning roster, but if the position matters — and to a degree I believe it does — that could be an issue. So, let's get this straight. Stamkos is going to choose the Leafs, so he can play the wing with whom? Nazem Kadri?
Coveted free agents look for cornerstone pieces. Traditionally, it's a star or top-level goaltender, a stud defenceman and elite centre.
Goaltending in Toronto has been in question for years. Is James Reimer or Jonathan Bernier, or perhaps, potential up-and-comer Garrett Sparks a stable enough collection in the crease to bolster the sales job?
On to the defence. Morgan Rielly is good, perhaps, very good, but there are more holes on Toronto's blueline than indicators defense isn't or won't be a weakness moving forward.
Top-line centre, assuming Stamkos plays on the wing? Auston Mathews? That's luck of the lottery. Plus, as good as we know Mathews is and as great as he might be one day in the NHL, right now he's a teenager playing in the Swiss League with little or no impact on an NHL veteran's decision when it comes to making a life-changing, career-defining decision.
The Maple Leafs are doing things the right way. Acquiring assets for Dion Phaneuf and his cap- clogging contract was masterful work by Lamoriello. The organization has a number of quality prospects marinating in the AHL and junior hockey that should fuel the positive vibe of better days ahead.
If the Leafs rebuild is a success and three years from now another Toronto-born star player is poised to hit the market, the Dreger Report may sing a different tune. However, today, next week, next month, July 1, count me among the many with some intel when it comes to matters like this who don't see Steven Stamkos choosing Toronto.