Conventional vs. 'Kane-ventional' wisdom
There is conventional wisdom - and what TSN Hockey Insider Bob McKenzie calls 'Kane-ventional wisdom.' As the Winnipeg Jets look into life after Evander Kane, it's worth our time to study this Kane-ventional wisdom and how it applies to all the trade speculation surrounding him.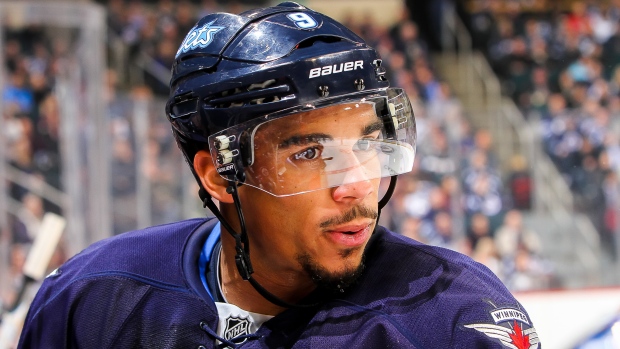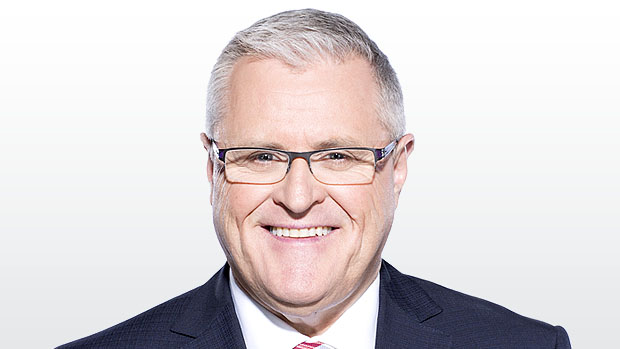 There is conventional wisdom; then there is Kane-ventional wisdom.
At times, they can be one and same, though not always. So as the Winnipeg Jets look to life after Evander Kane, it's worth our time to study this Kane-ventional wisdom and what it all means in the grand scheme of things:
Evander Kane has played his last game as a Jet.
Conventional or Kane-ventional, surely it doesn't matter on this count. We can all agree, can't we, he's finished in Winnipeg? After last week's drama – violating a team dress code; having his track suit thrown in the shower by teammate(s); being a healthy scratch/coach's decision in his hometown of Vancouver; and subsequently opting for season-ending shoulder surgery amid a wave of controversy and ill will – Kane's teammates don't appear to want him back any more than he wants to be back. Or so it seems. Winnipeg management and coaching would be tempting fate in the worst way possible by falling back to status quo. Which is why Jets' general manager Kevin Cheveldayoff is now contemplating his trade options on Kane.
Now that Kane's season is over (because of shoulder surgery), this inevitable trade cannot happen until the summer.
That's conventional wisdom. Kane-ventional wisdom is while that may very well be the case, a trade before the March 2 NHL trade deadline is both plausible and possible. Read on.
The only teams interested in acquiring Kane before the deadline are non-playoff teams.
Don't buy the conventional wisdom. Kane-ventional wisdom says otherwise.
It is true contending teams who had strong interest in a healthy Kane – Anaheim, Boston, Pittsburgh and Montreal, amongst others – dropped by the wayside, for the next three weeks anyway, the moment Kane opted for surgery.
Those teams could re-enter the Kane sweepstakes if they carry over to the summer.
It is also true non-playoff teams – Buffalo and Arizona, for example, to name only two – have interest in Kane and don't give a fig he won't be able to play until next season.
But where it really gets interesting is there are three current playoff teams – Vancouver, Calgary and to a far lesser extent Washington -- who have legitimate, if varying, levels of interest in Kane as a pre-deadline acquisition.
Yes, it's counter intuitive. A playoff bound team potentially giving up player or players off its roster now for a player who can't play until the fall. But the Canucks, Flames and Capitals have thought about it or would at least like to explore that possibility; Kane intrigues them that much.
Vancouver would be at the top of that list.
The Canucks want to make the playoffs, make no mistake. But the new regime of general manager Jim Benning also knows as important as it is to stay competitive and strive for playoffs, there's a long-range vision, too, and getting a 23-year-old Kane fits into that plan.
The rub, though, is Winnipeg is sure to want a package that includes one of the Canucks' best young prospects – centre Bo Horvat and/or Jake Virtanen – and that's a non-starter for Vancouver. Is there a package that includes a Canuck roster player and a different prospect (Jared McCann, for example) that might intrigue the Jets?
Perhaps we'll find out.
Calgary is in a similar situation as Vancouver. Flames' GM Brad Treliving is under no illusion that the (currently) playoff-bound Flames are a legitimate Cup contender, that there's a grander vision in place. It's possible a piece like Kane could, under the right circumstances, make sense in Calgary.
Winnipeg would undoubtedly want Calgary's top prospect, Sam Bennett, and that's not anything the Flames would be prepared to do. Maybe there's a Plan B there to work a deal for Kane; maybe there's not.
Even before last week's Kane-apalooza, the Capitals had made more than one pitch to trade for Kane. There has reportedly been dialogue between Washington and Winnipeg since last week's blow-up but now that Kane is gone for the year, it would be difficult for the Caps to swing a deal with the Jets and still do what Washington wants to do in the next three weeks: get better for the playoffs.
If it's surprising that some playoff teams have some interest in Kane, it may be equally surprising that some non-playoff teams don't.
Philadelphia's interest would appear to be lukewarm or less, likely scared off by what is expected to be a high asking price. Put the Florida Panthers in the same category. Columbus is believed to have no interest whatsoever.
No one said this Kane-ventional wisdom stuff would be easy.
It's better for Winnipeg to trade Kane in the summer than now.
Unquestionably, if the Jets wait until then, there will be more teams in a position to make an offer. That's conventional wisdom. But Kane-ventional wisdom suggests the Jets may pay a penalty for the delay.
Even if the Jets had a healthy and happy Kane in their lineup, they were looking for more depth up front, especially on the wing. Winnipeg had been looking at Toronto's Daniel Winnik and reportedly called Ottawa on Chris Neil, though it's believed Portage and Main is on Neil's list of 15 places he can't be traded to.
Taking Kane out of the lineup for the rest of the season leaves a significant hole. The great misnomer is because Kane was playing on the "third line" he's a "third liner." The 30-goal man's numbers have been in decline for a couple of years now, though many write that off as a by-product of injury. Nevertheless, Kane still logged quality minutes amongst the Jets' forwards this season.
The point is there is some pressure on the Jets, more than ever in their brief history, to make the playoffs. It's been there all year long but the fact Winnipeg has, aside from a recent losing streak, played so well, the post-season expectation has risen, become even more tangible.
Teams interested in Kane now are likely to test Cheveldayoff's resolve and/or patience by offering packages weighed more heavily with here-and-now help than future considerations to see if he bites.
No one can say with absolute certainty summer offers for Kane will be markedly better in quality than the Jets would get pre-deadline, but one most certainly can say the Jets' prospects of making the playoffs and making noise in the post-season are diminished by sitting on the deal.
Some of Cheveldayoff's colleagues will no doubt try to remind him of that in the days ahead.
Evander Kane is a diminishing asset and the Jets have lost considerable leverage.
Conventionally or Kane-ventionally speaking, the circumstances for the Jets are less than ideal. Trading a player who is out four to six months due to shoulder injury is one thing. Trading a player whose offensive numbers have been declining and whose character and behaviour have come into serious question league wide?
This is going to be a challenge.
"The Jets can't reasonably expect to get as much for Kane now or in the summer as they would have received if they were trading him last summer," one NHL management type said. "Too much has happened (with Kane) and none of it has been good."
Teams, both those interested in Kane now and those who would be intrigued in the summer, are doing their due diligence on him. What they're trying to ascertain is whether Kane is a talented but headstrong 23-year-old prone to immaturity or a so-called selfish "bad seed" who is never going to maximize his excellent athleticism in a team game.
It's hardly a scientific survey but the early returns suggest NHL clubs with some degree of interest in Kane are more likely to see him as the former than the latter. Still, it's going to impact what they offer.
The Jets, though, are not going to look at Kane as a greatly diminished asset. They see an incredible blend of speed, skill, power and strength whose best years are still to come, a top six-forward who, if he ever puts it all together, could be a force. They're not going to give him away.
The traditional price for a player of that stature, minus baggage, is an NHL roster player, a top prospect and a first-round pick.
Given the circumstances, it may be difficult for the Jets to exact that return.
Mind you, there are a multitude of ways to proceed.
Maybe there's a great one-for-one trade out there. Colorado's preference is trade centre Ryan O'Reilly for a top-tier defenceman, either before the deadline or in the summer, but if that doesn't happen, the Avs may be one of those teams that could have interest in Kane this summer.
Winnipeg's real goal here is to ensure they get something that helps them now – make the playoffs; make noise in the playoffs – and something that ensures, if Kane goes on to be a perennial 30-to-40 goal man for years to come, the Jets still have something for the future as well.
So most teams go into this process knowing they need to satisfy the Jets' needs on two fronts. It will be a balancing act how each of those suitors choose to weight it.
The danger for the Jets is the offers may tend be on the low-ball side because most everyone believes Winnipeg has no choice but to move Kane. Sooner or later, though, the Jets will have no choice but to pull the trigger.
Or so goes the theory. Cheveldayoff will be adamant about holding out until he gets what he feels is a fair or reasonable offer for Kane. He won't treat this as a fire sale even if others see it that way.
Conventional wisdom is it won't happen until the summer; Kane-ventional wisdom suggests there's still a chance it could happen in the next three weeks.