Jets snap skid with win over Avalanche
Mathieu Perreault and Dustin Byfuglien each had a goal and two assists as the Winnipeg Jets halted a six-game slide with a 5-3 win Sunday against the Colorado Avalanche. Ben Chiarot Bryan Little and Jacob Trouba also scored for the Jets (27-18-10).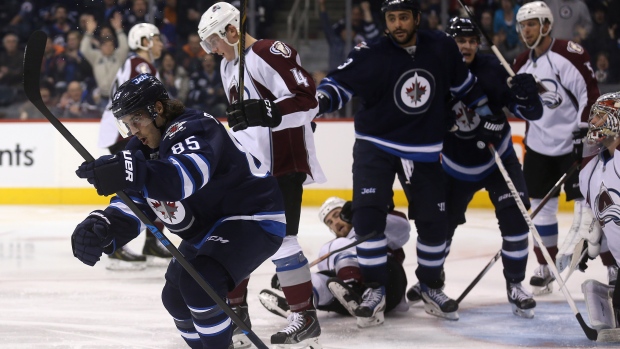 WINNIPEG -- Mathieu Perreault feels the Winnipeg Jets are back on track.
Perreault had a goal and two assists as the Jets snapped a six-game slide with a 5-3 win over the Colorado Avalanche on Sunday.
"Teams are catching up to us so those points were huge tonight," said Perreault. "We played like it was and thankfully we played well enough to win."
Perreault, playing on a line with Dustin Byfuglien-- who scored a goal and added two assists of his own-- and Mark Scheifele, who contributed two assists, combined for eight points in the game.
Perreault's goal was his 18th of the campaign, tying a career-high set last season in Anaheim as a member of the Ducks.
"It's been a great year, I've been having a lot of fun and the team is starting to do well again and did well for a while," he said.
Ben Chiarot, Bryan Little and Jacob Trouba also scored for the Jets (27-18-10)
"It seems like every game is huge right now," said Little, who also added an assist. "It's nice to finally get out of this hole and hopefully we can kind of generate something now."
Tyson Barrie, Matt Duchene and Alex Tanguay scored for the Avalanche (22-21-11) who are winless in their past three outings.
Ondrej Pavelec made 25 saves for Winnipeg while Semyon Varlamov made 24 stops for Colorado.
"The last push here is on," said Jets head coach Paul Maurice. "We got back to our game."
Barrie opened the scoring for the Avalanche at 10:56 of the first period. The Jets were already scrambling on a delayed penalty call when Barrie wired home his sixth from the high slot.
"We were very happy with the start of the game, it was our second game in less than 22 hours, so we were pleased with the first period," Avalanche head coach Patrick Roy said. "The rest of the game, the second and third, we had too many turnovers and giveaways and they scored on their power play."
Barrie's goal ended Colorado's goalless streak at 136:16. Barrie was also the last Avalanche player to score in a 3-2 shootout win over the Dallas Stars last Tuesday.
The Jets responded in the second, scoring four straight goals.
Perreault tied the game at 1-1 with 2:04 gone, shovelling home his 18th of the year after some good work by Byfuglien and Scheifele to create the scoring chance.
Byfuglien's efforts paid off a few minutes later as he got a stick on a point blast from Little on the power play. Byfuglien's 13th of the season gave the Jets a 2-1 lead at the 5:42 mark.
Chiarot made it 3-1 on his second career NHL goal.
Little fired home his team-leading 21st to give the Jets a commanding 4-1 lead heading into the third period.
Duchene and Tanguay added markers in the third for the Avalanche while Trouba tacked on one more for the Jets.
"It sucks," said Nathan MacKinnon. "(These were) big divisional games, last night and today and we dropped the ball in these two games. We have a lot of games left, but it is no fun losing, especially in crunch time."