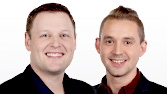 The Nielson Show
Join Dustin Nielson every weekday morning from 6-10 AM. He is joined by Darren Dreger, Frank Seravalli, Craig Button, Mike Johnson, Jamie McLennan, Ian Rappaport, Eric Macramalla and of course The Morning Mandate with Ryan Rishaug every weekday at 8:30am.
He'll bring you an entertaining take on everything from the Oilers and Edmonton Football Team to the National Football League and that league where everybody else tries to stop LeBron James. Nielson also claims to provide the best music in the AM Radio Sports Business with Creed Tuesday and Dance Party Friday being their best and possibly only examples.
Follow him on twitter @nielsonTSN1260 but don't follow @lieutenant_eric
Text the show at 101260. Standard message rates apply for text entry requests.
Presented by: